Consider some personal training with fitness expert April Powell
So you've got your custom car, your custom house, custom-tailored clothing … or not! What about a custom body? That's something we're all capable of working towards, or so we tell ourselves. Going to the gym on our own accord can be seemingly impossible at times. If you've made the gym effort to no avail time and time again—and you earnestly want to develop your habits into a more active and healthy lifestyle—learn to sculpt your body inside and out via some one-on-one training with April Powell, owner and operator of Body By Design2 in Vallejo.
April's motto is simple: "I try to take people from where they are, to where they want to be." Personal training is the flagship service at Body By Design2. Available by appointment only, she is the one-stop shop for all your health needs. In addition to personal training, she offers small group classes, customized diet plans, customized detox plans, and colon hydrotherapy services. Whatever your case may be, April can and will adapt for your own personal needs.
"Everybody is so different," she says. "I have people come in, we do an evaluation, and just go at their own pace." April has some clients recovering from injuries or surgeries who need special localized training in order to get back to their full potential, while other clients can be pushed to the max, as they've been training with her for years. If you think that you might not fit the bill on the type of client whom she is looking for—think again. The hardest part is just making that first appointment.
"Until people start, they're not going to know how good they'll feel and the real benefit of what it's doing for the bodies," April explains. "There's no feeling inadequate. You don't have to come in here in top shape, or knowing anything! I'm going to walk you through the process."
If you've yet to figure out an appropriate health regime on your own, you won't know if someone like April can help you unless you try! And not just a session here and there. You've got to give it a solid few months of real effort to really know if it's for you. "After that, if it's not for you, it's not for you," she says. "But in that time, your body, your mental state, your energy—all of those things will definitely be improved."
Body By Design2 is, lo and behold, the second Body By Design business April has operated. It first began in 1998 and lasted until 2006 when she officially retired. April's loyal clients ultimately brought her back in. "I kept getting requests to train individuals, and I didn't have a location," she says. "So when I would go to other gyms, I kept getting kicked out because they knew who I was and assumed I was there to recruit. So I found this location, had to gut it, remodel it, and now it's home."
Upon entering, you'll immediately feel at home as well, as April has put her personal touch on everything to make people feel welcome since opening up again in 2014. "Whoever walks through the door, male or female, I try and make it very comfortable for people," she says. "It has a big spiritual side to it, a relaxing side, and it has a 'let's get in there and get it done!' side."
Since adding the service two years ago, April has found there to be quite a large demand for colon hydrotherapy. "I'm really surprised at the response and the need for it," she says. "It's quickly becoming just as important as the personal training." We asked her what type of person would need colon hydrotherapy, to which she responded: Everyone. "Everyone who is trying to lose weight, trying to get healthy, who's doing a cleanse, who's athletic, especially those in the gym taking lots of supplements and synthetics—the more you can cleanse your large intestines, the better your body is able to function." Even if you have breakouts, trouble sleeping, irritable bowel syndrome (IBS), eczema, even cancer, she recommends colon hydrotherapy. "If you have any type of medical condition that is causing some sort of constipation, some sort of upset stomach … it's good for everyone."
Whatever your needs may be, April will accommodate. All you've got to do is meet her halfway. "We really emphasize the benefit of people just not giving up on themselves," she says. "If it didn't work in the past, that doesn't mean that it's not going to work now!" She explains how you really just have to get with the right person who can guide you and help keep you motivated, and reminds us that it's a team effort. "I can't do it by myself. But if we do it together, we can get it done," she says. "You have to take the first step and call, and show up, and do what I tell you to do, and you'll get the results that you're looking for."
Feeling motivated? Feeling pumped up? No? Well then, you definitely need to give April a call. You can reach her at (707) 853-5239, email her at 2bodybydesign@gmail.com, or visit www.bodybydesign2.com. If you don't do it right this very moment you'll probably talk yourself out of it, so quick! Before it's too late! Make the call, send the email, and start truly designing that body of yours.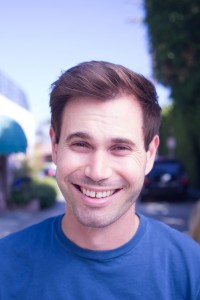 Matt Larson is an actor/comedian/director from Vallejo who lives a double life between the Bay and LA. When he's not writing for Local Happenings Magazine he could be editing a short film or working on his next rap album—who knows!
Keep up with all things Larson at MarsLegstrong.com.