I have always enjoyed movies and the theatre. I have to admit, though, that I find movies more financially accessible; plus, you can watch them in the comfort of your own home. I have always thought there was something extra special, though, about a live performance on the stage – even if it was just a high school, or even younger, production. That fact that it was live and anything can go wrong made it even more special when it all went right. I was also always enthralled with the sets and how they moved about on the stage. I remember as young boy going with my family to see The Nutcracker ballet in San Francisco and it just seemed so magical as it came to life before me. I have been back to see it several times as an adult and have found it to be equally enchanting. I have three very young children now and the family and I have watched the production at home via a recording of the live stage show. While it is fun to watch and my children enjoy it, it just doesn't quite capture the magic as seeing it live. Plus, there is the whole experience of going to the theatre! Dressing up, the intermission, etc. Now that my youngest is 5, my wife and I have been sharing the theatrical experience more and more with them, but cost remains a factor and somewhat of a barrier. Additionally, until they are all able to focus for that long of a period of time it is a challenge to bring them.
How then can I expose my children more to the magic of theatre while keeping it affordable for my budget? How can I keep my children entertained during long performances? How do I find children-centric performances to take my kids to? Those are all questions I ask myself when as I explore how to expose my children to the arts. For all of those reasons I am excited about the annual Chevron Family Theatre Festival. If you have not heard of this festival before, and even if you have, you should note that it will be celebrating its 10th season on July 16, 2016 at the Lesher Center for the Arts in Walnut Creek. Children, as parents know, are hard critics of any form of entertainment, so any event that has stood the test of time with them should be strongly considered by parents.
Chevron's sponsorship of the festival makes it very affordable for families to attend. Chevron, The Diablo Regional Arts Association, the Lesher Center and the city of Walnut Creek all partner to bring the event to the community each year. Events like these are not cheap to produce and I love when private business and community organizations come together to help create them. All communities need these types of events to help them come together and it is fantastic that Chevron, the art community and the city have been working together for so long to make this happen year after year.
The event opens with a ribbon cutting followed by a Prince and Princess parade, which is FREE. Then they will be giving away a boy or girl engineer-scientist-STEM puppet and providing a puppet theater in which the children can create their own show with their new toy—and in case it wasn't clear: that is free as well. They will have dancers, drummers, puppet making, costumed characters such as Cinderella, Snow White, Jedi and Storm Troopers for the kids to enjoy all, again, for free. They will also have access to face painting and storytelling—for free—happening all day long outside of the theatre.
Inside the theatre, live productions will be put on throughout the day. The price for these will only be $5 per person, which is a great bargain. Each of the shows are only 30 to 60 minutes long and they promise to capture even the youngest person's attention for that duration. They are planning on showing a version of the Wizard of Oz, Peter & the Wolf, and Alex Ramon Magic. They are also going to be having as their headliner, Artrageous.
Artrageous, if you're not familiar, is a live performance that offers a magical bend of light, color, music, dance and singing. Visit their website at http://artrageousexperience.com/ to discover more about them before the festival. The tickets for Artrageous and the other shows will go on sale on Tuesday, June 16 – a month before the event. They can be purchased by calling the Lesher Center's ticket office at (925) 943-SHOW (7469) or by visiting http://www.LesherARTSCenter.org/
If you have not attended this event for their previous nine editions, you should certainly put it on your calendar for this year.  If you've been in the past I'm sure it's already on your radar. Either way it will probably be advisable to get your tickets early for this so you can make sure to catch all of the action. You certainly can't beat the price. A mere $20 per person will allow you to see all four of the shows, plus, you have all the free events during the day as well. I know that $20 price compares very favorably to other theatre events in the Bay Area. If you absolutely can't make it in 2016 or you are reading about this on July 17th, make sure to be on the lookout for the 2017 edition of the festival and get planning early.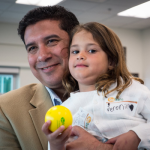 Robert Briseño – Robert has three little ones that he is constantly on the lookout for fun and affordable adventures that he and his wife can take them on.