It's a popular question, "How many wineries are there in the Napa Valley?" I confess I don't know the answer, nor do I really care to know. All I know is there are enough wineries in the Napa Valley that, despite having been a lifelong resident of this fabulous Bay Area region, I am constantly discovering new ones. Such was the case when a friend asked me to come visit her at her new place of employment: Pestoni's Family, Rutherford Grove.
My job brings me to some of the best wineries—not just in Napa County, but in Northern California. Because of this, I find it hard to have favorites, but Rutherford Grove quickly rose very high on my list—not because of their location and grounds (despits it being extremely beautiful), nor because of their wine (though I can heartily recommend them). Instead, it was the history and friendliness of the staff and how they appear to work in harmony together that made this place a fast favorite.
"The history of the winery is what makes this a 'must' stop on the wine-tasting trail for anyone," says Alejandro Alfaro, Winemaker for Rutherford Grove. "The Pestoni family is old Napa Valley and is hugely respected," he continues.
"I've known the family since I was born, this is a true family winery, very comfortable and relaxed," Sarah Bertoli, a 7-year tasting room employee interjects. "The Pestonis care about the land and the valley and the people that are living and working here."
Without knowing the Pestonis, I would have to agree, since everyone I have met through the winery seems friendly and outgoing. The tasting room itself is also very comfortable with a sitting area and a fireplace as well as a fishpond right at the front doors…very soothing.
Ben (my Blue Merle Australian Shepherd) and I felt immediately comfortable since Rutherford Grove is dog friendly. As soon as we walked in, a group of tourists globbed onto Ben and I almost didn't see him for at least an hour! I was greeted with hellos all around and was waved to the counter, where there was much love going around.
Sarah and the other tasting room employees were keeping the guests busy with their wine tasting, but they had enough time to make sure I had settled in with my wine glass and knew the lay of the land. I must admit I have passed the Pestoni Family Rutherford Grove Winery sign for years and never had I ventured into the long, narrow, flag-framed driveway. I think because of the way the tasting room is situated I felt that it was just vineyards for a larger winery—silly me!
In 1892 Albino Pestoni, his wife Maria and their four sons, after having immigrated to America ten years earlier, planted their first vineyard and built a hand-hewn redwood winery. It was deemed Bonded Winery 935 and became very popular with the other Swiss Italians in the Bay Area.
Albino's son, Henry Pestoni, followed in his dad's footsteps and, after marrying Lena Domingos, whose family vineyard was on the western slope of Howell Mountain, started a vineyard management crew with her brothers.
In 1923, Lena and Henry bought what is known today as the Pestoni Ranch on Whitehall Lane, where they continued to farm grapes and make wine, sherry and bootleg brandy. In 1963 Henry and Lena's sons, Bob and Marvin, created the disposal service for the upper Napa Valley.  During this time Bob and his wife, Sylvia, also grew grapes for sale.
When a small winery on Highway 29 came up for sale that would gain them access for their disposal company, this brought back memories of Bob's childhood and his grandfather's legacy, thus Rutherford Grove Winery was created.
The entrance to Rutherford Grove Winery and Bob Pestoni share a common trait: Subtle but very prominent. Bob has continued his drive for making the best wine without compromising his family's work ethics.
One of the things Bob and Sylvia did a few years ago is to reach out and hire winemaker Alejandro Alfaro. Alfaro came with an impressive resume: 20 years of experience at various wineries including, but not limited to, Hess Collection, Quixote, Tierra Roja, Metamorphosis, old Quail Ridge (now Alpha Omega).
"Rutherford will always be successful because they have great vineyards and appellations and that's the start of great wine!" Alfaro said with enthusiasm. "We have great consistency in the vines which transfers to the wines." Alejandro sat me down and had me start tasting the wines that he so proudly puts his hard work into.
Rutherford Grove Estate Sauvignon Blanc
This wine has wonderful fruit intensity and truly represents the characteristics of the varietal. Guava, grapefruit and pineapple are the flavors and aromas that make this wine one of their best sellers, according to Alfaro.
Pestoni Family Estate Reserve Merlot
This Reserve Merlot is produced from their Howell Mountain Estate Vineyard. Aromas of cedar, tobacco and freshly baked Christmas cake are what will first hit you, but there are also flavors of ripe plum, blackberries, black cherries and spice backing it up. This wine has a long and complex finish. This Merlot won a Gold medal from the 2012 San Francisco Chronicle Wine Competition.
Rutherford Grove Estate Merlot
This is 100% Merlot completely and exclusively from their Estate Vineyard, located east of the winery in the heart of the Rutherford Appellation. The colors are rich with blackberries, cherries and spice, and toasty French oak greeting the taster. This wine's flavors mimic the aromas and structure somewhat akin to a Rutherford cabernet, but with the roundness of a Merlot. The long finish ends with bright fruit dancing on the tongue.
Rutherford Grove Petite Sirah
This wine is produced with grapes from the St. Helena Appellation that occupies a perfect situation for Petite Sirah. Deep black and purple hues are what you'll see in your glass with rich aromas and flavors of toasty vanilla, plum, boysenberry and hints of roasted game.
Rutherford Grove Estate Sangiovese
This wine started out as an experiment and is now one of their featured wines. These grapes come from the vineyard in front of the winery, which has created a fabulous varietal. Violets, black cherry and ripe plums await you as you breathe in this wine. A hint of black licorice and toasty vanilla balances the dark, fruity nose. A great drinking wine to pair with food or to drink alone!
Quackenbush Mountain Zinfandel
The vines that create this wine are all heirloom selections of Zinfandel and Petite Sirah and are planted with some of the oldest existing plantings in California. Albino Pestino and some other great uncles made their robust wines with these types of grapes – one of the blocks even originates from Uncle Fred's old ranch. The 2009 vintage opens with aromas of raspberry and a hint of cinnamon. It enters the palate with nicely balanced dark berry earth tones complimented with a velvety finish.
Pestoni Family Estate Reserve Cabernet Sauvignon
The 2008 Estate Reserve Cabernet Sauvignon is produced from the Howell Mountain Estate Vineyard, challenging conditions but worth the extra effort, since it produces wines with great flavor, intensity and aging properties. Dark chocolate, vanilla and sweet blackberry meld together, offering a luscious aroma. Dried cherries, currants and black fruits compliment the toasty vanilla notes in the mouth. A long and full finish awaits the drinker.
Rutherford Grove Estate Cabernet Sauvignon
This Estate Cabernet is a blend of two small estate vineyards on either side of Highway 29. Wines of the Rutherford Appellation display the "Rutherford Dust" characteristic that make them distinctive from other Cabernet Sauvignons grown in other areas and setting them apart as some of the best in the world. Aromas of blackberry, dark cherry and toasted vanilla greet you. This fruit is mature, and the balance is refined with great complexity in its dusty fruit and integrated oak flavors. Alejandro says that you can drink this straight through 2020!
Quite a list of wines! There is nothing boring here and something for everyone. I have to say I am a red wine drinker so I was in heaven, but as always I have my favorites. I was lucky enough to attend the Annual Corn Roasting event that they have been hosting for 32 years this past August and I was drinking the Quackenbush Zinfandel and Rutherford Cabernet, which I liked very much. A couple weeks later, I had a chance to taste Reserve Cabernet Sauvignon and it quickly became my favorite. (Of course this was most expensive, why is it that I can always do that!)
Before I headed out of the winery from my tasting, I was able to meet and ask a few questions of Bob Pestoni himself. Here are a couple of insights from Bob:
LH:         What is the best thing about owning a winery?
BP:          Being able to share a great bottle of wine that has been produced from your own vineyard and shared with friends and family, neighbors and people who are interested in wine coming from family-owned and produced wineries.
LH:         What is the worst?
BP:          Worst, finding out that urbanization has out priced our lands in the Valley and changed agriculture as we know it today.
LH:         The best story about the last 20 years?
BP:          The continued support of our agriculture industry in the Valley.
LH:         What would you say or recommend to someone who says they haven't found a wine they liked?
BP:          Obviously, you have not been to my winery yet! Keep trying, you will find the one that fits you just right.
For a fun and personal tasting be sure to stop at the winery, located at 1673 St. Helena Highway, or call them to schedule a private tasting, or even an event at the winery: 707-963-0544. You can also email them at info@rutherfordgrove.com and be sure to tell them that Local Happenings Magazine sent you!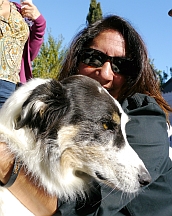 Deanna Baillie and Ben, her Australian Shepherd, love following the road less traveled. Wineries are personal favorites for the obvious! Keep up with them on their blog at localhappeningsmagazine.com and the Local Happenings Magazine Facebook Page.