Ever since I was a little girl I've had two passions: animals and my family. Now that I have headed to that far side of being over half-a-century old, nothing has changed. I remember always finding the lost kittens, crying to have another dog on numerous occasions and BEGGING for a horse. My parents were plenty fair, we had kittens, cats, dogs, turtles, hamsters and more, but I remember hearing them say: "When you can buy your own horse and take care of a horse you can have one."  That didn't seem fair at the time. In retrospect I don't know how my mom and dad did what they did for all six of their very spoiled children. Patience was something they prayed for, I'm sure.
One thing my parents did to help my cause a little was to take me on horseback riding trips when we went on vacation. I remember once we went to Lake Tahoe and not only did I get to go on a trail ride; they also took me to see the Bonanza set at the old Ponderosa Ranch! From that moment on, I knew I wanted to live in a cabin with a round pen and horses and dogs running around. To this day I still remember that trail ride that my parents took me on even though I was quite small … I remember coming down a hill, riding with my dad, knowing this was for me.
Over the next several years I continued my love or, better yet, obsession for horses.  As people read this I am sure that many can relate to this feeling. Horses are spiritual animals and people that love these majestic creatures have an almost hypnotic pull and can't explain their actions at times. As you might have guessed, after many years of out of town trail rides and vacation horseback rides I did FINALLY get my own horse. Well not just horse, at one time I had three, but now I am down to one again, which is the best for most people.
One thing I must stress is that owning your own horse can be expensive and time-consuming. Owning a horse is not for everybody, but riding a horse can be great for quite a few people. The next best thing to owning a horse is going on a trail ride. When you go with a reputable guide and someone who can pair you with a horse that's suitable for your riding ability, a trail ride can be quite the experience.
One year, in my thirties I believe, my girlfriend was taking her kids for a little mini vacation to Lake Tahoe so I tagged along (mainly because I knew she wanted to take them on a trail ride). What a blast! We went high into the mountains and one thing I learned about horseback riding that day is to always be prepared—for anything. As we went higher in altitude we started encountering cooler weather and then some precipitation and soon enough it was all-out rain! We all had t-shirts on with no jackets, even though the guide had suggested we bring some extra layers, we didn't listen, since it was summer and the weather down below was sunny and bright. Unfortunately we did end up having to come back early since the kids were cold and we were drenched. Lesson learned: always listen to the guide as they truly know best.
Who doesn't dream of riding a horse on the beach? If you didn't before, you probably do now. Luckily we live here in the Bay Area where you can trail ride on several beaches, from North to South. It is quite the experience, but again I would remind you to listen to the guides and you will be able to sit back and enjoy the ride.
In my mind, the view atop the back of a horse is something that everyone should experience. It allows the rider to see a vista that they normally would never get a chance to see and offers new and exciting perspectives. I once took a trail ride with my own horse up a slight hill behind a ranch I was living on at the time and saw an entire view of the valley that I didn't even know existed! The valley became this fishbowl of beautiful scenery that I could never tire of.
Living in the Bay Area is perfect if you would like to go for a walk on a four-legged beauty. There are many equestrian establishments that offer trail rides in the hills, in a vineyard, on the beach.
Some people, after finishing riding, exclaim, "I just want a horse!" But I like to remind them that the domesticated animal you just rode is representative of hours and years of training and there are so many things you need to know before owning a horse. If you REALLY want a horse I would suggest volunteering at a local stable to discover just how much work they can be. Then, you can make an honest assessment as to whether or not you could really handle the responsibility of equine ownership.
Featured Horse Trainers that offer trail rides
Cassie Comella
5281 Chiles Pope Valley Road
St. Helena, CA
707-497-7635
www.cchorsetraining.com
Great Horse Back Riding Stables that Offer Trail Rides
Five Brooks Stable
8001 Hwy 1
Olema, CA 94950
(415) 663-1570
www.fivebrooks.com

Garrod Farms Stables
22647 Garrod Rd.
Saratoga, CA 95070
(408) 867-9527
www.garrodfarms.com
Horse N Around Trail Rides
2660 No. Highway 1
Bodega Bay 94923
707-875-3333
707-875-2721
www.horsenaroundtrailrides.com
Isabella Farms
6115 Morgan Territory Rd
Clayton, CA 94517
(510) 269-4830
www.isabellafarms.org
Mar Vista Stables
2152 Skyline Blvd.
Daly City, CA 94015
(650) 991-4224
www.marvistastable.com
Miwok Livery Stables
701 Tennessee Valley Rd.
Mill Valley, CA 94941
(415) 383-8048
www.miwokstables.com
Napa Valley Horse Company
100 Rapp Road
Napa, CA 94558
707-224-1496
Ricochet Ridge Ranch
24201 North Highway One
Fort Bragg, CA 95437
888-873-5777 or 707-964-7669
www.horse-vacation.com
Wine Country Trail Rides
10300 Chalk Hill Road
Healdsburg, CA 95448
707-494-0499
www.vineyardrides.com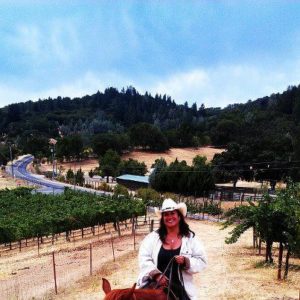 Deanna Baillie's passions are her family which includes her four-legged "kids". Here she is at Cassie Comella's Training Facility on a leisurely vineyard trail ride!