Del Grande Dealer Group provides a fine example of how to acquire a business
By Matt Larson
By now, we're sure you've heard the news that one of Vallejo's most prominent and beloved car dealerships, Team Superstores, is now operating under new ownership. Team is now officially part of the Del Grande Dealer Group (DGDG), which controls more than a dozen car dealerships from Concord to San Jose, with Team being their first venture into Solano County. Fortunately for us customers, and Team's employees, DGDG is a company that does things right. So while the Team entity is now under new management, the dealership we know and love remains more or less the same, which includes the name and, most importantly, the employees.
Usually when a company gets bought out, the entire business starts anew from scratch, and the old employees take their severance and figure things out from there. But DGDG opted to instead keep every single one of the 104 employees that were working for Team at the time of the transition. Except for one person who decided to take a job closer to home, pretty much all of the friendly faces you've grown accustomed to seeing at Team will still be there to greet you at your next visit.
"They didn't have to do that. That's just the kind of company they are," praised Michael Drinker, Vice President of the Team stores in Vallejo. "Right out of the gate they wanted the employees to feel like they mattered, and that they weren't going to go backwards just because a bigger auto group bought them." Drinker had been working with former-owner Kenny Ross since 1988, and he was pleased to see everyone treated so well when DGDG took the reigns. "Everybody was promised a job, and every employee came over with the same seniority that they had here before," he said. "So if you were a tenured employee with three weeks vacation, then you went to DGDG as a tenured employee with three weeks vacation. That's just unheard of in any business world."
That's really a fine example of why DGDG was the best fit to take over the company; when it comes to treating employees fairly and justly, Team and DGDG shared the same philosophy. "The way both dealerships run their business—how we treat our customers and treat our employees—was quite similar," Drinker said. "The atmosphere at the dealerships were very aligned with each other. They're all about making sure their employees are happy; same here with Kenny and I."
Drinker has already experienced what a warm and welcoming business culture DGDG has created, as he's had tremendously positive experiences while visiting their other locations. "At every dealership I've walked into that is part of this Group, I've been welcomed by every person I've met," he said. "And that's how they want to run all the stores 100% of the time. It's been a challenge, it's been fun, and I'm looking forward to the future."
Perhaps the biggest overall change you might notice is that "Team Superstores" has officially been dropped, as DGDG is the parent company, but each of the franchises on the premises will still be referred to as Team Cadillac, Team Chevrolet, Team Hyundai and Team Mazda. "DGDG knew that Team has a good reputation in Vallejo and Solano County, so they didn't want to change the name," said Drinker. "Normally they do change the name of the dealerships when they buy them, but here, it didn't make sense."
In many ways this acquisition by DGDG means great news for Team's employees, as their company just went from about 100 to 1,200. "With this many stores and this many employees, it actually makes promoting people easier," Drinker explained. "We have so many long-term employees that it was difficult to promote people, because people didn't leave! You can't plug a hole if there's not a hole to be plugged." For example, Team has had the same three sales managers for the last 7 or 8 years, so there was no way to promote someone to be a sales manager. And they had a similar situation in the finance office. "Now there are so many more opportunities with a group this size," he added. "There're people moving around all the time."
This ease of employee transfer and promotion isn't only good news for Team employees, but it also can offer a greater incentive for graduates from Solano Community College's Automotive Technician Training Program. Drinker and the head of DGDG's human resources department went to the opening of Solano College's new Automotive Technology building down the street at Turner & Ascot parkways, as DGDG is actively involved with several automotive colleges around the Bay Area. "We'd like to get the first look at their graduates moving forward, because DGDG really likes bringing those kind of employees up into the company," said Drinker. "It works really well for us, because if we got an apprentice from the auto school, but they travel quite a distance to get here, he or she could actually go to work at one of the other DGDG stores if it's closer to home."
The Team dealerships still feel like home here in Vallejo, as DGDG has made the transition as easy as possible; everyone keeping their jobs and their tenure was certainly a good way to start. The primary advancement that DGDG has implemented is top-of-the-line technology at every turn of the dealership. Before the acquisition there were maybe 60 personal computers on site, and now they're probably up to about 100. "Almost one to one for every employee," said Drinker. "They have spent lots of money getting us up to speed technology-wise. Not that Kenny and I were antiquated, but we didn't go out and get the latest and greatest technology; we kind of made due with what we had." But now, Team employees are getting only the best technology around and, naturally, more technology equals a more efficient experience for all parties involved.
"Instead of walking out to a car with a clipboard and a pencil, the guys are walking out with an iPad mini, taking pictures of the car, of the VIN number, and loading the information into the computer system automatically," Drinker explained. "So the customers actually spend less time getting through that process and service." With all of these technological advancements, purchasing a car has gone from an ordeal that used to last several hours, to now being less than an hour, start to finish. "It has made it much easier on the customer and on the employees!"
Speaking of making things easier, product specialists have been taken off of commission. They get paid by the sale, so now they can simply focus on finding the car that's right for you, without any underlying incentive that you'd experience at most car dealerships. "Higher price or lower price doesn't have anything to do with the product specialist anymore," said Drinker. "He just wants to sell a car! That is a huge change." Not that this is necessarily anything new here at Team when it comes to providing only the best for their customers, but now you can be absolutely certain that all the product specialist is focusing on is you and your individual needs.
If your friends over at Team haven't seen you in a while, pay them a visit! Congratulate everyone on a productive transition, and check out how things have evolved since becoming part of DGDG. They're located at 301 Auto Mall Parkway, Vallejo. Call (877) 528-0662 or visit www.dgdg.com for additional information.
Especially if you're considering a job in the field, or know someone applying for colleges (who is still unclear about what career to pursue), taking a tour at Team could maybe help spark some interest in the automotive industry. Team is growing right along with DGDG, a company that plans to continue expanding. As such, getting started with them right here in Vallejo could certainly lead to a promising future. Plus, it's a pretty interesting field to be working in. "It's not a business that stays the same; it's a business that's constantly changing," said Drinker. "For me, I'm constantly having to learn something new or change the way I do something. It's a challenge every day, but I have a blast doing it, so, it's a fun challenge."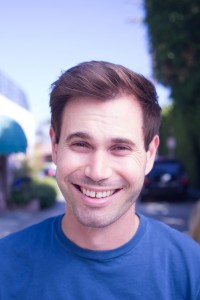 Larson is an actor/comedian/director from Vallejo who lives a double life between the Bay and LA. When he's not writing for Local Happenings Magazine he could be editing a short film or working on his next rap album—who knows!
Keep up with all things Larson at: www.MarsLegstrong.com."