The Ruth Bancroft Garden in Walnut Creek has been steadily growing in popularity in recent years. Perhaps it's due to the drought concerns we've been experiencing here in California? Lush, green lawns are already becoming a thing of the past. More and more yards are starting to resemble the Ruth Bancroft Garden, which is a drought-tolerant public garden full of cacti and succulents, requiring little to no irrigation. What you'll see when touring the grounds was cultivated by Ruth Bancroft herself. Planted in 1972, the garden has grown steadily to become much more than a garden, but an educational facility, a retail plant shop and a world-renowned tourist attraction.
Whilst perusing the garden you'll be walking on land that was once part of a 400-acre fruit farm that produced walnuts and Bartlett pears. Over the years, much of the land was sold and eventually rezoned for residential use. The last walnut orchard was cut down in 1971 and instead of selling this section of land, descendant Philip Bancroft Jr. gave the land to his wife, Ruth, as a home for her already expansive potted succulent collection.
Born Ruth Petersson in 1908, she developed an affinity for plants early in life while growing up in Berkeley. A former economics teacher in Merced, Ruth met her husband on a blind date that changed it all. They wed in 1939 and she moved to the family farm in Walnut Creek where her garden now thrives for all to see. Ruth's love for plants evolved over time, finding interest in bearded irises, roses, perennials and more, but it was in 1950 that she purchased her first succulent—a single potted aeonium. She became fascinated with the water conservation power of the plant and began collecting them. An avid collector in general, Ruth soon had allotted a grand collection of potted succulents, which she grew in lath-houses and greenhouses. In 1972, the Ruth Bancroft Garden we know and love today was officially born.
There was no particular science to the way Ruth planted her garden. "It wasn't designed as a botanical garden—it was designed as a woman's front yard," said Sophie Vidal, Education Director for the Ruth Bancroft Garden. "Things aren't grouped by where they are from, they're grouped by how she liked them; she thought the looked good together, then they survived and so she left them that way," Vidal explains. "It's a very personal garden."
Ruth worked in the garden into her late 90s, physically out there weeding and pruning just as before, but she finally, for the most part, retired. "Even today if she's out in the garden and she sees a weed or something she'll either start to reach to go get it herself or request that somebody grab it for her," said Vidal. "So it's still very much her garden … Our mission is to preserve the garden in her vision and have it be around for the education and enjoyment of the public."
The most common reason to visit the garden is to simply look around and take it all in. They have self-guided tours every day the garden is open and you're welcome to walk yourself around. You'll also be handed a monthly insert, which highlights some of the current blooms that are in season. There's also guided tours available on Fridays, Saturdays and Sundays.
In addition to the regular horticultural enthusiasts, tourists, families and/or students that visit the garden each year, "We also have people who are interested in ripping out their lawns (especially with the drought right now) and they're looking for inspiration for what they can do instead of having a big green grass lawn," said Vidal. The greatest thing about visiting a garden of cacti and succulents that's been growing for so long is that you can see how the plants have matured over the years. "You might go to a nursery and buy a little tiny plant—the next thing you know 10-15 years down the road it's this giant 6-foot agave that sends up a 30-foot bloom in the sky," said Vidal. "There's things that you might not necessarily think of when you're buying that little one-gallon plant, so you get a chance to see what things will do as they grow and mature."
Many of the plants you'll find in the garden were planted by Ruth Bancroft herself and grew from one-gallon containers or smaller. She had less interest in buying big, expensive, matured plants, but rather, Ruth preferred to wait and watch it grow. "That totally worked for her," said Vidal. Walking around you'll probably notice a giant yucca plant on the premises. "She planted it 43 years ago. It just came in to flower for it's first time this summer, so she had a chance to get out and see that in bloom." Right before her 107th birthday this year on September 2nd, Ruth is still able to enjoy the fruits of her labor.
At the garden you'll find events and classes all year long focusing on a variety of subjects including basic gardening principles, how to propagate your succulents, care and maintenance, creating arrangements and so much more. An interesting workshop to look for is called Lawn To Garden. "We'll actually rip out a lawn and replace it with a garden all in one day," said Vidal. Workshop participants all get to have a hand in it, and one lucky participant will have it all done to their own personal yard! "Through the end of the day we'll have completely transformed somebody's front yard into a more drought-tolerant landscape," she said. "We do it at someone's house; it's an amazing day." They haven't done many of these. Their fourth one will be held on Sunday, October 4th. If you've missed it, or if the class was filled, keep an eye out for future workshops and events on their website.
Official members of the garden also get some special perks—membership opportunities are available and they help fund all the happenings you can enjoy at the garden. In addition to members-only classes and special events, one of these perks includes getting an invitation to the annual tasting tour. "You actually get to go around the garden and taste some of the cacti fruit," Vidal said. "We have other palms and things that you get a chance to taste. With about 12 stations you get to sample fruit as you wander!" This only happens once a year in October. Of course, there is a limited supply and it must be restricted to only 40 people. So if you're a member, or are planning to become one, contact the garden right away!
With about 3.5 acres of garden to roam, most people spend about an hour to an hour and a half on an average visit. If you're trying to pick the perfect time to visit the Ruth Bancroft Garden, really any time will do. "There's always something in bloom in the garden, no matter what month you're here," Vidal assures us. "There's always something unique and interesting." A lot of people think that spring would be the best time to visit, but even in the dead of winter a lot of their aloe plants are in bloom.
You can also find many interesting hybrids on the land. "Our curator will do a lot of experimenting," said Vidal. "Trying to take the pollen from one aloe that maybe has a wonderful color and another aloe that's very hearty and he'll cross pollinate things; there's a variety of interesting and unique hybrids that are here."
New plants are added to the garden all the time as it is ever changing. "The garden is a living, breathing thing," said Vidal. "Things die with the heat or with the cold, so we have to replant. We try to do so in Ruth's vision, but she was an experimenter as well." Ruth would take plants that might not even be able to grow in Walnut Creek and put them to the test, just trial and error all along the way, wondering which plants will work no matter where they came from. "So we continue on in that experiment to try new things."
The garden is certainly expanding as far as their facilities are concerned. And the nursery has been growing exponentially over the last few years. "If someone hasn't been to the nursery in the last year or so it's actually doubled in size," said Vidal. "If they haven't been here in the last few years it's actually quadrupled in size." It's definitely a big operation. Feel confident stopping in to look around as they have a very knowledgeable staff that is happy to answer any questions you may have.
If you're interested in planting a drought-tolerant garden, you should definitely pay this place a visit. If you need further convincing, the Ruth Bancroft Garden is watered about once a week in the heat of summer. "Most people who have these plants in their private gardens can water even less," said Vidal. "Once all of the plants are established they can usually go out to water once every couple of weeks."
Whether you're interested in plants or not, you can't help but be inspired and intrigued by the ever-changing sights throughout the Ruth Bancroft Garden. It's one of the most unique places around that people travel across the world to see. We're right next door, so let's pay our neighbor a visit.
For more information call (925) 924-9352 or visit www.ruthbancroftgarden.org.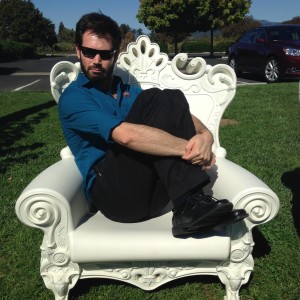 Larson is a writer/actor/comedian native to Vallejo who travels back and forth from Los Angeles way too much. He's desperate for attention and urges you to follow him on all social medias @MarsLegstrong. He lives for likes, please keep him healthy.