As with any great time – it must end at some point. Or does
it. Can you take these memories and see if they can carry through to the next
jaunt? I would like to try.
Today we were able to get a more thorough look and tour of
the Hofsas House, the Bavaria themed inn we are staying at. What nice people!
The owner, Carrie Theis met us in the lobby and went through the history of
this quaint hotel. They are one of the largest hotels in Carmel, boasting 38
rooms and they have a meeting room and pool as well. This is saying a lot in a
town that is not allowing any more hotel rooms in the Village of Carmel.
One of the things that I of course especially love about
this hotel is the fact that they are dog-friendly. No, I take that back they
are dog lovers. Carmel itself is a dog lovers' paradise, but the Hofsas House
actually has a "Tail Wagging Package". All dogs receive their own gifts
including a Frisbee and special treat to start their vacation. The list goes on
and we will have to talk about this extra perk at another time.
Our lunch today was hosted by Café Beaujolais at the Carmel
Plaza today. This delightful café that has outdoor and indoor seating (and is
dog friendly!) has a varied menu that should be able to accommodate anyone. I
had the macaroni and cheese (called Macaroni Maitresse de Maison) and it was
wonderful and just what I needed as the cool air finally hit Carmel. The owner
of this restaurant actually owns 2 other eateries, Bistro Giovanni and da
Giovanni, within a couple of blocks and if all their service is like what we
received – make a reservation. Thanks to Jennifer Mendoza for making Ben feel
extra special!
We then went and check out the most beautiful wedding site
in America! The Carmel Highlands Inn has the MOST fabulous views from all
angles and points. There will be LOTS more to say about this in the future.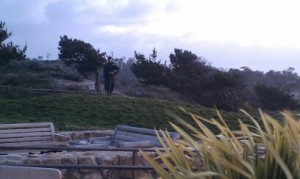 One of my favorite things to do when in the area is to hear the bagpipes at Spyglass. We sat covered in blankets enjoying a cocktail when
the musical pipes could be heard all around. We sat as he made his way around
the links and eventually making his way right in front of us. This is truly magical and if you have never done it – you must.
We then were whisked off to dinner at a charming little
tapas restaurant right off of Ocean on San Carlos, Mundakas. I can't even tell
you all the fabulous dishes we ate – my favorite was the Chanterelle Mushroom ravioli.
Again, we will tell you more about this later, but you should make time to stop
in and have a bite.
Are you tired yet? I am . . .