The 15th Annual Edwardian Ball and Edwardian World's Faire is upon us yet again. What is it, you ask?
An elegant, whimsical spectacle of a madhouse slapdashery of costumery and cocktails, circus and storytelling, ribald music and daring exhibitions that promise to entice and enchant—a feast for the senses with the style and panache of the turn of the 19th century.
That's what they told us! In other words … you sorta really gotta be there to find out.
It all began when Rosin Coven, a band local to the San Francisco Bay Area, collaborated with a club owner, to throw a little party in tribute to the work of the eccentric author/illustrator Edward Gorey. Fifteen years later, it has evolved into a three-day extravaganza that attracts thousands to San Francisco's four-level historical Regency Ballroom (the third day being a few weeks later in Los Angeles).
The Edwardian Ball now stems from a myriad of influences, including both the late Edward Gorey (1925-2000), as well as King Edward VII's reign over the United Kingdom (1901-1910), also known as the Edwardian era/period, and then leading up to World War I. There's no real "rule" to the style of the event, so it really has become their own version of Edwardian times. Hopefully the photos can help paint the picture a bit. If not, there's a video link to a peek into the festivities at their website.
"It's almost beyond words," said Justin Katz, co-host and co-producer of the Edwardian Ball, and member of the event's founding band Rosin Coven. "Once you've entered the halls of the Edwardian Ball you step from the ordinary world into a completely imaginary world; it's a very immersive experience." The other co-host/producer is Mike Gaines, who is representing the Vau de Vire Society, an avant-cabaret community of classically trained dancers, acclaimed acrobats, aerialists, contortionists, circus sideshow acts, fire performers, go-go dancers and more, many of which can be seen performing at the Edwardian Ball.
The event is split into two equally whimsical and awe-inspiring nights. Friday night, January 16th, is The Edwardian World's Faire. This is a very interactive night that includes Barbary-themed Midway Games, bicycle-powered carnival rides, a steam-powered machinery exhibition, circus sideshows, burlesque and a complete circus extravaganza by the Vau de Vire Society. Music by Delachaux and DJ Fact.50 will be ongoing as you peruse their Museum of Wonders or "Edwardian Odditorium"—an entire floor of the Regency dedicated to fine art, living statues, fortune telling, sideshows and haunted mysteries.
Next: sleep.
Then, Saturday, January 17th, is the night of the world-famous Edwardian Ball. Friday's games and rides are cleared away to make room for the ballroom dancing at 8 p.m., amidst festivities galore. Every year Rosin Coven and Vau de Vire Society bring an Edward Gorey story to life theatrically on stage with an original score, composition and musical narrative; Vau de Vire Society will create a stage show, complete with dance and circus acts to result in the featured performance of the evening. This year they'll be presenting The Beastly Baby, a small tale concerning a particularly unpleasant infant who is so wicked that … well … you'll just have to come and see for yourself! Bwahahahah.
During the day on Saturday, before the ball, you can peruse the Edwardian Vendor Bazaar from noon-5 p.m. for only $5 admission. If you're too distracted to shop during the night, or don't want to carry your purchases around with you, OR need something special to enhance your character at the Ball, be sure to check out this shopping event. You can browse or purchase from a variety of authentic fashion, costumes, jewelry and rare oddities. You'll also find fashion shows, strolling performers and a hosted Edwardian Gaming Parlour.
What makes this event especially unique, in addition to all the fantastical things we've already mentioned, is the factor of the attendees playing such an integral role to the magic of the night. "We work really hard to put on good stage shows, but the real show is the participants throughout," Katz explains. "People outdo each other and they work hard to outdo themselves—in terms of costume and character—and it's astounding." It really is like you're in a whole new world, sure to be unlike any event you have ever attended. "The level of costume and character is unparalleled," says Katz. "When you look around you are not in San Francisco in 2014. I'm not sure where or when you are, but it's not where you woke up."
Now if dressing up in costume doesn't quite suit your fancy, that's quite all right. You are still welcome to attend the ball. However, it is a "ball" after all, so, take that as you will. Costumes are not required and nobody will be denied entrance because of it, but it is highly recommended—and upon arrival, once you see the myriad spectacle of everyone all dressed up, you'll be glad you made an effort to do the same. Remember, this is an imaginary world that you're helping to create, so, use your imagination; it doesn't take much.
"We strongly suggest that people consider dressing up in some manner that allows them to feel special, like they're stepping out of day-to-day life," says Katz. "For some people that means they're designing their own handmade costumes 8 months before the event, for others that means at the last minute they find a fancy hat or gown or something that says 'I'm out for a special night on the town.'" It can be just that simple, or that complex. This is your night to express yourself and leave the world you know behind. And best of all, you're free to interpret your flair however you like. "We don't tell people to come in and look a certain way," says Katz. "It's not about a specific accuracy or historic nature; people have a lot of room to be themselves."
If you're still stuck for ideas, the most popular costume choices for the event include: elegant Edwardian period fashion; wacky, bizarre and macabre costumes inspired by Edward Gorey's work; creative Goth; and steampunk attire.
The Edwardian Ball may sounds like an extrovert's dream come true, and it certainly is! But it is fun for all personality types, and all ages as well. "No one demands anything of you, even if you just quietly wander the halls, you will be inspired," Katz assures. Even children are welcome to attend. And if you're unfamiliar with the work of Edward Gorey, this is the time to see what it is about him that has spawned one of the most iconic events the San Francisco Bay Area has ever seen.
"[Gorey's] a master," says Katz. "His wit and his understated observations of humanity are endlessly entertaining. He sees the way of the world with such a unique high and delivers it back to you in a way that really makes you think. It's an understated storytelling that leaves most of the story in your own mind, and we can never get tired of that."
You have two options for attending the ball: both General Admission and VIP tickets are available. General Admission provides access to all three levels of the Regency Center including the Grand Ballroom, the Vendor Bazaar on the Sutter level, and the Museum of Wonders on the lodge level, as well as full bars and hot food menus (limited, first-come first-served seating available). VIP tickets include all of the above plus access to the seated balcony for the best views of the main stage performances. A VIP ticket also provides one inclusive Edwardian Drink Special at any bar at the event, such as absinthe, specialty cocktails and more.
So take a break from the mundane and experience the insane! Maybe not insane … it rhymes with mundane, so, we can't not say it … our words not theirs. ANYway, you get the idea! Step into a world of wonder painted by the prolific master of ominous storytelling Edward Gorey himself. Be a part of something wild and spectacular, let your guard down and experience the wonders of the Edwardian Ball. "I encourage people to just have a good time," says Katz. "You're not judged, you're not right or wrong. Put on something fun to wear, show up and just sink in."
The 15th Annual Edwardian Ball and Edwardian World's Faire presenting The Beastly Baby will be held on Friday & Saturday, January 16 & 17, 2015 at the Regency Ballroom, 1300 Van Ness, San Francisco. (It is also held on February 7th in Los Angeles.) Doors and show at 8 p.m. All ages welcome. Friday ticket prices are $48 general admission and $95 VIP; Saturday ticket prices are $55 general admission and $100 VIP. All prices increase $5 at the door. 2-day Discount Tickets are available for both General Admission and VIP if purchased in advance, while they last. For the aforementioned video, general information, ticketing outlets and more, visit www.edwardianball.com or email queries@edwardianball.com.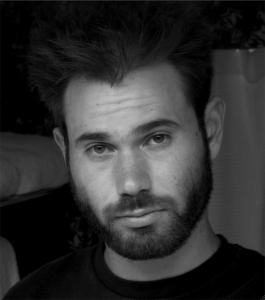 Native to Vallejo, Matt Larson is living in Greater LA to pursue all that is good in the entertainment world. Support his career and follow him on Twitter @mattnstuff.