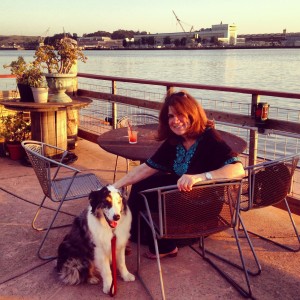 The week started off with a bang! Meetings started the day for Ben and I and we did not stop until after 4 pm. The grand opening of Lois Wolk's and Mike Thompson's new Mare Island office was a huge success and by the time I left at 6 pm there was still a very large crowd. Our day did not stop there, Ben and I then rushed to attend a Volunteer Appreciation Night at Vik's Wheel House for the Vallejo Community Arts Foundation. (Ben took time to sit outside with the gang and was able to take a picture with Leigh Beck, a fellow Board Member.) What a great night, our volunteers work so hard and this was such a nice evening for them.
When Ben and I got home we were able to see the Giants game which I was watching through my Iphone app all night. Awesome win!
Today we start off a little slow but we have so much to get done that I almost can't wait for Wednesday! Let's go . . .