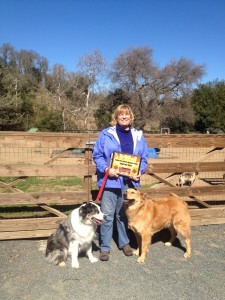 Monday is often dreaded, but I somehow always feel like the first day of school; excited and ready to use my newly sharpened pencils. Today is no exception since Ben and I have much to do this week since we will be taking a little vacation next week.
This week we have contracts to write, new advertisers to meet with and sponsorships to follow up on. Lots of exciting things going on for BB & B Business Group right now so I need to stay focused.
Ben was VERY excited to hand the Locals Choice Award to the Best Pet Business in Contra Costa, Camp Four Paws. What a dream vacation for some very special four legged family members.
BIG stretches since my back is not feeling up to par; feed and walk Ben and away we go. . .