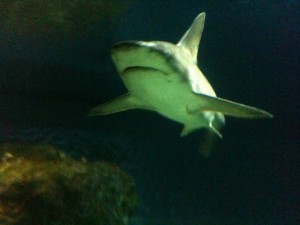 I can't believe that Sunday will be April 1. That should be my April fool's joke – it's not really April yet! April means it is definitely spring time with summer approaching with lots of festivals, fairs, and golf tournaments and such. The one reason I love April so much is because baseball, BBQs, flowers and gardening come into my world on a daily basis – a Garden Party. Ahhh, April, one of my favorite times of the year.
Before I greet April with too much vigor I still have to get through the next couple of days of March. I have running around and events to attend. Last nights' fundraiser for Leadership Vallejo at the Shark Tank at Discovery Kingdom was deemed a success and we all had a great time. Tonight Piccolo will be greeting friends and customers for a Poetic License Trunk Show which should a hoot. Ben and I will be there so you might get your picture taken if you show up! Tomorrow, Yvonne and Jacqueline from Miguelena will be hosting an Anniversary Party at their store in conjunction with Benicia Main Streets' "Benicia in Bloom." Are you tired yet? I better be sure to take my vitamins this morning!
Stretches, feed Ben, latte, and go. . .