Cornucopia, Just Around the Corner
Today, local economies are being destroyed by the "pluralistic," displaced, global economy, which has no respect for what works in a locality. The global economy is built on the principle that one place can be exploited, even destroyed, for the sake of another place.
Wendell Berry, American philosopher, poet, essayist and farmer
In recent years there has been an increased awareness of the environmental issues and the impact of big agriculture on the food we consume. Movements encouraging locally grown and organic products have gained momentum across the country, not least of all in the Bay Area. UC Berkeley journalism professor and author Michael Pollan, a prominent figure in the "eat local" movement, has both analyzed and criticized the negative impacts of big agro-business in several books on the subject. Starting with his acclaimed first book on the topic The Omnivore's Dilemma, Pollen considers the tension between industrial farming and our relationship to the natural world. Pollan is much in agreement with the earlier work of Wendell Berry, a longstanding and outspoken critic of the application of industrial principles to farming. Berry, who has written books, essays and technical treatises on farming even goes as far as to suggest that the destruction of small farms by big agricultural corporate concerns, along with globalism, has undermined the strength of local communities and put at risk the very survival of humankind.
These concerns are not limited to a few activists any longer. The broader awareness of the importance of knowing where and how our food is produced has given rise to a web of small independent farms and producers throughout the country, especially in California and the Bay Area. So, Local Happenings decided to visit with four small local producers who work outside of corporate agriculture and offer exceptional products. Clearly, it takes more work on the part of the consumer to seek out the small producer, but the rewards are well worth it in terms of both taste and support of the local agricultural economy. And while exceptional local produce is available for top dollar at specialty grocers (Whole Paycheck anyone?) the offerings obtained through local producers directly is often surprisingly affordable.
Taramasso Ranch…Pastured Free Range Chickens with LOVE
Taramasso Ranch, in Napa has been in the family since 1953. Having started as a twenty-acre chicken farm, the ranch was engaged in raising poultry on a commercial scale for Purina with as many as 8,000 birds in two commercial chicken houses in the early sixties. Over the years, the Taramasso family raised horses, sheep, kept a few head of cattle and planted apples and pears.
Located just off Old Sonoma Road the ranch is now run by Joan Taramasso and her boyfriend Matt Blach. Over the years, seventeen of the original twenty acres of ranch land were sold and the farm became less active, until Joan and Matt brought chickens back to the property and began producing eggs a few years ago.
On a Sunday visit, between the springtime rains I took a drive to Taramasso ranch. Turning off the main road and down an unpaved tree-lined lane I crossed a small creek and came to a stop next to a stucco farmhouse. Two dogs greeted me from behind a fence next to the house barking. There were chickens happily hopping all over the place.
Matt Blach came striding across the yard with a big smile on his face and beckoned me to a table at the back of the farmhouse set with a massive breakfast. "Have a seat," he suggested affably, asking me how I like my eggs. Friends and neighbors were also seated around the table, something of a Sunday custom at Taramasso.
As I plowed through a massive plate piled high with waffles, bacon, fruit, eggs and toast, and washed it down with coffee and orange juice from local fruit, I chatted with Matt and Joan about their chickens.
"The technical definition of 'cage free' is," explained Joan, shaking her head, "you can have a thousand birds in 1500 square feet of space, because each bird can get one foot by one-and-a-half feet of space."
"And you can have as many as five birds in one cage." added Matt.
I contemplated the exceptionally rich yellow color of the yolks on my plate and looked at the chickens running around the yard. "But these are all over the place," I said.
The chickens at Taramasso Ranch are given an exceptional amount of freedom to roam. Far more than so-called "free range" chickens one sees advertised today. A diet of feed supplemented with insects and various food scraps, including bananas, spaghetti and other unexpected treats yields eggs with far more flavor than anything produced on a large commercial scale. A dozen eggs from Taramasso Ranch include a rainbow of shell colors from white to brown to a blue green from a number of breeds of chickens such as Dominiques, Buff-Orpington, Barred Rock and Americana (the blue-green eggs) chickens.
Don't expect the uniformity of a commercially farmed product, but do expect exceptional flavor.
When I asked Matt how he came to be in the business of raising chickens he replied, "I guess I fell in love with Joannie." I think the chickens at Taramasso Ranch are raised with love too. You really can taste the difference.
Taramasso Ranch is located at: 1104 Old Sonoma Rd. Napa, CA 94559 Inquiries: (707) 224-3924
Bay Area Bee Company…A man and his bees
Rokas Armonas is passionate about bees. He began beekeeping at age 14 in his native Lithuania and brought his passion for the trade with him when he emigrated to the US three years ago. Now, he is working hard to build an empire of bees throughout the Bay Area and beyond with hives currently placed in over forty locations chosen for the various flavors of honey produced by the different flora in each area. Armonas brings hives to almond groves in the Central Valley to aid in pollination and for the exceptional flavor the blossoms yield as well as locations that will produce distinctively flavored honey.
I recently had the opportunity to ride with Rokas to visit his hives placed among the orange trees in the Suisun Valley. As we drove he explained the qualities of various types of honey: eucalyptus, very robust and pungent…fennel, retaining a slight licorice flavor…sage, less sweet…mustard, very sweet…acacia, light and balanced
He even produces a barbecue honey with a smoky flavor made over an open fire during the process of separating beeswax and any honey remaining in the comb after normal extraction.
Winding our way through the hills and vineyards of the Suisun Valley, Rokas explained the powers honey has in alleviating allergies. How honey with cinnamon or honey with ginger can help with digestive issues, blood pressure problems or "all sorts of combinations which can help in different ways."
A sign said: Oranges – One Mile
Through pastures and hillsides, passing wineries we arrived at our destination: An entire hillside covered with orange trees. "Too much expensive to pick them." said Rokas in his thickly accented English.
"What do you mean? Nobody picks them?" I asked.
It would seem that oranges imported from Brazil and Argentina on container ships are cheaper than oranges sourced locally and that these are allowed to fall and rot. Rokas handed me a shopping bag and pointed at the trees. And so I found myself strolling and picking oranges as we approached the hives. Bees happily buzzed in and out of the brightly colored bee boxes as the afternoon sun played across the hillside. A dragonfly flitted by as a hawk circled overhead on a rising thermal. And I considered how bees capture the sweet sunshine on a day like this, and how Rokas the beekeeper puts their work in a jar for us.
The Bay Area Bee Company offers numerous seasonal varieties of honey. Hives are placed in locations carefully selected by master beekeeper Rokas Armonas for both taste and freedom from pesticides.
To purchase honey or find locations that carry honey from the Bay Area Bee Company visit: www.bayareabeecompany.com  or call (707) 552-7809
Far West Fungi…A family tradition
Our next excursion takes us a little way to the San Francisco Ferry Building where Far West Fungi has a retail location.
"I was born into the mushroom business." says Ian Garrone of Far West Fungi "My parents started it back in 1982."
Garrone comes from a long line of self-described farmers and "farm people" including his father who imported and distributed small quantities of produce from Argentina and Italy to San Francisco and the Bay Area. Garrone's grandfather sold ice in his native Argentina and the family still has vineyards in Italy. "They always sold in a farmer's market style," he explains.
Garonne's father left the produce business to become a San Francisco Police Officer at one point, but was drawn back to when he started growing mushrooms with a partner in a space at the Hunter's Point shipyard in 1982. At that time, the selection of mushrooms on the US market primarily consisted of white or brown button mushrooms. Today, Far West Fungi carries over 70 different varieties of mushrooms, both wild and cultivated. Examples include Shiitake, Maitake, Oyster and other exotic varieties grown at their facility, now at Moss Landing near the Monterey Bay. The Mushrooms are grown in a six-acre, indoor facility on blocks of red Oak sawdust and rice bran. Manure, once used for cultivation is no longer the food of choice for fungus, so the old adage of keeping them in the dark and feeding (you know) no longer holds true.
Far West also carries a wide variety of wild mushrooms including Morels, Porcini and Chantrelles. "The regular kind of common mushrooms are pushed aside these days. Most people are coming in looking for the truffles," says Garrone. "We carry about thirteen varieties."
Truffles previously had to be sourced in the wild only, but some varietals are now cultivated. Oak seedlings are inoculated with the fungal mycelium and four to six years later yield truffles. When I asked Ian if he had any oaks yielding truffles he said "yes." When I asked if he would tell me where they were located he smiled and said "no," which is not surprising when one considers that truffles can command prices as high as $9000 per pound. They also use dogs to sniff out the truffles, rather than the traditional pigs one might imagine. "When you're walking your pig, people know what you're doing. When you're walking your dog, you could just be walking your dog." says Garrone, half winking.
Whether it's truffles or some less extravagant fungus you seek, Far West Fungi likely has something to tantalize your tastebuds. I left with a bag of Pink Oyster Mushrooms and sautéed them in olive oil and garlic. Delicious and grown in California.
Far West Fungi is located at: 1 Ferry Building, Shop 34, San Francisco, CA 94111 Monday-Friday: 10 a.m. – 6 p.m. • Saturday: 8 a.m. – 6 p.m. Sunday: 11 a.m. – 5 p.m. Inquiries: (415) 989-9090 or visit them online at: www.farwestfungi.com
The Vegetable Patch…Pick it yourself. Or not.
Doreen and Doug Lum don't spray their fields with pesticides. They just don't do it. They do offer a range of over twenty varieties of heirloom tomatoes as well as leafy vegetables such as Swiss chard, collard greens, cabbage, lettuce, cucumbers and over 25 varieties of peaches from their own trees, strawberries from "right down the road," cherries, eggplants, peppers, asparagus and just about everything else imaginable.
Of course, you may have to deal with the occasional hole in your greens, or a bug once in a while, but "At least you can wash the bugs off," says Doreen Lum as she holds a perfect and leafy Swiss Chard, just picked from the fields behind the produce stand she and her husband run on Rockville Road in Suisun Valley.
"You can come out and pick anything when it's ready," says Lum.
The Vegetable Patch has seventeen acres of fields directly behind the farm stand. Doreen and her husband Doug have been in the business for 34 years, raised two daughters and continue to offer local produce for you to pick, or just buy from their shelves. Their prices are remarkably reasonable. I filled an entire (sizable) bag with produce and a loaf of fresh baked banana bread. It came to nine bucks and change. When I expressed my surprise at the low price, Doreen said, "People who haven't been here before are always surprised, but no, that's the price."
The Vegetable Patch is located at: 2820 Rockville Road, Suisun Valley, CA 94534 To check what is ripe call: (707) 427-8164
From peaches to honey, eggs to zucchini, truffles to pickles it is all available from local producers. When local oranges (stunningly delicious local oranges) fall to the ground because of the economics of globalism it gives reason for pause. Produce in containers on diesel ships coming to California when we have such local bounty makes no sense. But this is changing as awareness grows. Make the effort to seek out and the small farmers who work the land sustainably. Know what you're eating and where it comes from. It's the right thing to do, and it's delicious!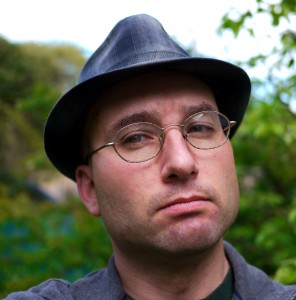 Marc Garman is a watch repairer and videographer who lives in Vallejo, CA.  He grew up crewing on and racing sailboats in upstate New York, mostly on the Hudson River.