As the great American writer Jack London detailed in his memoir John Barleycorn, Vallejo and Benicia have a rich drinking history. The way London describes it, a sizable amount of real estate in this area was dedicated to producing alcohol. But somewhere down the line, Vallejo fell off track a little. Despite the city's close proximity to Wine Country, there wasn't much in the way of breweries or wineries in town, until recently.
The tide started to change in 2014, when Mare Island Brewing Co. opened at the Vallejo Ferry Building, which is ironically located a short distance away from where London was rescued by a Greek fisherman more than a century ago, following an evening when London got a bit too inebriated.
Mare Island Brewing Co.'s co-founders (and co-brewers) Ryan Gibbons and Kent Fortner are a pair of winemakers turned brewers. Gibbons was the first to decide to go from "grape to grain," leaving the wine industry to begin his tenure at Lagunitas before finally going into business with Fortner.
Fortner, in addition to being a longtime fermenter, is a history aficionado who settled on Mare Island and has taken the time to learn the stories of past generations. As a tip of the cap to their brewery's home base, he and Gibbons have named their beers after elements of the island's history.
"We're able to use the history and pay homage to it, and continue that history on," Gibbons said. "One of the things I've noticed is that there's a huge gap between those who lived and worked on Mare Island and those of us who are younger, who might see it as just a bunch of abandoned buildings, or might not know what it is. We're trying to bridge the gap with beer."
Their first release, Saginaw, is named after the first wooden ship to be christened in Mare Island. The name of their second release, Coal Shed Ale, was chosen simply because they brew in old Mare Island coal sheds, and because they plan to incorporate work from artists inhabiting other coal shed studio space into the taproom layout. They've also come up with a trademark beer to the Vallejo Admirals baseball team.
"Because we come from a winemaking background, balance is important to us," Fortner said in 2014. "We do have some hoppy beers, but in general, our beers are a little more toned down, a little on the balanced side."
When they opened in 2014, Fortner and Gibbons expressed hope that their opening would inspire other breweries and wineries to set up shop in town.
"We'd like for this to be a brewing town," Gibbons said. "With the look of Mare Island and its industrial grit, it's such a nice area to just sit down and enjoy a pint on the waterfront."
And according to Frank Kennedy, of Vino Godfather winery, that's exactly what happened. Kennedy, along with his partner Twila Nixon, opened the Vino Godfather tasting room in October 2015, in an historical mansion on Mare Island.
"I've always liked Vallejo and thought that it had a lot of untapped potential for doing a tasting room," Kennedy said. "I had seen the success Mare Island Brewery had by opening the tasting room at the ferry building, so we wanted to be the first ones out here on Mare Island to open a wine tasting room."
Kennedy, a 20-year veteran in the wine business, has been working on Vino Godfather wines since 2008. He and Nixon first released a batch of their signature brand— Prohibition Wines — in 2011.  Kennedy said the title is a tip of the cap to previous generations in his family, who were also longtime winemakers.
"My grandpa and uncle grew grapes during [the Prohibition] era, and they basically did a little bootlegging on the side to survive back in those days," Kennedy said. "It's kind of a reference to that era."
Kennedy and Nixon retained longtime Bay Area winemaker Warren Smith to head production and collaborate with Kennedy. Since opening last October, they've attracted roughly 7,000 customers to their tasting room, Kennedy said.
"We try to make our wines really balanced and fruit-forward, and what appeals to about 80 percent of the mass," Kennedy said. "Our wines are unique in style."
Kennedy and Nixon's success has piqued the interest of other wineries in the area, and Kennedy says he expects more to set up shop on the island.
"I believe Vallejo is the new frontier for wineries and breweries," he said.
It may also become the new frontier for distilleries.
Earlier this year, it was announced that the Splinter Group plans to open a distillery and taste room on Mare Island as well. It is expected to open at the end of 2016, after Splinter Group began talks with Lennar Mare Island, the property management company in charge of the Mare Island, to lease the historic Building 45 last year.
"Lennar Mare Island is very excited about Splinter Group coming to Mare Island. Building 45 is a special piece of Mare Island and we have been seeking a business who appreciates its history, understands its future, and can attract visitors," Lennar spokesman Edward Moser said.
Splinter Group focuses on whiskey distillation, and currently offers two lines: an 84-proof bourbon whiskey called Straight Edge, and an American whiskey called Slaughter House. The latter is aged in American Oak for nine years and is advertised as having a taste of caramelized sugar, baking spices, dark fruits, butterscotch, and vanilla notes. Last year, Slaughter House took a gold medal and "best in class" at the 2015 Whiskies of the World Competition. The distillery is currently housed in Napa, but its owners are excited about spreading out into Vallejo, Moser said.
"They were enthusiastic about the opportunity to open their business within Mare Island's historic core," said Moser. "We are happy to have business opportunities like this that continue to bring visitors and economic activity to the city of Vallejo and Mare Island's historic core."
And if that wasn't enough, a popular Napa Valley brewery has announced it plans to move to Vallejo soon as well.
Napa Smith Brewery, founded in late 2008, will be moving to 101 Yolano Drive in Vallejo, off of Sonoma Boulevard. They expect to be open by the end of 2016.
The brewery is also set to enter a cooperative partnership with two breweries: Turtle Anarchy Brewing Company and Hap & Harry's Tennessee Beers, and will be establishing a brewery in Nashville as well. The collaboration will make Napa Smith the smallest independent biocoastal operation in the continent, and more than double its capacity, according to a news release from the company.
Napa Smith Brewery offers 11 in-house beers — three seasonal lines, and eight year-round lines — that cover a wide range of tastes. Its brewers make a pale ale, an organic IPA, and an Amber ale, and swing towards a craft beer taste with lines like "Hop Java" or "Hopageddon." But they also have a pilsner and other more mild flavors.
The man behind the beers is brewmaster Don Barkley, who started the craft in 1978. He went on to co-found Mendocino Brewing Company before joining Napa Smith. During his career, Barkley said he's seen an  "explosion'' of craft beer across the country.
"Working with other brewers to expand and promote good beer is a job," Barkley said in a written statement. "There aren't too many careers that span 40 years and culminate in this fashion. I feel very fortunate to be a part of Napa Smith's plans for expansion."
Napa Smith will offer bottles, kegs, a taproom, and refreshments, but they'll also have a nice growler deal too: You can buy a 64-ounce growler for $9, and/or get one filled up for $20 (that option works well for beer tourists).
"You can get a growler filled up, then go to another brewery and refill it," owner Mike Forte said. "That's something that's really popular in the craft brewer market right now."
Mare Island Brewing Co.'s taproom is located inside the ferry building at 289 Mare Island Way, Vallejo.  It is open 4 p.m. to 10 p.m. on Thursday and Friday, 11:30 a.m. to 10 p.m. on Saturday, 11:30 a.m. to 9 p.m. on Sunday, and 4 p.m. to 9 p.m. on Monday. It is closed Tuesday and Thursday. For more information, visit www.mareislandbrewingco.com or call (707) 556-3000.
Vino Godfather's tasting room is located at 500 Walnut Avenue on Mare Island (the closest cross street is Kansas Street), across from the VA Clinic at the first mansion on Mansion Row. Its hours are 2 p.m. to 6 p.m. on Tuesdays and Wednesdays, noon to 8 p.m. on Thursdays and Fridays, noon to 6 p.m. on Saturdays and Sundays.  On Saturdays, they also have live entertainment, pizza that's cooked in a brick oven outside, and a deal where $20 gets you a taste of every wine and a cup of your choice. For more information, call (707) 552-2331.
The tale of Saga of Saginaw:
The following is an account  from Mare Island Brewing Co. co-owner Ken Fortner, and details the history of the ship Saginaw, the inspiration behind the first beer ever released by the brewery:
Saginaw was the first boat ever made on Mare Island, in 1857. That boat, it fought Confederates. It did minesweeping. It was originally a sailboat, and it was turned into a steamship.
                Coming out of Midway Island, the Saginaw wrecked while searching for castaways, with all 169 getting off the boat alive. They salvaged the captain's skiff and scuttled the Saginaw, and then five members of the crew set off in the skiff for Hawaii, which was 1,500 miles away, looking for help.
                 When they arrived, the five crewmembers were starving and on the verge of death. While they were trying to get ashore, the skiff capsized, and four of the five drowned. The lone crewmember to survive the skiff's sinking somehow made it to shore, and convinced King Kamehameha to go over and rescue the other 164 that were left.
                That crewmember, the lone survivor of the rescue mission, William Hoffer, is buried on Mare Island, and his grandson is still alive.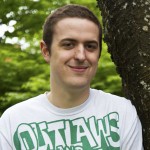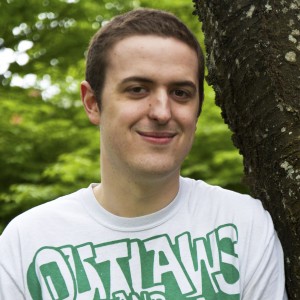 Nate Gartrell grew up in Benicia, studied journalism in college, and has written for a handful of media outlets since age 15. He aspires to visit all 30 Major League Baseball stadiums and to hit the trifecta at the horse track.