A ruff time for those having a rough time
Cancer is all around us. If you've been lucky enough to not have been touched by it, chances are you know someone who has. It is a very real part of life. From diagnosis to treatment to recovery, it is a very involved process and different people handle it different ways. One thing that seems pretty consistent among those going through it is the importance of having a support group. We don't all have big families or loyal friends that are willing (or wanted) for helping with the coping process, but we do have organizations like Relay For Life via the American Cancer Society that can at least help take the edge off and provide some serious support.
One of very many ways that the American Cancer Society can help is by making us aware of our resources. Aside from friends and family, canines can actually help the healing process quite a bit with their unconditional love and affection. To bring awareness of canine caregivers for cancer patients the American Cancer Society Relay For Life of Benicia is hosting a fun fundraiser, a fun..draiser, called Bark for Life on August 20th of this year.
"The Bark for Life event is an opportunity for people to celebrate canine companionship and fight back against cancer with their dogs," said James Long from Pups 'n' Purrz pet store in Benicia who was instrumental in bringing the event to Benicia. "Every person who has been close to a cancer experience and has a dog in their life is invited." So most everyone is indeed invited.
The event is to be held at Benicia Middle School from 8 a.m. to noon, and you are very much encouraged to bring your own canine companion along with you, as this is really an event for them! This event is celebrating the lifelong contributions these dogs are providing for their cancer patient guardians. And what's a celebration without some fun happenings?! Event festivities will include doggie games, dress-up contests, raffles, music, food, and doggie laps, as well as a walk to honor what these loving animals have done for their cancer patients and cancer survivors. You can also be sure to enjoy the Benicia PD K9 unit presentation and Disc Dogs of the Golden Gate tournament.
While this is sure to be a very fun event, it is designed to be a fundraiser to help the American Cancer Society help you, and/or your friends and loved ones who may be diagnosed with cancer. If you're looking for a place to donate—you've found it. Funds raised at these events actually do save lives by funding groundbreaking research, supporting education efforts and providing free information and critical services for cancer patients. Last year more than 20,000 registered canine and caregiver participants at 300 Bark For Life events across the country raised $1.2 million. So even if you're only giving a little bit, that little bit goes a very long way when combined with everyone else.
The American Cancer Society is the largest voluntary health organization. As a global grassroots force of 2.5 million volunteers, they are "saving lives and fighting for every birthday threatened by every cancer in every community." It's quite the undertaking indeed, but with more than 800,000 men and more than 800,000 women expected to becoming diagnosed with cancer in 2016, we really need all the help we can get. It's worth supporting the American Cancer Society as their methods are making an impact and are changing the world for the better.
Having contributed to a 22 percent decline in cancer death rates in the United States during the past two decades, as well as a 50 percent drop in smoking rates, the American Cancer Society has a lot to be proud of. And anyone who has ever supported them can be just as proud as well. With a thanks, in part, to their progress, nearly 14.5 million Americans who have had cancer will be able to celebrate their birthdays this year. "We're determined to finish the fight against cancer," they say. "As the nation's largest private, not-for-profit investor in cancer research, we're finding cures and ensuring people facing cancer have the help they need and are continuing the fight for access to quality health care, lifesaving screenings, clean air, and more." That's probably more than you're personally willing to take on, but you could at least support their Relay For Life events and donate what you can. And you can start (or hopefully continue because you've supported before) with Bark For Life!
The Benicia PD K9 presentation is certainly not to be missed, and the Disc Dogs Tournament is always a crowd pleaser. The event opens with, well, an opening ceremony, followed by a survivor/caregiver/canine ceremony, then the adoptable canines lap, and then party time! You must attend this event with a positive attitude as it will be the only way to fit in.
For more than 65 years the American Cancer Society has been finding answers that save lives, be it discovering important changes in lifestyle, new approaches in therapies, and just improving general quality of life for cancer patients. It can be a very demanding process on someone's life, so even the finer details make a big difference. For patients who have to travel for treatment but can't afford accommodations, the American Cancer Society Hope Lodge facilities provide a free and comfortable place for patients and their caregivers to stay. If patients have trouble with transportation, the American Cancer Society Road To Recovery program will partner them up with specially trained volunteer drivers. There are many, many ways that the American Cancer Society will make good use of every dollar you donate, so now is your chance to help them make a difference.
Bark For Life, presented by the American Cancer Society Relay For Life of Benicia, is to be held on August 20th from 8 a.m.-noon at Benicia Middle School, 1100 Southampton Road, Benicia. To register or for more information, visit relayforlife.org/barkbeniciaca or call the American Cancer Society at (707) 720-0104. Hope to see you there, and don't forget to bring the pooch!
Saving Lives One Step at a Time
As the weather turns warm, many of us are thinking about the fun we can have over the summer. Some of us, however, are thinking about the fun we can no longer have with someone dear to us who was taken away by cancer. And for the millions of folks suffering from cancer nationwide, their idea of fun would be to simply enjoy a pain-free day that could be spent with family and friends.
Each year, people in communities across the country are remembering those we have lost due to cancer, and those that are still struggling with it. Many of us choose to participate in the American Cancer Society's Annual Relay for Life event that happens during the late spring and early summer months each year. It's a way to not only remember those lost or in the middle of a fight with cancer, but to help raise money and awareness to fight this scourge.
Most of us have a story to tell about how cancer has impacted our lives, either directly, or with a friend or family member. Therefore, each of us should work together to help solve this medical riddle that has struck down so many of us far too soon. To help you connect with a Relay for Life event near you, here is a partial listing of events in our area:
June 25 – Vaca Pena Middle School, 200 Keith Way, Vacaville
June 25 – Encinal High School, 210 Central Ave., Alameda
June 25 – Donaldson Way Elementary School, 430 Donaldson Way, American Canyon
June 25 – Heritage High School Amphitheater, 101 American Ave., Brentwood
July 16 – Todos Santos Plaza, 2151 St., Concord
July 16 – Armijo High School, 825 Washington St., Fairfield
July 16 – Pittsburg City Hall, 65 Civic Ave., Pittsburg
July 17 – Cerrito Vista Park, 950 Pomona Ave., El Cerrito
July 23 – Heather Farm Park, 301 N San Carlos Dr., Walnut Creek
July 23 – Pleasanton Middle School, 5001 Case Ave., Pleasanton
July 23 – Martinez Junior High School, 1600 Court St., Martinez
July 30 – Napa Valley College Track, 2277 Napa Vallejo Hwy., Napa
August 6 – St Patrick/St. Vincent High School, 1500 Benicia Rd., Vallejo
August 6 – Collins Elementary School., 1224 Pinole Valley Rd., Pinole
August 13 – (Bark for life) Pleasant Hill City Hall, 100 Gregory Ln., Pleasant Hill
August 13 – Mt. Diablo Elementary School, 5880 Mt. Zion Dr., Clayton
August 14 – Harper Jr. High School, 4000 E Covell Blvd., Davis
August 15 – Mt. Diablo Elementary School, 5880 Mount Zion Dr. #8206, Clayton
August 19 – Benicia Middle School, 1100 Southampton Rd., Benicia
August 20 – Albany High School, 603 Key Rte. Blvd., Albany
August 27 – (Bark for life) Hellman Hollow JFK Drive and 25th Ave., San Francisco
To learn more about this important event please visit www.relayforlife.org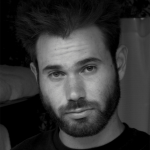 Matt Larson is a writer/actor/comedian native to Vallejo who travels back and forth from Los Angeles way too much. He's desperate for attention and urges you to follow him on all social medias @MarsLegstrong. He lives for likes, please keep him healthy.