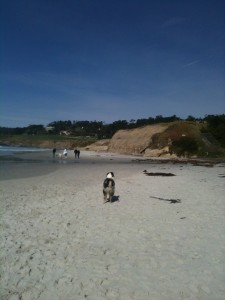 As I pulled up to the quaint Hofsas House in Carmel, I was
not sure if I was "getting" this boutique-inn situated a few blocks off of Ocean Avenue. I checked in and everybody seemed welcoming and nice. My room wasn't
ready so I headed to the beach since Ben was already jumping in excitement.
What a treat for him. He immediately made friends and was having a ball. He
even found a golf ball for a Pebble Beach patron that had hit an errant ball!
There certainly is not an economic downturn in Carmel! Shops
are full, restaurants seem busy, and visitors and their four-legged companions are everywhere.  After walking the beach
we stopped in at Doris Day's famous Cypress Inn so we could get some much needed
refreshments. (Beer, mimosas and water
for Ben!) We made some friends and once again Local Happenings Magazine was
a hit. The walk to the hotel was short and once we made it to our room we fell
in love. It wasn't new and trendy, it was quaint and something like you would
find at Aunt Martha's. Our room had a king size bed with a balcony that had an
ocean view and a fireplace. That was the best part – one flip of the switch and
warmth and romance took over.  . .
After resting and showering to head out for the evening we
all once again commented on the fact that the weather that we are experiencing is
incredible. February in Carmel, warm and not foggy, who would have guessed? Dinner
at Fandangos Restaurant in Pacific Grove was comfortable since we were seated
right in front of the fireplace in the backroom. The menu consisted of meat,
fish, and lots of pasta. I decided to stick to what I love about the coast –
seafood. Shrimp Scampi over a bed of pasta, warm bread, wine and a soufflé (their signature dessert) to finish the
meal. I was stuffed, so we sat and enjoyed the Chalone Vineyard Pinot Noir in
front of the fire before we headed back to the hotel.
The drive was just a few minutes and then we came back to a
fire in our room and wine . . .