The Land Trust of Napa County has been protecting local lands for nearly 40 years
Ah, the great outdoors. They sure look nice from a distance. In fact, that's how most of us enjoy the outdoors—from afar, usually while driving, especially in these cold winter months. But the Land Trust of Napa County, a community-based nonprofit organization, offers outdoor excursions all throughout the year, including right now! Sure it's a little colder out, but it's not unbearable. As long as jackets exist, you should make sure to get out of the house and into the nature regardless of the season.
If you're not sure where to go, as the Land Trust is currently protecting 55,000 acres of land (which is quite literally 10% of Napa County) the Archer Taylor Preserve is probably the best first impression for both the novice and expert hiker. It's a permanently protected, 380-acre wildlife habitat containing a century-old redwood forest and over 240 recorded species of native plants. You may also encounter foxes, mountain lion, red-tailed hawks, pygmy owls, bugs probably, bears possibly but unlikely, friends and family if they came with you, and a whole lot more.
Archer Taylor Preserve offers something for everyone, from someone who wants to take a leisurely stroll with an amazing view to someone who wants to go on a strenuous hike with an equally amazing view. You'll find that almost all of the hikes offered by the Land Trust has both relaxing and physically demanding hiking options.
There are numerous field trips and hikes scheduled throughout December, January and February. Registration is required but you'll find the admission prices to be quite affordable. Certain events are for members only, which you can become yourself for a small fee of $40 per year. Every Saturday you can register to attend Archer Taylor Preserve Work Days, offering opportunities to volunteer in helping to work on new and existing trails, invasive plants, road maintenance, ya know, all that good stuff. Tools and gloves are provided and then when it concludes at noon:30 you're invited to hike in the afternoon! Just one of many, many options.
Other trips include a journey to the headwaters of Conn Creek through shady forests and over streams to encounter the beautiful waterfall at Linda Falls; a strenuous 14.5-mile hike up 3,000 ft. in elevation to arrive at the summit of Berryessa Peak, overlooking Lake Berryessa and beyond; an easy 4-mile jaunt through vineyards, old-growth trees and meadows on Henry Road … there's a lot to choose from. Some of these events are already sold out so plan ahead if you'd like to encounter Napa Valley just like so many generations before us have done, as these lands have been preserved by the Land Trust for nearly 40 years.
"We are permanently protecting the character of Napa by keeping it beautiful," said Kimberly Barrett, Development Manager for the Land Trust of Napa County. "We're protecting agricultural lands, scenic views, watershed and biodiversity—we protect the Bell Canyon watershed which provides all of the drinking water for St. Helena, the beautiful drive up and down Highway 29 when tourists or residents can see all of those mountainous regions on either side that are undeveloped—that's the work that we do." By simply being within the limits of Napa Valley and looking around, you're impacted by the generous work of the Land Trust.
Of course the Land Trust isn't in this alone, as it works with private landowners, state and public agencies to protect the land, but they're the ones coordinating everything and making sure all goes according to the preservation plan. The 55,000 acres they protect are a result of nearly 200 projects including 136 conservation agreements donated by more than 90 property owners, 18 properties transferred to resource agencies, 24 properties protected through ownership of the Land Trust—in other words, there's a lot going on here behind the scenes to ensure this land remains as pristine as can be.
"We're a small and mighty staff," said Barrett. And they're also very ambitious. Of the 1,700 land trusts across the nation the Land Trust of Napa County is one of about 300 or so that have been accredited by the Land Trust Accreditation Commission. "We have a really fantastic and dynamic board that wanted to support us in going after accreditation," she adds. "It gives an extra layer of confidence to our donors and to the public that we are operating at our highest capacity. That was important to us."
The Land Trust Accreditation Commission only awards accreditation to land trusts that "meet national standards for excellence, uphold the public trust and ensure that conservation efforts are permanent," according to their website, that is. It's also worth noting that accreditation is not a one-time decree but fosters continuous improvement as it must be renewed every 5 years.
New projects are consistently in the works with the Land Trust of Napa County and there have been many accomplishments even this year as we come to the end of 2015. In March 2015 they acquired 80 acres of land at the southern end of Lake Berryessa overlooking Capell Cove; the area, referred to as a "doughnut hole" because it was surrounded by previously protected land, is now included within a 700-acre lot that is under the protection of the Land Trust. In August the Land Trust's CEO was quoted saying that they have about 20 land-preserving projects in the works which he believed was more than they've ever had going on before. Barrett confirms, "We do have a number of projects in the pipeline."
Partnering with the public, the Land Trust protects land through the following initiatives: Natural Lands, Parks for People, Working Lands, Land & Water and Permanent Preserve Network. As Barrett mentioned, this includes agricultural lands, scenic views, watersheds and biodiversity, among anything else they can find to protect, of course. They acknowledge that there are few places left that "maintain the promise of a wild Napa," so much of their land is dedicated wilderness area, including 216 acres of open space in the Carneros District, 570 acres along Jameson Canyon Road and much, much, much more.
Thanks to the Land Trust of Napa County you have enough recreational options to hike a new trail you've never been on before for years on end, depending on how often you go, but options really are seemingly endless thanks to a rich history of hard work. A notable hike to explore is the Palisades Trail, known as one of the best hikes in wine country and also known as Calistoga's Stairway To Heaven. The Calistoga Palisades offer the experience of epic vistas, unusual rock formations, solitude … about what you'd expect in the mountainous Robert Louis Stevenson State Park. The Palisades Trail is so remote that it can only be accessed by hiking either the Table Rock or Oat Hill Mine trails, or both. Parking a car at the Oat Hill Mine Trailhead at Hwy 29 and Silverado Trail, then getting a ride to the Table Rock Trailhead and hiking back to your car is one way to go about it, but do your research online to ensure your preparedness as parts of the hike can be pretty strenuous.
There's so much to see and do that it's really up to you to choose your own adventure while exploring Napa County. "We have some remarkable properties," said Barrett. As well as some remarkable field trips and hikes. "Sometimes we have outings where we have kayaking on the Napa River, we have photography hikes, birding outings…" she recommends keeping up to date on their website for a variety of awesome exploration opportunities.
If you'd like to get involved with the Land Trust you could attend one of the aforementioned volunteer work days and donate your time, or head online and donate your money. And especially, if you happen to have a few dozen acres of land in Napa County that needs preserving, you could donate that as well! You can also become a member to get access to some exclusive events.
We are lucky to have organizations like the Land Trust of Napa County that put things like environmental preservation at the forefront. With so much expansion and growing population, especially in a place like California with Napa Valley being one of its top tourist destinations, gentrification is a very easy option. But there's more to our region than the culture and the commercialism, there's, well, the region itself! As it's always been. Preserved as our parents, grandparents and ancestors have seen it, generally, just like today.
If you've enjoyed the views of Napa County from wheels and have yet to explore them on foot, the time is now! Contact the Land Trust if you have any questions on how to proceed and to get guidance on the best way to go about it. Sure, the land's not going anywhere. But we are! So enjoy it while you can.
Call the Land Trust of Napa County at (707) 252-3270 or visit www.napalandtrust.org.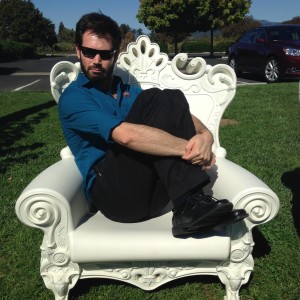 Matt Larson is a writer/actor/comedian native to Vallejo who travels back and forth from Los Angeles way too much. He's desperate for attention and urges you to follow him on all social medias@MarsLegstrong. He lives for likes, please keep him healthy.