[weaver_extra_menu menu='entertainmentMenu' style='menu-horizontal' width='100%' css='menu-horizontal']
Bottlerock Napa Valley – Postmortem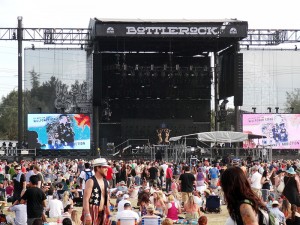 It's been a few days since Bottlerock and I think I've recovered. Spanning five days, and held at the Napa County Fairgrounds, this was the biggest event of its sort ever seen in Napa and it was a big deal to attend. Costs in terms of both energy and commitment as well as expense, especially if you opted to go for several days were high. Yes, there were lines and shuttle busses and such, but all quite well managed. In spite of the crowds and some heat in the afternoon hours, the event was a lot of fun. And while the Napa Fairgrounds is not small…the venue was not so big as to be overwhelming. It was also a chance to see a lot in a short period of time. We're talking about a slew of world class acts performing in one place. I have been a fan of Jane's Addiction for years and It was great to see them live as well as Bad Religion and the Black Keys while sitting on a blanket on the grass as the evening air blew in, cooling everything off.
The selection of food and drink was of a far higher caliber than any big event I've ever attended, with a lot of notable Napa eateries offering great stuff. Whole Foods (Whole Paycheck?) was there with fresh sliced fruit in a sports bottle – very refreshing. There was also fresh coconut water in the coconut. I even had sushi from Eiko's Sushi of Napa, which was delicious and sure beats the hell out of the dessicated hot dog and de-fizzed sugar water you might expect at this sort of event. But of course this is Napa. My high culinary expectations were pleasantly met.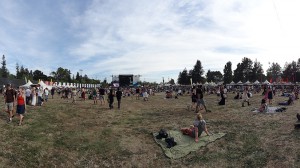 One little gem was the Comedy Closet, which was held inside and provided a nice interlude between musical acts. Got there in time to see Daily Show regular Aasif Mandvi do his schtick. For those of you not hip…Mandvi is a Muslim from India and he really works the whole Islamophobia angle to the max during his act. Starting off with, "I love Islamophobia." Mandvi charted a path of hystericaia and politically incorrect Muslim jokes only he can deliver without inciting Jihad and somehow ended with a review of  "I (expletive deleted) the chicken," moments from the Daily Show. It was almost as much fun watching audience members get uptight…not sure if they should laugh…as it was watching Mandvi.
All in all, going to Bottlerock was a little like parachuting into controlled chaos. You have to know what to expect from a big outdoor show and always expect the unexpected. As far as seeing great acts and being thoroughly entertained, my expectations were more than met! Great music, marvelous food and a hearty belly laugh!! Worth it? A resounding YUP!
I plan to be back next year.