Not Your Ordinary Vintage Shop
By James Quinn
It is no secret that vintage is definitely "in" on the mainstream platform. Rather than ever going out of style, vintage is retro while accentuating our features in the best affordable way. Because trends fashionably come back, vintage will always be popular—it is a timeless means of expression.
Since one of my primary goals is to get to know my community better as a teacher and writer, I recently did that by learning about a modern vintage clothing store that is like no other—another hidden gem!
I am talking about Boutique Classique, located in historic downtown Vallejo at 1711 Sonoma Blvd. For all the lady readers out there, you are in luck because this place specializes in high-quality, modern vintage women's clothing. Men, this could be a place to get some great Christmas presents.
Established in August of 2015, Boutique Classique sells modern vintage clothing and accessories; that is, everything is new as vintage-inspired reproductions from designer lines. Some that they offer include: Bettie Page (40's pin-ups), Leg Avenue, Lindy Bop (their new line from the UK), Lux De Ville (pocketbooks), Rago Shapewear, Steady Clothing, Stop Staring, Tarina Tarantino, Unique Vintage, and Voodoo Vixen. Their website describes, "We offer new vintage clothing such as pin-up dresses, retro-styled swimsuits, cocktail dresses, shapewear and lingerie [sizes 2 to 26] inspired by the 1920s, 30's, 40's, and 50's," Boutique Classic's website reads.
For accessories, they have necklaces and bracelets, though some of their most interesting accessories are their broaches. "Some of my broaches are limited edition; so there're only a thousand of them made. They are hand-assembled and painted in Melbourne, Australia. It's a huge genre in the pin-up industry right now," said Serenity Holzman, the business owner of Boutique Classique. "I like being able to give my customers something that is unique and fun."
Because its clothing is all new reproductions, this shop is unique in that there is not one in our area—certainly not where I live in Benicia—not even in a city as great as San Francisco. "For a shop like this, with as many brands as we have and the versatility that we have, there is nothing like this within at least a 50-mile radius," Holzman said. While vintage shops are all over the Bay Area, Boutique Classique stands out because of their wide selection of constantly changing stock with the said brands, affordability (e.g. they always have a discount rack), and flexible and comfortable clothing in a large range of sizes. Holzman knows her merchandise because she gives it a trial run by dressing the part. When we met at the shop, she had on a green dress with an Alice in Wonderland-themed print that I also saw on the rack. What is more, Boutique Classique emphasizes that its clothes will last if they are taken care of, whereas clothes from a typical, authentic vintage clothing shop could have damage and/or will usually not last long if regularly washed.
When deciding where to set up a shop, Holzman and her husband, Jean-Joel Lawrence-Holzman, chose Vallejo as their mainstay. "Vallejo is such a creative community in general, and it has so many different dimensions to the creativity: we have a Burning Man community, a Renaissance community, and a steampunk community," Holzman said. "I think we fit right in because we are different. " For those who do not know, Vallejo is nationally the most diverse region when coupled with the City of Fairfield (2010 US Census), and it is truly historic (e.g. served as the state capital twice). Like the city, Boutique Classique is not only nostalgic of rich U.S. history, but it is also diverse in representing some of the most stylish decades. So Boutique Classique more than fits in with Vallejo.
Vallejo has improved since 2008's financial crisis, and businesses like Boutique Classique are just what it needs. Boutique Classique helps bring the community closer together by being a part of it themselves. "We are really active in the Chamber of Commerce. Every time new people come into our community, I instantly hand them the downtown directory," Holzman said. "Which we help put together," Lawrence-Holzman added.
The two clearly care about Vallejo, helping to promote it and downtown. "We helped establish the Downtown Merchant's Committee [Facebook @vallejodmc]," Lawrence-Holzman said. "So that's really important. We try to put on events with all the retailers participating for Halloween and Christmas. We had a summer's sweeps where people could enter raffles to win prizes—we want people to realize that something is happening here downtown."
To make more space for a community spot and their creativity, Serenity Holzman and her husband plan to move to a bigger place for the boutique, while still staying downtown. Of course, not only would a bigger boutique allow for more merchandise on display, but it would also allow for bigger community events and more. Holzman said, "We want it to be a community area where we can have events like paint and wine nights, hair and makeup classes, and community things that are necessary." They also plan to have a section for men.
Visit Boutique Classique at 1711 Sonoma Boulevard, Vallejo. It is open on Thursdays and Fridays from 2 p.m. to 6 p.m. and Saturdays from 11 a.m. to 6 p.m.; however, they are available by appointments that you can book by calling (510) 978-2599 or through their website. For additional information, visit their website at www.boutiqueclassique.net. Follow them on Facebook and Instagram @BoutiqueClassique to keep up with latest vintage trends. Jean-Joel Lawrence-Holzman took all pictures used in this article.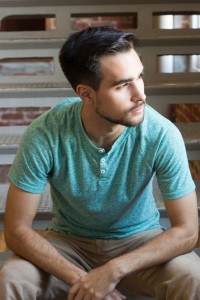 James Quinn lives in Benicia and teaches at Elmer Cave Language Academy in Vallejo. A UC Davis alumnus in English, he now studies education as part of Touro University's Master's in Education program. Along with teaching, he tutors and writes often. He is working on a novel that takes place in Benicia. See his website at mrquinnj.weebly.com.