Rocktoberfest
Strudel? Perhaps. Sauerkraut? Definitely. Schuhplattler? Well, that's a new one for Vallejo. If you're curious as to just what exactly schuhplattler is, or holzhackertanz or vorplattler, such mysteries will be revealed at Vallejo Rotary's first annual Vallejo Rocktoberfest this October 21st (they'll also be revealed in a few paragraphs). All the standard Oktoberfest amenities will be in place at Vallejo Rotary's new event, but the Vallejo Rocktoberfest offers much more than just beer and bratwurst … it's bringing lederhosen and rock n' roll.
However, first things first: the beer. The all you can drink beer, mind you. With your ticket purchase you can drink as much as you like, though we don't suggest you go for a record. For true Oktoberfest enthusiasts, look forward to some authentic German ale and seasonal brews provided by both the Blue Frog Grog & Grill and Napa Smith Brewery. Round Table Pizza will also be providing standard domestic beers in an effort to satisfy Rocktoberfest goers of all kinds. Wine will be available as well, however, "We're promoting the beer. It's Oktoberfest," says Jeanne Kilkenny-Turk, president of Vallejo Rotary. Past president and event chairman Constance Howard agrees. "Beer and more beer. And music," she says. "How could that not be fun?"
As to not get too tipsy, there will be plenty of food available to help balance out your alcohol intake, care of Catering By Ray Martin, who has been serving our Napa-Solano friends and neighbors for the past 15 years. Food options include both German and American sausages, sauerkraut, hot and cold potato salad and apple strudel. The best part of all, as with the beer, food is all you can eat! All you can eat, all you can drink, you may want to start practicing mass consumption habits now.
The true authenticity of the night will be brought to you by the Golden Gate Bavarian Club, a schuhplattler, or "shoe slapping," group that brings traditional Bavarian culture with them wherever they perform. "There's about 40 or 50 groups like us all across North America," says Fritz Sheffler, vorplattler (German for "head dancer") of the Golden Gate Bavarian Club. "Basically, these groups are formed by people who have Germanic heritage, mostly Bavarian, and want to celebrate their culture. They do the dances, learn to play the instruments, speak German … it's a cultural thing and performing is a way of sharing that with people."
At about 20 members strong, the Golden Gate Bavarian Club brings anywhere from four to 12 members with them to a performance. Full of traditional dances and some interactive games, the Bavarian Club puts on quite a show. "Sometimes we throw in a woodchopper dance (holzhackertanz), or maypole, teach polka, whatever people want to learn. We're basically there to dance, have fun and share some of the Bavarian tradition," says Sheffler. "A lot of people like to see these traditional dances; you won't see them anywhere else besides when we perform, and if you happen to go to Bavaria."
Were it just the Golden Gate Bavarian Club providing the entertainment this would be a slightly different event, but it is the Vallejo ROCKtoberfest, and adding that rock flare is local band Lucas Ohio and the Shamblers. "We have a rock and roll band just to give it a different flavor," says Kilkenny-Turk. "The goal is to bring people out in Vallejo and have a good time."
Now, for those who don't know, Rotary is an internationally recognized service club comprised of business and civic leaders. They meet once a week, committing to their motto "Service Above Self". Vallejo Rotary was first chartered in November of 1921, soon to celebrate their 90th anniversary of community service this year.
Vallejo Rotary has a number of community projects in the works, but the primary directive for funds produced from Vallejo Rocktoberfest will go toward Dan Foley Park's renovation area. "We're looking to build another children's playground out there but it might take us a year and a half to raise the money for it," says Kilkenny-Turk. "I'm hoping that Rocktoberfest is successful, it depends on how much money we raise." Representatives from the Greater Vallejo Recreation District will bring displays to Rocktoberfest with the plans for Dan Foley Park. And, while the Dan Foley Park renovation is the main focus of fundraising at this event, it isn't the only place the money will be going.
"We will be delivering dictionaries in November to every third grade student in the city of Vallejo," says Kilkenny-Turk, the dictionaries being funded directly from Vallejo's annual Ducky Derby in association with Vallejo Rotary and the Vallejo Chamber of Commerce. Kilkenny-Turk adds, "We give out over $10,000 in scholarships every year to high school students. We also send seven children, yearly, to a leadership camp called Camp Royal." These are all things that Vallejo Rotary does for the community every year, in addition to other endeavors such as sponsoring projects at Loma Vista Farms and Children's Wonderland, sending students to Camp Venture at the California Maritime Academy, co-sponsoring Fishing in the City to teach elementary schoolchildren how to fish … the list goes on … and fundraisers such as Vallejo Rocktoberfest are essential to Vallejo Rotary's success in the community.
Vallejo Rotary hasn't had a fundraiser such as this in some time now – some may remember their Texas Hold'em tournament a few years back – but a Rocktoberfest is certainly a big change from previous events. "We've never done anything like this, it's a completely new thing for us," says Kilkenny-Turk. "My goal is to get people out for something to do in Vallejo, and at the same time it's going to a good cause."
Kilkenny-Turk had been thinking about putting on a big fundraiser for Vallejo Rotary long before she took over the presidency last July. She realized that there's usually not a whole lot going on in the fall months, it's after everyone's yearly golf tournaments and before all the service clubs' crab feeds. "It's a different time of year to get people out," she says. "I've gone to a few Oktoberfests and thought it would be a fun thing to do."
The event will be held at one of Vallejo's nicest venues, with one of the nicest views: the Springbrook Masonic Temple. "It's one of Vallejo's hidden jewels," Howard says. The weather is supposed to be just right and with a grand patio outside of the temple's banquet room, Kilkenny-Turk adds, "The view out there is going to be beautiful." She plans to coax the guests outside if even for a little bit to enjoy the view. "We're getting the beer wagon from the Wednesday Night Celebration so that will be parked outside."
While Vallejo Rocktoberfest is an event sponsored by Vallejo Rotary, Kilkenny-Turk cannot stress enough that the event is open to the general public and anyone, ages 21 and up, is welcome to attend. "Everybody's invited to the event," she says. "Rotary is sponsoring this event for the community to come out and have fun; you don't have to be a member of Rotary to come. We want non-Rotarians to come out."
There are sponsorships available for those to want to make sure that Vallejo Rocktoberfest is a successful event and can adequately support Vallejo Rotary's community projects. A $300 sponsorship gets two tickets, recognition at the event, leading up to the event, and after the event on all promotional materials including their website, Facebook, newspaper ads – everything. A $150 sponsorship gets a ticket to the event, recognition the night of and on promotional materials after the event, but not before.
This fundraiser could certainly become a new staple event for Vallejo. The Masonic Temple can fit a few hundred guests, "We're hoping to pack the place," says Kilkenny-Turk. "I'm truly hoping that if we have a successful year this year, we can continue on. It would be something that we can definitely do as an annual thing." And above all else, Kilkenny-Turk looks most forward to just having a community event: "Getting people out there to come together, have a beer and some brats and enjoy the fall season."
Tickets to the event are either $55 per person, or $100 per couple. Your ticket includes all you can eat food and drink and beer and more beer, as well as a commemorative beer mug! … Did we mention the beer? Sodas and water will also be available, as well as door prizes and a raffle. So start planning now for what is sure to be the first of many epic Rocktoberfests in the city of Vallejo. Invite your friends, come hungry and thirsty, and you may want to consider transportation arrangements. Drink responsibly!
For more information go to: www.vallejorocktoberfest.com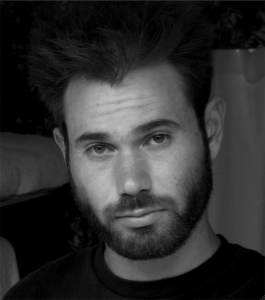 By Matt Larson: Matt Larson is not just a writer, he does lots of other stuff with his time. Example? Sure! He hosts stand-up comedy shows and would like YOU to attend on October 22, 2011 at the Fetterley Playhouse in Vallejo! Info @ www.thecomedycircuit.com.