Permanent make-up is the result of marking the body with an indelible design, by inserting pigment into punctures in the skin. The procedure replicates the effects of eyeliner, eyebrow pencil, and/or lipstick. This may sound extreme, but it's a more common practice than some might think. The application of permanent make-up and the regular touch-ups required to maintain a desired look is a practice that is increasing in popularity.
Local Happenings presented questions about the practice to Lanita Nelson, a highly experienced permanent make-up artist who practices at the Bella Dona Salon in Benicia.
Q. Many women know someone with permanent make-up, have already had the procedure, or have some interest in possibly getting an application. What's the attraction?
A. The ultimate goal is to look natural, not like you have permanent make-up. This sounds a little crazy, but a great application is something no one will notice. Permanent make-up does not smudge. One does not have to re-apply make-up during the day. If your brows or lips are not even, they can look like they are.
Q. What do most of your clients want? Why do they go through this process?
A. You simply look beautiful with soft, natural, permanent make-up. The most common applications are eyeliner and eyebrows. The less common ones are beauty marks, lips, scar camouflage and shaping (coloring) areola after breast surgery.
Q. What are the differences, if any, between permanent make-up and tattoos?
A. Permanent make-up is a tattoo. The difference is mainly in the softer, more natural colors of the inks used. I believe the needles I use are smaller, more delicate, and do not go as deep as tattoos on other parts of the body.
Q. How many visits are involved?
A. It typically takes two applications. On rare occasions, one application will work, and other times it takes three applications.
Q. What are the downsides?
A. Health risks include the chance of infection or allergy to the ink product. Color may migrate if it is applied too deeply. A non-proficient artist may apply ink in an uneven shape or the color choices may be poor.
Q. What's your experience and background?
A. I have been applying permanent make-up since 2002. I continue to take instruction and keep up on the new methods, products and regulations. There are testimonials on my website from satisfied clients. I started my practice in Benicia. I also worked several days a week in the Marin area. I had my own practice and I worked at a doctor's office in his skin care clinic.
Q.  Despite the word "permanent," do the pigments fade over time, just like tattoos?
A. Yes, the color usually fades over time and touch-ups will be needed at an additional charge.
Q. What advice do you have for individuals who may be looking for a permanent make-up artist?
A. Make sure the artist is proficient in permanent make-up, has a current State of California license* that is on display, that the application area is sanitary and OSHA compliant (that means the workspace and items used are carefully cleaned).
Q. What are the satisfactions of applying permanent make-up?
A. What my clients think and feel about having permanent make-up is very important to me. It's satisfying when my clients are thrilled with the results and love what they have had done.
When it comes to beauty, Nefertiti's face is one of the best known in world. When archaeologists recovered the bust of the Egyptian queen on December 6, 1912, they found an exquisite image. She looked great after 3300 years in the desert sand. Her face remains one of the most copied in the world.
The graceful curves of her arched eyebrows, dramatic eyeliner and the sensual, full lips offer great visual appeal. It's small wonder that a look that survived well over 3,000 years is still sought after. Perhaps it is no mystery, given its promise of timeless beauty, that permanent make-up is a growing trend.
*The State of California and counties regulate permanent make-up artists. The Safe Body Art Act, AB 300, signed into law by Governor Brown in 2011, creates minimum standards for practitioners. Persons performing permanent cosmetic work must be registered with the counties where they work in California. In Solano County, tattoo and permanent make-up artists are required to register through the Environmental Health Service Division.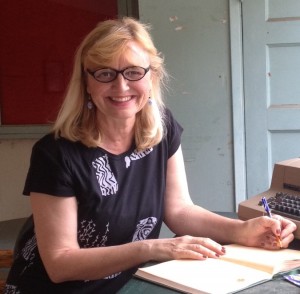 Kristine Mietzner lives in Benicia with her golden retriever Max. She serves on the board of Benicia Literary Arts and works as a field supervisor for the Touro University Graduate School of Education. Her work has appeared in the Contra Costa Times, the Benicia Herald, and the online travel magazine, Your Life is a Trip. Her previously published work is posted at www.redroom.com/member/kristine-mietzner. She can be reached at kristine2770@yahoo.com.