Bill Simpkins won an Academy Award for his performance in the hit 1992 movie My Cousin Vinny.
Well, he could have.
He knows just as much and more than the famous automobile mechanic Mona Lisa Vito (Marisa Tomei).  Bill has no problem comparing a 1964 Skylark to a 1963 Pontiac Tempest when it comes to positraction, differential, independent rear suspension, rear axle, body length, wheel base and wheel track.  And, just like Mona Lisa, Bill was raised by a father (Harvey) that loved to fix, tinker and repair cars… when cars were cars.
Bill fondly remembers learning by his father's side as he helped his dad repair the family cars in their flat top tar and gravel roofed home in Lynwood Park, Novato.  Harvey was employed as a Caltrans engineer and also loved his cars. Harvey, who acquired his love for cars from his father, did not own anything fancy or expensive. Bill remembers working on the family's 1958 Plymouth station wagon as a teenager. But Harvey took pride in his cars and did all the maintenance and repairs himself, with the help of his eager son.
Bill's career path was formed in these early years and he never wavered. He graduated from the College of Marin Autobody Program in 1973, completed an apprenticeship at Barsotti's in San Rafael, worked as Journeyman Bodyman, and in 1983 bought his own shop, Simpkins Auto Refinishing and Body Repair.
Bill is now at 980 Adams Street in Benicia, and it is apparent that Bill's love for real cars has stayed with him throughout his life.  The first car you see is a 1973 Buick Riviera owned by Bob Featherer of Featherer Pet Shop at 1202 East Fifth St., Benicia. The Riviera was purchased in Los Gatos off the show room floor by Charlotte Bacon, Bob's mother-in–law. Bob knows because he was right there with her. The car accumulated few miles since Charlotte worked as a Captain's Waitress for the Matson Line and the Merchant Marines. With Charlotte traveling to Hawaii, Australia, and Europe, she was not able to drive too often, although Charlotte did manage to drive the Riviera around Benicia with her constant companions; miniature Schnauzers named Eddie, Smokey, Buzz and Little Richard. The car only had 80,000 miles on it when she gave it to Bob in 2003. Regrettably Charlotte passed away in 2009. Bob is restoring the Riviera in part because of his fond memories of the best mother-in–law in the world. This classic car is dark blue color with sky blue trim, vinyl top, double pin stripe poly glass tires (size J78-15), with the original motor and rack and pinion steering.
In the same work area at the shop, Bill is restoring two Fiat Spiders. These 1979 and 1980 convertibles are Bill's babies. The attraction of these Spiders, other than their Pininfarina design, is that they get 30 mpg and only cost $6,000 – $10,000. Need a summer car that has withstood the test of time?
Bill also owns two Corvairs, a 1965 and 1967. The Corvairs were only made from 1960 to 1969. They were unusual cars – they had the engine in the rear and they were air cooled. Since the heavy engine was in the rear, the front tires only required 14 lbs. air pressure versus 24 lbs air pressure in the rear. According to Bill, untrained auto mechanics at the time did not read the manual and mistakenly put 24 lb. of pressure in the front resulting in an unpleasant, and unnecessary, bumpy ride.
The other cars that will catch your eye are Bill's Thunderbirds. His classic is a 1956 T Bird that was purchased from its original owner. It is a Special Edition with wood grain, ember glow paint, parchment upholstery, vinyl top, and special coloring on the hub caps to match the body paint. You can have it for $18,000.
Bill seems to be surrounded by cars from the 1960's. Not surprisingly, Bill's first car was a 1962 Dodge Dart that he bought in 1973 from his neighbor lady. The "ugly" car with awkward proportions and a warthog-like grille was originally purchased in Germany by a GI Joe who brought it to Novato.  In 1975, at the age of 21, Bill drove the Dart, with his girlfriend, 8,000 miles across the USA. The Midnight blue (with white top) Dart survived Texas thunderstorms powerful enough to raise the water on the highway 3 feet in 10 minutes. On the return trip home, the Dart was unable to take the 12,000 foot elevation of the Rocky Mountains.  Bill solved the problem in true MacGyver fashion by changing the timing and allowing more oxygen to get to the 318 engine.
While classic cars are evident on the shop floor, Bill's business has expanded to include many other services. His business is 30% mechanical and 70% "other".  Bill describes his multitude of services as your "one stop shop".  His webpage (http://simpkinsautocare.com/) lists transmission, tires, suspension, recreational vehicle repair, restoration and detailing, engine diagnostics, oil and brake, insurance claims and car sales. Bill will be celebrating 30 years in business next year.
Bill loves his location in the Benicia Arsenal. His building is # 150 which was used as a storage building. Exactly what was stored inside the building is unknown. Whatever it was it had to fit through a 10 by 12-foot door opening and could be no taller than 14 feet.
As with any business, customer service is critical. Bill has many long term and satisfied customers. One is Cheryl Tanberry who has been taking her cars to Bill since 2006, when her daughters started to drive. She says she has had so many cars in Bill's shop that Bill should dedicate a memorial bay to her family. Cheryl says Bill is a Benicia institution who works for the client, not the insurance companies.
In writing this article I was concerned that Bill might be offended by the reference to Mona Lisa Vito / Marisa Tomei. So I asked Bill. He said he loves the cars from the 1950's, 60', and 70's. They are real cars that require real mechanics. If Mona Lisa Vito shares his love for these cars, he relishes the comparison to her.
Editors Note: At the time we went to press Simpkins Auto Care had become a Hertz Rental Car Location.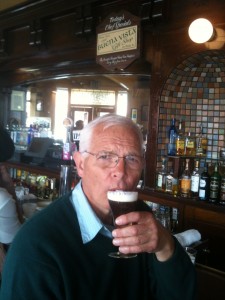 Gary Truelsen is a long-time Vallejoan who graduated from Vallejo High School and the University of California at Berkeley. He worked in government management for 30 years and has spent the last 5 years doing consulting work, primarily helping areas destroyed by disasters to recover.