Beer is one of the oldest beverages produced by mankind. It is the worlds' most widely consumed alcoholic beverage and is behind only water and tea as the most consumed beverage overall (it would probably be first if younger people drank it as well). Archeologists have determined the first record of ale being produced was about 7,000 years ago in Iran. Even the Code of Hammurabi, the Babylonian Law Code, include laws that regulated beer and beer parlors. This code, which scales punishment by 'an eye for an eye, a tooth for a tooth' also included a 'beer for a beer'???! Let's hope so.
Beer may have been known in the Neolithic Europe as far back as 3000 BC. By the 7th AD beer was also being produced and sold by European monasteries as opposed to simple home brewing or small scale local breweries. The industrial revolution changed the way beer was made and by the end of the 19th century the addition of hydrometers and thermometers changed brewing by allowing the brewer more control of the process and greater knowledge of the results. The strength of beer is usually around 4% to 6% alcohol by volume.
When Robert asked me to tour the Anheuser-Busch brewery in Fairfield I was excited. This would give me an inside opportunity to see how the King of Beers was made. I was able to take the Beermaster tour with Chelsea and Jennivive from Anheuser-Busch to explore this fantastic brewery. It was a unique learning experience that made me want to enjoy beer more often!
We started the tour by learning about the history of Anheuser-Busch. Alolphus Busch migrated from Germany for the United States in 1857 and settled in St. Louis, Missouri. He started his own brewing supply house. While there, he met and married Lilly Anheuser. Her father, Eberhard Anheuser, owned a small brewery that made a lager-style beer. In 1864, Busch partnered with his father-in-law to form what would eventually become Anheuser-Busch Company. Like most companies, it has evolved and is now a wholly owned subsidiary of Anheuser-Busch InBev, the leading brewer and one of the world's top five consumer products companies. There are eleven such Anheuser-Busch facilities, and the one in Fairfield is relatively small. They brew beer to order, which I thought was very interesting. The brewery will receive orders a few months in advance and then they are scheduled to production. Budweiser, their flagship brand, is brewed using the same recipe since 1876 – as the old saying goes, if it's not broke – don't fix it! They have formulated what they feel is the perfect balance of flavor and refreshment. Bud Light, one of my personal favorites, is the best selling beer in the US. This is a light American lager characterized by a crisp, refreshing taste. One thing I didn't realize was how many beers Anheuser-Busch actually produced. Budweiser and Bud light, while very popular, are just 2 of many. They produce a wide variety of beer styles and flavors.  They also produce Bud Light Lime, Bud Light Platinum and Shock Top to name but a few. I want to focus on the Shock Top beer because it was new to me. I had seen it in the stores, but I never had the opportunity to try it.
Shock Top is Belgian-style wheat ale created in 2006. They started this brand originally as a seasonal beer. However, its popularity grew and it was winning gold and bronze prizes in the Belgian White category at the North American Beer Awards, so Anheuser-Busch decided to produce it year-round, and that is how Shock Top was born. The beer that really surprised me was their Shock Top Pumpkin Wheat seasonal beer. Now, I must confess to you that I'm not a fan of sweet/flavored beers. However, this pumpkin beer only had just a hint of flavor and it was really quite tasty and interesting.  The Shock Top Label also produces a Raspberry Wheat, a Wheat IPA, and a Lemon Shandy a sweeter wheat beer with, you guessed it: lemon.
Their Michelob brand is another of their popular beers and it was first brewed in 1896. Since then, they've expanded and evolved the brand's styles to now include Michelob Light, AmberBock, Honey Lager and ULTRA (a low carb beer). They also have a handful of seasonal brews as well. I had never tasted Michelob AmberBock until the tour, and it might be one of my favorite beers now. While the look of the beer is 'amber' in color (which to me means heavier), the taste is both light and refreshing. It is wonderful and I would strongly suggest picking some up and tasting it for yourself if you have the opportunity.
The Beermaster Tour allowed me to explore the entire facility. The Fairfield brewery first started operation in 1976 and sits on 170 acres of land. The facility itself on has 16 acres under a roof – one can certainly get a workout here to burn off any added calories. We started in their gift shop, which is definitely worth mentioning if you like beer. They have a range of items there from t-shirts to bathing suits. What was interesting to me was that they also had barbecuing items that included steak sauces/marinades all made from beer. If you were looking for a Clydesdale horse doll – they have it there for you too.
Next, we started towards where the hops (which is the 'spice' of beer) are delivered and stored at the brewing facility. The materials used to make the beers are brought in by both train and trucks and in staggering quantities. The Fairfield facility is focused on saving energy and they recycle 99% of all the materials they use and re-use much of it. Amazingly, this brewery produces little waste. The brewery has the landmark windmill, which my children always look and point out at the brewery every time we drive by, that produces 20% of their electricity. The windmill, which stands 320 feet tall, was assembled in late 2011. Anheuser-Busch has really dedicated a lot of resources to ensure their facility is environmentally friendly.
Then we entered the Brew House. The brew house is made up of several sections and some very large kettles/cookers. This is where they start the process of brewing the beer. The grains are dried and stored in a cool place. When ready, the grains will be milled then enter into the masher, which is a huge stainless steel kettle, and combined with hot water. Once cooked and strained, the resulting liquid is now called 'wort'. Then the brew master will boil the wort and add hops in the brewkettle. After boiling comes fermentation. The wort is cooled, strained and filtered. Then placed into another huge stainless steel container and let the fermentation begin.
Anheuser-Busch does what is known as a double fermentation. The first (which lasts 6 days) will allow the start and creation of alcohol in the beer and the second (21 more days) refines the beer further. During the second fermentation, the beer is lagered with Beechwood chips in the aging vessel and krausened  – naturally carbonated. The beechwood is treated to remove any flavor that it might give to the beer. The beechwood's main purpose in the process is to catch the yeast during this second fermentation. Once the beechwood aging is complete, and the chips are deemed no longer useable, the Fairfield facility with make them into a mulch and they donate them to the city of Fairfield. Again, they are using all their waste to benefit the environment, I love this company!
After fermentation, the beer is filtered, 'chillproofed' and pasteurized before it is ready for bottling. Once the beer is ready for bottling, it is transported to the 'bottling line'. They recently had the bottling line renovated, bringing in the most innovated technology to accommodate the various bottles and cans. Since this technology is so advanced, they can package their products faster than they can brew and, as a result, they do not have to run the packaging lines constantly. This also cuts down on the amount of energy used, creating a greener environment.
This facility produces beer all week, including on weekends. But don't worry, there is downtime every other weekend for cleaning and maintenance. Their beer productions supply beer to wholesalers in Northern California, Northern Nevada, Oregon, Washington, Hawaii and Alaska. In Fairfield, they produce up to approximately 4.4 million barrels of beer – so get your pretzels ready!
Anheuser-Busch is an amazing company that cares for not only the products they produce, but for the environment and community they are brewing. You can take a beer class at their new 'Beer School' or one of their Beermaster Tours. In addition, they have a wonderful event called 'First Fridays @ Room 3103'. Every first Friday of the month they host and invite local bands and artists to showcase their talents. There is a $3.00 admission that benefits Families Helping Families. The admission includes fresh samples, door prizes and cool Bud gear. You can go to www.FairfieldBreweryTour@BudweiserTours.com to get more information.  So pop on in and enjoy a cold one and let them know you read about it in Local Happenings!!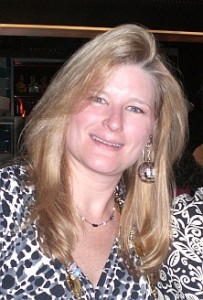 Regina Briseño –
Recognized for her work with her family and talent for seeking out good food and wine. She also invites everyone to come and enjoy the adventurous ride with her!