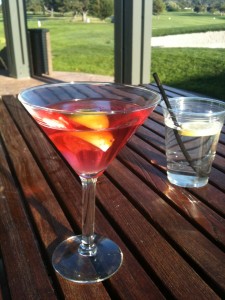 I was able to get through Friday afternoon. We drove in
gorgeous weather to Monterey, checked into the Hyatt Regency Hotel and Spa on
Old Golf Course Rd. and sat outside sipping on Cosmopolitans next to the 17th
green. (I believe that it was about 78 degrees and Saturday's weather is
looking like it will rival that.)
Next up, we dressed for dinner and went to Tusca Ristorante
for dinner. (No driving since the restaurant is located inside the hotel.) Then
we had more cocktails, wine and a fabulous dinner. I had seared scallops on a
bed of risotto. Robert had the Osso Bocco with scallops, Gary had the seafood
pasta and Regina had . . . she ate it so fast, never saw what she had!
I guess you are getting the hint that Friday started the
weekend off with a bang and I don't see it getting any worse than that since we
will be lounging in Monterey today and going to Pacific Edge at the Hyatt Carmel
Highlands for another great dinner.
Did I mention that we would be getting massages this
afternoon . . .