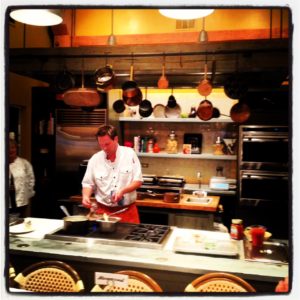 I actually need this quasi holiday so I can catch up a little. The fun started on Friday with the magazine coming back from the printer. Then I was a guest at the Napa Style cooking show and I have to tell you I loved this chef. This young man is the Executive Chef at Tarla, a very popular restaurant in downtown Napa.  I was VERY impressed with him, his story and his cooking! I will be making a pilgrimage to this restaurant.
Saturday started off with a bang by heading to the Napa Valley to make sure the magazines were represented there. A long hike, and then a Wine Release Party made this a very fun day. (I also gave up VIP tickets to the Pier 39 Fleet Week show!) A BBQ and watching the SF Giants completed a great day.
Sunday also started early since I had an early morning dog hike planned then a rambling walk in the French Laundry Garden with breakfast and mimosas after this leisurely start. Tucker Taylor, the Culinary Gardener for the French Laundry graciously hosted Ben and I in the gardens so I could get some photos. (Dogs aren't allowed in the gardens for obvious reasons!) Then off to watch Niners and Giants.
So for all I did this weekend – there were three things I didn't do. Feast or famine, that is the way life goes I guess.
SF Giants note: I still love my Giants! Timmy and Buster are still my favorite guys. (Just not Casilla – why do they even bring him in and why is he on the team?)
BIG, BIG, BIG, DEEP stretches, feed and walk Ben, and then I'm gone . . .