"Sitting on the dock of the bay, watchin the tide roll away…" Otis Redding's timeless lyrics, which he wrote while staying aboard a houseboat in Sausalito, captures a certain longing for the sea, and to be taken away by it, that many of us feel. We, like Otis, watch the ships come in and then roll away again as we live our lives here in the San Francisco Bay Area. Only a few of us enjoy our lovely Bay to the degree that we should and time slips away before we really can. We see the fishing, sailing and cruise ships sail around the Bay but few of us venture aboard as often as we would like … some never sailing across the Bay after a lifetime of living near it and driving over it. I myself would fit in the former category, but still, after having grown up in the Bay Area, a visitor might be shocked to learn that I have never sailed under the Golden Gate Bridge in my 44 years. It is just something that one says that they are going to do one day "when I have some time" and before you know it – you haven't made the time to do it. Therefore, when I was given a chance to cruise under the Golden Gate Bridge, I jumped at the opportunity.
My family and I joined Captain Kevin and his crew aboard the "Neptune", a fully restored 1958 motor cruiser, to enjoy a near perfect Saturday afternoon along the waters of San Francisco. We embarked between Pier 39 and 41, which no matter the time or date never seems devoid of throngs of visitors, and set sail on our adventure. The Neptune is a shallow draft river cruiser, for those that enjoy a more nautical description, so not designed for trips across the open ocean, but well suited for the relative calm of the Bay. What makes it even better suited is that it has both an indoor & outdoor sitting area, which is perfect for the unpredictable weather that we enjoy in the San Francisco area. It is also a smaller vessel, designed for 42, which makes it very cozy.  What sold me on the trip though was that it is set up as both a Bay Cruise and a wine tasting excursion as well. What more of a perfect combination could there be than to enjoy the three W's that make life here so enjoyable: water, weather and wine. In case you're curious, or not quite the wine aficionado, the Neptune actually stocks a full bar which is ably manned by Captain Kevin's wife, Melissa, so that whatever your tastes are, you are more than able to enjoy the day with your favorite inebriant.
We gently pulled away from the dock and the soothing hum of the engine helped to drown out the multinational voices of the tourists along the pier, as well as the barking of the ever-present sea lions that also like to sit by the dock of the bay. After a brief safety lecture, we cruised west to that iconic symbol of the west, the Golden Gate and the famous bridge that spans it so that I might make my maiden passage under its graceful arch. As we slid between the two towers that support that span, I could not help but look up to the southern tower and think of that Father's Day trip my wife provided to me a few years back to the top of that tower. (Now that was fun, and another story altogether!) While my first trip under this famous tower did come late in life I have to think that not many could boast to having been both on top as well as below the famous bridge. I will have to plan a scuba trip to the bottom of the Bay near the towers so that I can truly say that I have visited the bridge from top to bottom … but that will be another story.  Once we took in the view of the bridge from both the East and West we headed over to that other iconic symbol of San Francisco, Alcatraz.
I have to say that it was most excellent to explore some local red wines while enjoying the breath-taking views of the Bay and the city. Neptune glided through the gentle waves in the Bay and not a drop of red wine that I was enjoying in my glass was disturbed. It should be noted here that Neptune is fitted along its exterior with clever wine holders so that you can rest your glass while you take a few photos of your journey; it is those little things in life that make this trip special. As we glided by Alcatraz, through a small bevy of sailboats, we then headed farther east to the Bay Bridge and cruised under that as well. We glided into McCovey Cove at AT&T Park, but unfortunately, it was not a game day. I think it worked out better that the Giants were not in town, since I do not think we would have been able to compete with the host of kayakers that gather there to retrieve the "splash" hits that touch down there when our Giants take the ball long. We did see a small group of kayakers, though, as they practiced for game day, didn't see Deanna though … (See our "Paddling Around" story for Deanna's adventures in McCovey Cove, and much more, on a kayak!) As we left the Cove we then headed past the San Francisco waterfront again and back to the pier.
I have to say it was a great time on the water. The weather was perfect which, as you know, can be a challenge at times here in the Bay and Kevin, Melissa and PJ, their deckhands, took care of the rest. We had a diverse crowd with us, from my 81-year-old father to my 3-year-old daughter and all of them had a wonderful day. The wine was great and we had the chance to try some that we have never had before and it was just a great way to spend the afternoon. We would highly recommend it if you are an old salt of the sea as my father claims or fresh as the sea foam as my little daughter is. Explore the Bay on the Neptune with her crew and a little wine too.
website: www.sanfranciscobayboatcruise.com
e-mail: melissa@sanfranciscobayboatcruise.com
Phone:  415-859-7052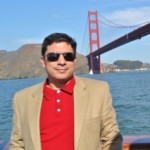 Robert Briseño – When he is not cruising the bay he is cruising the Bay Area in search of things to do to keep his three young children occupied and so he can share them with you, his readers.