Run through a rainbow of positivity at this year's Color Run
The largest organized running series in the world is coming to the Bay Area at the end of October. The Color Run, also known as "the happiest 5k on the planet," is even happier this year as their theme will be The Color Run Dream Tour. Across the globe, they've created a world of their own where anything is possible: unicorns are real, foam clouds exist, and the colors are vibrant as ever.
Held at Alameda Point on October 28th, the run will allow participants to experience getting doused in the classic Color Zones, and they'll also be surrounded by dreamy foam "clouds" as they run through the brand-new Lay's Poppables Foam Zone, plus music, giant unicorns, the Dream Wall (a new addition where runners can spray paint their dreams for all to see!), and so much more. At the end of the race, runners can enjoy the Finish Festival where they party with the Runicorn, dance, take photos, and partake in the massive color throws every couple minutes! Have questions? So did we. Our first of which was: What makes this the "happiest" 5k on the planet?
"Just look at the smiles on people's faces at the run, and you'll understand where the 'happy' part comes from," Event Director Louis Wills said. "From start to finish, The Color Run is just a fun event—and everyone around the world seems to agree!"
This run is not your average 5k, and even the most average runner is invited to participate. Plenty of experienced runners will be training to get in shape for the event, but you could also just roll off the couch without any preparation and go share in the happiness—judgment free! "You really don't have to do anything to come out and have a great time," Wills added. "Just wear white so you can see how colorful you end up at the finish line!"
The Color Run may be the best first impression for an organized run you could possibly have, as it's all about positivity and just having a good time, and there's no "winner" as this isn't a race! It's simply a run. "The whole point of The Color Run when it started was to create a fun, nonthreatening environment," Wills said. "We want to encourage everyone to be healthy and have fun, without the pressure of racing the person next to you." And who knows, maybe after participating in The Color Run you'll discover a new passion for fitness…
"The Color Run changes people," Wills said. "People who would never consider themselves runners come out to jog/walk with their friends and family, just for the sake of having fun, and all of a sudden they realize exercising doesn't have to be hard or boring. We've heard countless stories from people who now have a genuine desire to be happier and healthier just because of this event." If that doesn't convince you, then you should read it again, then mark your calendar for October 28th.
While this run may be unlike any other, it's also an experience unlike probably anything you've ever done before. The Foam Zone is The Color Run's newest and most unique element this year. It's described as being "Cloud 9 brought to life" where you're invited to run, dance, cartwheel, and/or make snow angels in "cloud-like foam."
One would naturally expect to meet a few unicorns on Cloud 9; and at The Color Run, you can meet their mascot, Runicorn: the running unicorn. "Runicorn reminds us to keep things fun and lighthearted," Wills said. "This year, unicorns are everywhere as part of The Color Run Dream Tour to represent everything that's fun, whimsical, and dreamy about our race. And who doesn't like unicorns?!" To top things off, every participant will receive a limited-edition Dream Tour race shirt, an embroidered headband, a temporary tattoo, and a one-of-a-kind Unicorn Finisher's Medal. "Our Unicorn Medal has been a complete hit," Wills added. "We have people coming out to the race just to snag a medal after! It's definitely the most unique finisher's medal we've ever had."
In only five years, The Color Run has put on 300 events in more than 25 countries, making them the largest event series in the world. It's a run that really is for everybody: young or old, male or female, first-time runner or seasoned athlete. It's really just all about having a good time, even if you go alone! You don't need to bring a plus one to enjoy yourself at this colorful party. Friendship is in the atmosphere; and as you get covered in a rainbow of colors, you'll soon find you'll have plenty to talk about as you're laughing with friendly strangers.
To recap: the run is untimed, unicorn-themed, full of positivity, recognized worldwide, and you'll get doused in colors from head to toe with thousands of your Bay Area neighbors. The Color Run is a true cultural event that you've got to check off your bucket list by going at least once. Plus, the Bay Area run is benefiting the American Diabetes Association, so it's for a good cause as well.
The Color Run Dream Tour begins at 8 a.m. Saturday morning on October 28th. The location is Alameda Point, 1100 W Red Line Ave., Alameda. The cost is $29.99 for an individual, or $24.99 if you're part of a team—NOTE: Tickets increase in price closer to the event date; so the sooner, the better! For a clearer picture of what to expect, follow "The Color Run" on Facebook, Instagram, and Twitter, and search for the hashtags #Happiest5K and #DreamInColors. To register now, visit www.thecolorrun.com.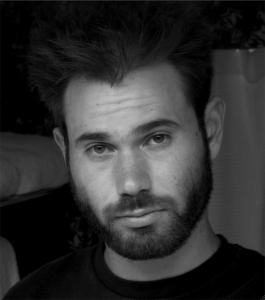 By Matt Larson,  who is an actor/comedian/director from Vallejo who lives a double life between the Bay and LA. When he's not writing for Local Happenings Magazine he could be editing a short film or working on his next rap album—who knows!
Keep up with all things Larson at www.MarsLegstrong.com."