Welcome to the Jungle
"HOW FAST IS FAST?!" is the question yelled out by Bob D'Elia, the fearless captain of the San Francisco Hornet, the world's largest paintball team, and they reply back…"FAST!". It harkens me back to basic training in the Army and the enthusiastic responses that we gave to the drill sergeants. My wife and I entered Bob's and the Hornets' "Hive" at the Paintball Jungle to learn more about the world of paintball, the Hornets and, of course, the Jungle. Located at the literal water's edge in American Canyon, the Paintball Jungle is a huge, 35-acre paintball oasis filled with forts, barriers and trees and is visited by hundreds of people every weekend. Bob has been operating the jungle for the last 25 years (it served as a paintball park prior to Bob taking over as well) and I have to say that the journey Bob personally has taken to get here is worthy of a story unto itself.
Bob goes by the moniker of "Magic Carpet Bob" because when he started playing paintball on the weekends in the late 1980's there were a number of "Bobs" and he happened to own and operate a carpet cleaning business. The "Magic" part was added after he rose to the rank of the number 1 player in the world and earned over $170,000 in 1991. It is fair to say that Bob fell in love with game right from the start, and that he was VERY good at it as well, but Bob's goal now is to help people enjoy the game and the experience he fell in love with.
Bob never set out to own a paintball site and business, he just fell into it. Early on he played with a team almost every weekend at the site and when the original owners could not make a go of it he decided to step in and pay the rent (none of his then team wanted to help with that) so that they could continue to play. That fateful decision became what people experience today at the Jungle. Bob's pro days are behind him and he and his team strive to keep the "feel" of the game alive which originally drew him to it. Not being a paintballer myself, this was all new to me but Bob tells me that most paintball sites today are much smaller (the size of a tennis court) and they have inflatable obstacles and are often just set up in parking lots. Wooded lots like the Jungle with the large forts and hand built barriers/obstacles are no longer the norm, but that is what Bob started out with  and he feels that they provide some of the best aspects of the game.
There is a WIDE range of players in skill, age and nationality at the Jungle. We saw both young and old (quite a few families out as a group but you have to be at least 10 years old to play) and quite a few languages being spoken by the guests as well. There was also quite a variance in the equipment. Some people had arrived with all their own gear (outdoor wear, mask, goggles, gun, loaders, etc.) and there were many, just like Regina and I that pretty much just brought themselves, comfortable clothing and shoes. I have to say that every one of them seemed very excited to be out there and they all seemed like there were enjoying themselves.
The majority of the Jungle is dedicated to the main games which last 30 minutes and are continuously run throughout the day of varying themes (such as capture the flag). They also have smaller "speed ball courts" upon which smaller private groups can play as well.
I would strongly recommend wearing comfortable clothing and shoes that you can run around in and get dirty (the paint does wash out easily but I would stick with darker colors just to be safe). If you still have that full body camouflage suit that your aunt gave you for Christmas three years ago hanging in the closet and have been wondering what to do with…wonder no more. Gloves and hat or some type or hair covering would also be good additions. I would strongly suggest layering a few items to diminish the sting of the paintballs – which do sting a bit if you are just wearing a t-shirt. Other than that, The Jungle can get you all suited up (they also can get you a camo jumpsuit to help keep the paint off of you). They have paintball guns (called markers), goggles, chest protectors and paintballs themselves to get you all decked out for the adventure. I would also get there early (they open at 8:30 EVERY Saturday and Sunday – rain or shine – unless it's Christmas) if you have never been, so that you will have time to get all the equipment on, familiarize yourself with the everything, go through the orientation and have plenty of time to get on the shooting range as well. Then it's time to release the excess stresses of life. Bob now looks at the game as a great form of therapy and stress relief from the pressures of life – who doesn't feel like shooting someone from time to time? Bob feels so strongly about the quality of the therapy that paintball provides that all moms (you have to bring your kids – 10 and older – to play) play free and dads get a free upgrade. As a parent of three little ones I know that Regina and I will be taking advantage of that one day!!
Once you are all suited up and you're actually on the field I have to say that your blood will most certainly start pumping. The games are fast and on the big course there is quite a bit of running around. Once the paintballs actually start flying the pace picks up even more – and those paintballs really do fly!! I have to say that the Jungle runs a pretty tight ship when it comes to safety. They have referees, everyone has their goggles and face masks on during play and they are very strict on safety in the staging area as well. Bob has a simple rule – play by our rules or don't play at the Jungle. Bob and the staff give one warning and after that you are out. I saw the warning (a teenage boy with his family and friends) when we were out there and I do not think I would want to be at the receiving end of it.
After lunch every afternoon they do a couple of things. One they hold a raffle (every other Sunday they giveaway a paintball gun) and the second is they do what is called the Beeswax. The Beeswax is where any and all members of the Hornets paintball team that is there that day takes on all comers in a game of their choosing on the main field. My wife and I had the opportunity to watch the Hornets in action at their "hive" (their main fort) for a game as they acted as defenders. It was very intense to watch all those paintballs coming over the walls – some markers shoot as many as 50 paintball per second – from the challengers as the Hornet team tried valiantly to defend their turf. In the end though the Hornets were defeated and the Hive was overtaken thus another day of fun for the whole family was enjoyed by all.
If you plan on going the Jungle, it is located at the corner of Eucalyptus and Wetland edge in American Canyon. They are open every Saturday and Sunday from 8:30 to 4, rain or shine (the only day they are closed for is Christmas). If you have 15 or more players you can rent out the Jungle for your own private party ($1,600 minimum) and you can have the place to yourself during the week. There is no upper age limit but you have to be at least 10 years old to play. The cost is $20 (which includes your goggles and mask) and there is a 500 paintball (or $15) minimum purchase as well if you have all of your own gear. Make sure to ask for Bob as well when you are out there – he will be glad to share his stories, his insight and his love for the game. And don't forget to ask yourself: How Fast is Fast?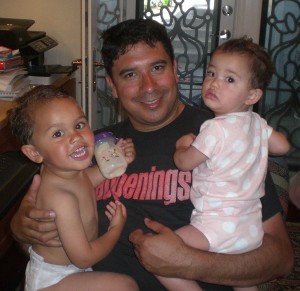 Robert Briseño – Is a father of three little ones who finds constant joy in their discovery of mysteries of the world but he is looking forward to the day he can take them to the Jungle and have a nice long therapy session with each of them.