More fun than a shoulder to cry on and a visit to French Laundry Gardens. Winter has held sway over the Napa Valley long enough. The earth is quiet. Sleeping vines wait in rows on the hillsides to produce fruit and wine for another season. Fallow fields are being quietly prepared as Spring is just around the corner, but the night air is still too cool to allow the season's first timid growth to begin in earnest. The tourists are sparse, and things move just a bit more slowly. Even some of the locals may find themselves suffering from Seasonally Affected The-weather-is-less-than-perfect Disorder (poor darlings). Interestingly, there is also a colloquial term for the season from January through April: Shoulder Season. (As if four seasons weren't enough?)
During a recent jaunt to Yountville, Local Happenings attempted to determine the genesis of this commonly used "Shoulder Season" expression, which seems to have originated in this venerable city so well known for wine and food. We know that Yountville, founded by George Calvert Yount who settled the region in 1836, is credited as the birthplace of the wine industry in the Napa Valley; the first vines allegedly had been planted there by Yount himself. The town also holds a venerated position as culinary epicenter of the Valley. Restaurants of note include award winning establishments such as Chef Thomas Keller's French Laundry (3 Michelin stars), Ad Hoc and Bouchon also owned by Keller, Richard Reddington's Redd  (1 star) as well as Chef Michael Chiarello's Bottega (Bib Gourmand rating) and far too many fine culinary establishments worth listing than the space allocated for this missive allows. But as to our etymological journey into the source of "Shoulder Season" that curious bit of colloquial slang in the midst of culinary cornucopia? The elusive fifth season?
After a long-winded haranguing of passerbys, notables, members of the Yountville Chamber of Commerce and whoever else would attempt to answer the question, "Where did Shoulder Season come from and who started it?", it has been determined that nobody seems to know. The closest we could get is that it is "the slow season" and that people in Yountville have a hard time dealing with cooler weather (as we suspected) and start looking for a shoulder to cry on when it gets chilly.
And now the good news: The ever-resourceful residents of Yountville have devised a remedy for Shoulder Season. It is known as the Taste of Yountville, a festival that spans the entire town from end to end and celebrates wine, food, music and art. (More good news: Admission is free.)
This year is the 20th season Taste of Yountville has been held. The dates and info are as follows:
The 20th Annual Taste of Yountville
Thursday, March 14, 2013
Friday, March 15, 2013 – 4:00 to 8:00 PM
Saturday, March 16, 2013 – Noon to 5:00 PM
Washington Street
Yountville, CA
In past years, somewhere between 5 and 10 thousand visitors have attended the event…weather permitting, of course. But nothing short of a flood of biblical proportions seems to stop the festive event! Described as a town-wide block party, visitors are encouraged to stroll along Washington St. (the main drag in town) and enjoy sampling wine, food, micro-brews and so on. Venue locations include the Community Center at Yount and Mulberry, Edward James Courtyard, V Marketplace, The French Laundry Gardens, Washington Square and Van de Leur Park. Visitors can purchase an optional "passport," have it stamped at each venue and drop it into the bucket at the end and be in the drawing for prizes described as "amazing" by Yountville Chamber of Commerce Executive Director Cindy Saucerman, such as: dinner at French Laundry, a stay at one of the many luxury accommodations in town, collector wines, large format bottles, trips, balloon rides and "everything that's Napa Valley."
This year's event will be larger than ever before with more artists and vendors than in previous years. Napa Valley Open Studios will be participating for the third year and will have art on display at the community center. Over 30 Napa Valley wineries will be pouring; tastings start at $1, and pretty much all of the fine restaurants in town will be competing for the opportunity to tickle your tastebuds!  This is an event not to be missed. Rain or shine. Shoulder Season be damned. And it is designed to be easy (or not should you choose) on your wallet.
French Laundry Gardens
Of all the notable restaurants in Yountville, French Laundry is surely the most well-known and highly regarded, holding a three-star Michelin rating and a legendary reputation for exceptional, imaginative cuisine, as well as farm fresh produce. In fact, the restaurant, located at 6640 Washington St., has its own quite sizable garden directly across the street from the restaurant. Far more than a patch, the French Laundry Garden has a hoop house (Quonset hut-styled greenhouse) for starts and micro-greens. Chickens lounge in a luxurious coop just beside the structure providing both fertilizer and fresh organic eggs. And the gardens will be open during the Taste of Yountville for tours.
The idea for the gardens came when Chef Thomas Keller, an obvious produce perfectionist and one of the pioneers of the farm-to-table movement, observed the profound flavor changes in fresh vegetables during the first 12 hours after harvesting. The gardens have been in operation for around seven years and provide produce for The French Laundry and Keller's other Yountville restaurants Ad Hoc, Addendum, Bouchon and the Bouchon Bakery.
The French Laundry Gardens will be holding tours during the Taste of Yountville, however, Local Happenings had the opportunity to visit with Culinary Gardener and Manager of Gardens and Grounds' Aaron Keefer for a visit and even a little taste. Keefer noted how chilly the season has been so far, adding that, "The hoop house is really the engine of our entire production in the Winter because we can control the environment." My glasses started steaming up immediately as we entered the large curved and clear plastic covered structure. Keefer, a native of Ithaca, NY, who "grew up on the farm," and studied at the Culinary Institute of America in Hyde Park, NY is obviously no stranger to cooler weather. "There was an icicle hanging down right here," he says grinning.
In spite of the cold weather and twenty days of hard frost this year, which Keefer describes as "ridiculous," winter produce is moving along inside the hoop house. Onions, leeks, garlic, radishes, broccoli, cauliflower, Romanesco cauliflower, turnips, arugula, fennel, celery and micro greens are thriving and lush in the steamy environment. Vegetables are also picked earlier than commercial producers would with an emphasis on tenderness and flavor rather than weight. Even the garden's chickens, Bantam Cochins with their feathery feet are kept because they produce smaller rather than larger eggs in keeping with Chef Keller's "law of diminishing returns" which dictates that each plate at French Laundry should contain two to three bites.
When asked what goals he has for the gardens, Keefer describes his mission as to, "Produce the best produce that we can and work closely with the chefs, who are really the leaders of this entire organization."
When I ask Keefer how much of a difference all the "produce coddling" makes, he graciously offers me a taste of some fennel, followed by sylvetta arugula, Tokyo turnip, a form of long skinny (Cincinnati) radish and a baby lettuce. Talk is cheap and proof is in the tasting.  "All the root vegetables are really sweet now," he explains, "The sugar acts like an antifreeze." I found myself greedily devouring every tidbit offered, including leaves and stems.
Conclusion: So ravishing were the radishes that even Local Happenings Editor Deanna Baillie, who joined us, considered veganism…but just for a second…which is a big deal. Yes. The coddled produce at the French Laundry Gardens is on a level with the best you will likely ever sample.
The gardens do more than just supply elite vegetables to Chef Keller's restaurants. They also play a role in the community. "We'll dedicate one patch of that to pumpkins," says gardener Keefer pointing toward the compost heap at the rear of the gardens, "It's kind of a right of passage for the sixth graders of Yountville. They get to pick their own pumpkin out of our patch, and they get a cookie out of the French Laundry kitchen." The gardens also provide a bed and seeds, and starts to give children from Yountville Elementary School an opportunity to explore gardening.
Be sure to visit the French Laundry Gardens for a tour. Whether you're an avid gardener, or merely an avid eater it is quite fascinating to see what the state of the art in coaxing flavor from the earth looks like. Tours will be given hourly during Taste of Yountville.
Whether you can make it for one day or all three the 20th Annual Taste of Yountville has a lot to offer. Shrug off the Shoulder Season blues and take in the fun! See you there.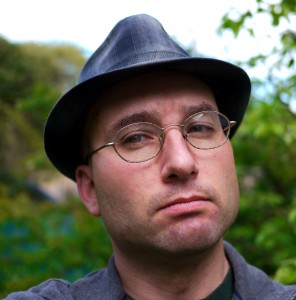 Marc Garman – is a videographer, writer and tinkerer who lives in Vallejo, CA and can't get enough outdoor fun.