Summer concerts galore in our tri-county region
What's better than music? The great outdoors. What's better than the great outdoors? Music. When's the best time to put those things together? Why, summer of course! Here's a look at some of the best summer concerts you'll find this year:
After 45 years perfecting its summer concert events, Robert Mondavi Winery in Napa Valley is always striving to make them better year after year. "We continue to look for opportunities to make changes," said Kathy Magner, Hospitality Director of the Robert Mondavi Winery. "This year one change will be in the offering of food—we are working with Off The Grid to provide a few different food vendors for our guests." While there will be food vendors on site this year, guests are still allowed to bring food into the venue, and catered dinner options are also still available. It's all about serving all the needs of those attending the summer concerts so they can enjoy themselves and have the best time possible.
"We look at our summer concert series as a great overall experience," said Magner. "Our venue is small and intimate so no matter which level of seating you choose you have a great view of the stage." They offer four levels of seating, from general admission to dinner seating.
To give an idea of what the dinner tickets truly provide, Magner gives us the rundown: "The dinner seating starts with a wine reception in our To Kalon cellar. We then invite guests to the vineyard rows on the edge of the To Kalon vineyard for a family-style meal prepared by our in-house chef. All foods are local and sustainable and are served with Robert Mondavi Winery wines. The only thing you need to bring is a coat or sweater as it can cool down in the evening." For enjoying the show you'll be seated in an elevated area with a nice view of the stage.
The first concert of the year is generally scheduled to be as close to the 4th of July as possible, and this year it lands directly on the holiday! "We'll put on an amazing firework show at the end of the concert," Magner exclaims. "We have one of the most beautiful settings to enjoy wine, food and music; you start your evening enjoying the warm Napa Valley sunshine and end the evening under the stars all while enjoying a great time with friends and family and legendary musicians." Sounds like quite literally the best way you can spend your time and money.
Parking is free at the venue, any guest with special needs can and will be accommodated, and let it be known that the summer concert series is not for profit and all proceeds will be donated to the Napa Unified School District's music programs.
Their retail shop will be open at the point of entry and will remain so until the end of intermission. All wines are available for purchase, and for some of the white wines they'll provide an ice bucket for you to enjoy a chilled bottle of Fume Blanc, Chardonnay or Rose along with 2 stemless wine glasses.
For dessert you'll have the option of either Ben & Jerry's and/or The Vintage Sweet Shoppe! So they've really got you covered from start to finish.
To get tickets or more information visit www.robertmondaviwinery.com or call (888) 766-6328.
The United Service Organizations, Inc. (USO) is a private, non-profit, non-governmental agency that supports programs and services designed to meet the needs of troops and their families, such as helping deal with a new deployment, transition from service, cope with physical or psychological wounds, the list goes on. All around the world the USO lifts the spirits of America's troops and their families.
Many may still recall Bob Hope's USO Christmas specials on TV. "He would broadcast every year on Christmas Day, a USO show from all over the world," said Maurice "Mo" Levich, Co-Chair of Rotary Lafayette. "He would skip every hour to a different military base all across the world and he would put on a Christmas show. That always touched me." That's what helped inspire Levich to contact Jeff Herndon, the head of the USO for the Bay Area, to talk about putting on a public event in Lafayette. "He was more than supportive."
The first USO Show at the Lafayette Reservoir took place last year to a remarkable turnout of about 800 people. "We expect a lot more this year," said Levich. 5 Rotary clubs are involved with producing this event including Lafayette Rotary, Lafayette Morning Rotary, Orinda Rotary, Moraga Rotary, and Rossmoor Rotary, with Lafayette Rotary being the primary sponsor. It's a free show, open to the public, and probably one of the rarest events you'll find this summer.
"First of all it's a picnic, which is rare these days for families to go on a picnic," said Levich. And second of all, "You do not see USO shows open to the public. They're usually on a military base just restricted for the military; the public rarely would ever be invited to a USO show." Third of all, the East Bay Municipal Utility District has opened up the Lafayette Reservoir for the day, which is also very special. Levich says, "It's a very unique event."
Plan to bring a blanket, lawn chairs, and a picnic basket of course! Food and beverages will not be served or sold at the event but you are encouraged to bring your own. Once you get settled, sit back and enjoy an evening under the stars with some wonderful music.
The festivities open with the Swingin' Blue Stars, a group of ladies who specialize in performing songs from the 40s and 50s, comparable to the Andrews Sisters of the 1940s. Then The Big Band Of Rossmoor, a group of about 40 musicians playing music reminiscent to the World War II era, takes the stage for the remainder of the evening.
The Big Band Of Rossmoor's roots are WWII. "Many of our musicians served in that war," said Levich. And it's intergenerational. "We have students from ages 14-94 in the band." If you or someone you know grew up in the 40s and 50s, expect to have some old memories resurface. "Music takes you back to when your heard it," said Levich, who has also been the Musical Director of The Big Band Of Rossmoor for the past 19 years. "We play from Glenn Miller to Duke Ellington to Fred Astaire to Gershwin." There will be lots of memories coming back when these old songs are played, and it's all for a great cause.
"It's a show to honor the USO and the work they do for our active soldiers and families in transit," said Levich. Troops from Travis Air Force Base and Camp Park will be there, along with retired military, veterans, veterans of foreign wars, military vehicles, families, nature, and just good times all around.
Levich is excited for people to be educated about the USO. "If you ask a guy on the street or a high school kid, they don't even know what the USO is," he lamented. "The Big Band sound is related to the WWII era; we musn't forget those veterans—and all veterans—the source of our freedom. Without them we would not be whole."
This year there will be even more troops, past and present, than there were last year. If a veteran will be present in your party at the event you can be sure to get their name in the program by emailing jthiry@postercompliance.com. For more information you can visit www.thebigbandofrossmoor.org. See you on July 18th from 4:30-8pm for the 2nd Annual USO Show at the Lafayette Reservoir!
For even more summer concerts this year…
Check out Wente Vineyards in Livermore. Join their 25-year-old tradition this year by seeing Third Eye Blind, Pat Benatar, Sheryl Crow, Steve Martin, Peter Frampton, Smokey Robinson—yes, all these acts are performing at Wente this year—and much more! Pre-concert sunset dinners are available. For more information visit www.WenteVineyards.com or call (925) 456-2424.
The City of Clayton presents Concerts in The Grove on select Saturdays from 6-8:30pm all the way through September. See The Fundamentals cover everything from Michael Jackson to Earth, Wind & Fire to Beyoncé on August 15th, or catch Clayton's own Plan B, an 8-piece band, rockin out to Creedence Clearwater Revival, Pearl Jam, Adele, Cake and more on the 4th of July! Visit http://www.ci.clayton.ca.us or call (925) 673-7300 for more information.
Long Meadow Ranch in St. Helena also has some great shows up until October featuring a variety of creative acts. Visit www.longmeadowranch.com or call (707) 963-4555.
That should be enough to get you started. Make sure to check your local area to see what else is out there!
Rock on.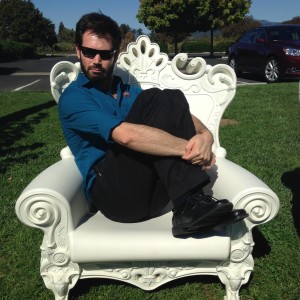 Larson is a writer/actor/comedian native to Vallejo who travels back and forth from Los Angeles way too much.
He's desperate for attention and urges you to follow him on all social medias @MarsLegstrong. He lives for likes, please keep him healthy.