A Festive Fair and Fair Fiesta
W.H. Auden said, "Stop all the Clocks," in his magnificent and dreary poem of that name. But he was from Britain, where it rains all the time. Here in California, we have just recently moved our clocks forward, signifying the approach of spring. And there is a lot to spring into as the days grow longer and the warm breezes tickle your fancy. So let's spring ahead, even if Mr. Auden might disapprove, into a couple of fun events: the Dixon May Fair and Vacaville Fiesta Days.
The Dixon May Fair, running from May 9-12, has the distinction of being the oldest continuously running fair of its kind in California. And it's held on the oldest fairgrounds in the state to boot. Seems like those folks in Dixon have been working at perfecting the art of rural fun and festivities for a total of 138 years.
The theme for this year's May Fair is: Delta Breeze, a charming theme which evokes thoughts of the warm days and cool nights of the season. This sort of thing would likely drive Mr. Auden into a fit of depression, but not the readers of Local Happenings, who are a hearty breed not immune to sun and fun!
Speaking of fun, one of the major attractions of the May Fair is the Wine Pavilion, which will feature more than 50 wines from a dozen Solano County wineries, specifically: Blacksmith Cellars, Ledgewood Creek Winery, Mangles Vineyards, Sunset Cellars, Vezer Family Vineyards, Winterhawk Winery, Wooden Valley Winery and Tenbrink Vineyards, all of Suisun Valley; Jess Jones Vineyard and Purple Pearl Vineyards of Dixon; GV Cellars of Green Valley; and Quercus Wines of Vacaville. Wines are available at a cost of $4 per glass or tasting starting at $8. All the proceeds from the Wine Pavilion go to Friends of Dixon May Fair, a non-profit volunteer group which is focused on running the fair, making improvements and making scholarships and awards for agricultural exhibitors and organizations. In fact, the Friends of the Dixon May Fair volunteers who run the fair will be awarding a total of $12,500 in college scholarships to seven Solano County college students who are majoring in agriculture or agriculturally related studies.
And, of course, there are the agricultural exhibitors and critters and such. Expect the requisite assortment of animals and animal husbandry on display. Why hell, those goats can be downright amusing after the fifth or sixth pass at the wine pavilion (but don't overdo it!). And, of course, there will be old-style fun like a "hog hollering" contest—a true rural tradition, the challenge being the development of a distinctive call with which to address your hogs, while not riling the neighbor's livestock. And that's not all! There will be bull riding and the Extreme K-9s dog show as well as a chance to visit the animal barns.
When you've had enough fun with four-legged animals, check out fine examples of strange behavior by two-legged critters: The Hot Rod Truck & Tractor Pull on Saturday night or the Demolition Derby scheduled for Sunday night. Cranking out horsepower with four-wheeled machines and belching smoke and flinging dirt and chaos in all directions is just about as much fun as some folks can take. But if a face full of dirt and diesel is not your thing and you might prefer to swing to the rhythm as opposed to screaming over the destruction, be sure and check out some of the musical acts at the fair. This year's talent will be more locally focused than in previous years, with regional acts such as Country-Western recording artist Jon Pardi, who will grace the main stage on Friday night. Pardi, a Dixon hometown boy, has opened for talents such as Alan Jackson, Dierks Bently and Dwight Yokum. Since arriving in Nashville in 2009, Pardi's career seems to be on a rapid upward trajectory. This is your opportunity to be able to say, "I saw him way back when!" Sunday will feature Latin-themed music from numerous bands.
There will be plenty of food and entertainment at the Dixon May Fair with lots of activities for the kids, including rides. On Mother's Day, Sunday, May 12, the first two-thousand moms who attend the affair will receive a complementary rose, so bring mom!
•     The Dixon Fairgrounds are located at
655 1st St, Dixon, CA.
•     The May Fair runs from May 9-12.
•     Admission is $12 for adults (if you purchase them in advance they are only $7), $8 for seniors and military and $7 for children ages 5 to 12 and under 4 free.
•     Plus they have a promotion for Thursday called "Thrifty Thursday" where all tickets are only $5!!
•     Online: www.dixonmayfair.com
Vacaville Fiesta Days
And if the fun at the Dixon May Fair doesn't wear you out, the 56th Annual Vacaville Fiesta Days follows one week later from May 20-27. Each year, the volunteers with the Fiesta Days (non-profit) that runs the event transforms Andrews Park in Vacaville into a fun-filled hometown event. It kicks off with a steak barbecue on the 20th from 5-9 PM and continues all week with tons of fun, entertainment and music. The theme for this year's event is A Place Where Family Counts and there is certain to be a lot for the whole family.
The Vacaville Fiesta Days began in July 1957 as The Western Fiesta. Back then it was more focused on cowboy and rodeo events, but that has changed over the years and it is now more focused on the expansion of the region's Spanish and Mexican roots. The kickoff barbecue is one tradition that has endured as well as the parade. One past tradition is the Jail and Beard Growing Contest. Back in the early days, all the male residents in town were encouraged to grow a beard for the event. Any who were caught clean shaven were promptly thrown in jail! I suspect there were a lot of fuzzy varmints roaming the streets right around Fiesta time in the early days. Wonder what the penalty was for sporting clip on? Today, the Whiskerino Event, in which contestants compete to win in categories for the most unique, most neat and trim, most patriotic or longest beard carries on the tradition.
On Thursday, things roar into high gear with the opening of the Fiesta Garden in Andrews Park. There will be a Family Fun Zone with face painting for the kids as well as carnival rides and, naturally, food and merchandise for sale. And there is a Beer Garden. Oh joy!
Music is a big part of Fiesta Days. There will be music every day for the entire week. Headliners include local favorites such as Push Back and Time Bandits and country music from Terry Sheets. There will also be Latin and Mexican music.
The annual Fiesta Days Parade starts on Saturday at 10 AM under the auspices of Grand Marshalls Jim Kellogg and Wendy Wasserman with the park staying open until 9PM.
•     The Vacaville Fiesta Days run from May 20-27, 2013 in Andrews Park, E. Monte Vista Av & School St. Vacaville, CA
•     Admission is $20 for an all-day-pass.
•     Online: www.fiestadays.org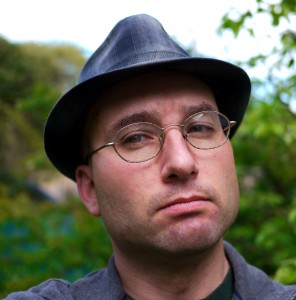 Marc Garman is a watch repairer and videographer who lives in Vallejo, CA.  He grew up crewing on and racing sailboats in upstate New York, mostly on the Hudson River.