Play Ball! All Hail the Admirals!
By Marc Garmen
Spring is in the air. The scent of freshly mown lawn goes hand in glove with the unmistakable sound of a baseball being caught. But this year, the sound of the bat hitting the ball has a little more snap to it. A bit more power and precision.
The Admirals are here. Professional baseball has landed in Vallejo California. The town's latest addition will play and compete against teams from Hawaii, Arizona and California. The home opener, set for June 8, will take place at Wilson Field, the new home of the Admirals, located in Wilson Lake Dalwigk Park on 450 5th Street, adjacent to the Curtola Parkway. Tickets are a modest $5-$8. Games will be held Tues-Fri at 7 PM, at 5 or 7 PM on Saturdays and 1 PM on Sundays.
Vallejo was an easy choice.
Admirals' owner and general manager Joe Fontana, a Brooklyn N.Y. native and filmmaker, describes Vallejo as having been "an easy choice" as home for his team. "The demographics are great, it's a very diverse city and it's located in a great place from a transportation perspective," he said in a recent interview at Admirals headquarters on Amador St.
Work rehabilitating the long-neglected Wilson Field is also underway. "Wilson Park is a gem. It can be restored and become something really nice," says Fontana. "To me, Wilson Park is sort of like walking into an old Victorian; you can imagine that in the day it was really something else. It could be beautiful, and it has great bones and structure. There's a real opportunity with the way it's laid out to build around it. Sometimes you see these city parks constrained by buildings around them so you really can't expand them or do anything much with them, but here you can so there's potential and possibility."
When asked to clear up any confusion as to where the Admirals sit in the hierarchy of professional, semi-professional and those not so professional beer league sports teams, Joe Fontana is very clear. "We are professional. You have to automatically take all the semi-pro and non-pro teams and put them in a different category. My guys, they do this for a living. They don't have a day job and come do this afterwards. Their goal is to make it to the major leagues."
Bringing affordable, professional baseball to Solano County is one of the priority goals of the Admirals.
Admirals' scouts have actively sought talented players all over the US, and in other countries such as Venezuela, The Dominican Republic and Japan. Spring Training is well underway and 22 players will be chosen from 60 or so prospects.
The Admirals will be playing 41 home games and 41 away games for a total of 82 following the same schedule as the big leagues, but playing three months rather than six as part of the Pacific Baseball Association. They are also an independent organization and not associated with a major league team.
"Vallejo is a baseball town. People really know baseball," says Fontana of Vallejo. "You say you're with Admirals and people start talking baseball with you. They really know the game."
Spring Training
On a recent visit to Wilson Field, Local Happenings had the opportunity to drop in on Spring Training and sit down with Field Manager Pedro Guerrero. Yes, that Pedro Guerrero. The one from the Dominican Republic who used to play for the Dodgers and then the Cardinals, and was once described as, "The best hitter God made in a long time."
Guerrero was the first dodger to hit 30 home runs and steal 20 bases in one season. He also got an MVP award in 1981, the year the Dodgers won the World Series. In 1973, a 16-year-old Guerrero arrived in the U.S. and made his way to the major leagues with hard work and natural talent at smacking balls out of the park.
Sitting on the bleachers behind home plate during Spring Training, Local Happenings had a chance to chat with Guerrero:
LH: So Pedro, what sort of wisdom are you going to share with the players who make the cut, from your perspective and years of experience?
PG: Well, first of all, you cannot win games without pitching. Number one. Besides pitching and hitting, you need to do the fundamentals. You know, like moving the runners over, bringing the runners in from third base, less than two out. But you have to work hard and you have to come to the ballpark hungry. Like Acompanes [sic] used to tell me, he was our GM, "You should be prepared to work hard. You should be the first one to get to the ball park and the last one to leave."
LH: So how are the prospects looking so far with regards to talent and players?
PG: I've been a winner all my life. I would hate to come down here and lose. But we're going to have a good team. We have four coaches and we're going to work together, take a good look at the guys and try to pick the right guys. So far I like what I see. We also got Tito Fuentes Jr., (Admirals Bench Coach and son of San Francisco Giants second baseman Tito Sr.) and he knows what he's doing, what he's looking at and he's been a big help so far. So many guys and we can only pick 22. But we all are going to make the decision together. There are four coaches. Joe knows about the game. It's like teamwork.
LH: So, you're putting a big emphasis on building up a stable of pitchers.
PG: Yeah. I would say so. Of course I like hitting (chuckles) but I think on any level, pitchers are what everybody looks for. Pitching and hitting. You also have to have good infielders. We have a couple catchers that are really good. I think we're doing pretty good. We're going to have a good team.
LH: So you're coming into Vallejo to coach for the season. Where are you based the rest of the year?
PG: Dominican Republic. Well, really Dominican Republic and Miami both. I travel back and forth. But this is my first time in Vallejo so far.
LH: So what about the state of the field? It looks like you have been doing a lot of work to get ready for the June 8 opener.
PG: By the time we open the season here it's gonna be good. We've got guys working on the field every day.
LH: Pedro, after all these years in baseball is there ever anything about a game that surprises you?
PG: No. Nothing surprises me. In baseball no, because I know that anything can happen in a game so nothing surprises me.
LH: So Pedro, I think folks in this town are really going to get behind you guys. How important is that?
PG: That's going to be another thing that's going to help. There were a lot of times with the Dodgers when we used to draw a lot of people. Talking for myself, when I used to play for Pittsburgh, and we used to play for ten- maybe fifteen-thousand people in a stadium that's supposed to hold about fifty-thousand…no enthusiasm to play. But when you see a lot of people in the stands it make a difference. Since I've been here we are doing some things with Joe off the field, you know, events and things and a lot of people are very positive. But the best thing is we are going to start winning. And that is my idea. Even better.
LH: Pedro, you're a big name. You've been around the sport for a long time but you really seem excited.
PG: Yes. I'd  like to invite all  the people in Vallejo to come to the ball park and support us because we're going to try to do our best for you. I always want to win, but if we come to the stadium and can't see any empty seats, that's a win. Just by seeing that we're winning right there.
For more information, schedules etc. visit the Admirals online at www.vallejoadmirals.com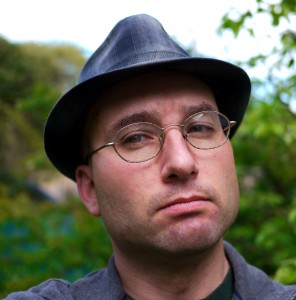 Marc Garman – a videographer, writer and tinkerer who lives in Vallejo, CA and can't get enough outdoor fun.