[weaver_extra_menu menu='featuresMenu' style='menu-horizontal' width='100%' css='menu-horizontal']
First on Fashion
If you're looking for a hassle-free way to update your closet, consider taking part in Benicia's Fall Fashion Weekend on October 19, 20 and 21.
In the weeks leading up to the big weekend, many First Street boutiques will host complimentary trunk shows for interested shoppers. What exactly is a trunk show? This kind of event usually takes place inside a specialty store. Customers see a collection of clothing by one or more designers.
Friday night of the Fall Fashion Weekend will feature a runway show at the historic Benicia Arsenal. Fashion mavens will be lining up for the affair at 940 Tyler Street.
Models will show outfits from four of Benicia's boutiques according to Yvonne Armas, owner of Miguelena, one of the stores that be featured at Benicia's Fashion Fall Weekend.
Advance tickets will be sold at the participating boutiques: Be Chic, Piccolos, Miquelena's, and Christina S. Through the month of August the price is $35, tickets sold in September and October and at the door on the night of the show will be $45. The gala will start at 6:30 p.m. with no host cocktails and the show will start at 7:30 pm.
Saturday, October 20 and Sunday, October 21 the stores will be hosting their own sales, trunk shows, open houses and "Shopping from the Runway!" Since each store has its own unique personality, this is a perfect chance to see the clothes from Friday night up close and personal.
Apparel shopping on First Street in Benicia is an experience to remember, one that is much like falling in love. Benicia's boutiques offer what many seek in matters of the heart. Like individuals searching for life partners, discerning clothing shoppers want a combination of character and chemistry. Benicia's boutiques each have that rare something their own ways.
Shops on First Street open their doors in the late morning. Just about the time the morning fog on the Carquinez Strait drifts away, the shopping day begins. The streets that run parallel to the water are lettered beginning with A. If you walk from one end of First Street to the other, you'll find no two shops alike.
Working one's way up First Street, Piccolo is on the left. Piccolo is located at First and B Streets and shares space with Shiroco's, an art and design shop.
Piccolo owner Laurie Keys says she carries mainly "everyday" clothes. Standing in her bright airy shop, she is surrounded by apparel of many luscious hues.
"Among the First Street boutique owners," she says, "I tend to be the color person."
Piccolo has dresses from $99 to $280; denim jeans run from $90 to $175.
Piccolo also presents evening fashion shows at the Rellik Tavern four times a year. Bombshell Hair and Ink does the hair styling and makeup for the six models. The shows are always Tuesday nights and limited to persons 21 and over.
On this fall's fashion trends, Keys says, "Scarves are huge for all seasons." She notes that the uneven hem is still around, "shorter in the front and longer in back and some dresses are coming in with lace and brocade. Pants are wider this fall. Some boots are flat and more like men's ankle boots."
In addition to dresses, tops and pants, Piccolo offers two lines of lingerie: Cosabella and My New Secret. Colorful, quirky shoes are another unique feature at Piccolo.
When the October 19th fashion show is over, Keys invites fashion lovers to a party at her shop. Think of a cast party after a stage play. The Piccolo "after party" will be free of charge and open to the public.
Continuing to walk up First Street but on the opposite side of the road, you'll find Be Chic. Owner Claudia Mahrt notes, "My clothing is more European. The most American [item I carry] are jeans." She says, "The trend is toward wider legs this fall. 70's styles are coming back, including mini-skirts. They can be worn with high boots. There are all different kinds of leopard prints. It's more a sophisticated look."
"Clothing lines this fall have a lot of a paprika, a beautiful, dark orange color," says Claudia. "A lot of gray colors are coming back." When asked about black, her verdict is cautious, "People are going away from black a little bit. A lot of charcoal, grays and brown."
Claudia is the exclusive carrier in the San Francisco Bay Area for Collection Iris, a French-Canadian brand. She plans trunk shows in the fall with David Kahn's jeans, Papillon Black, a Canadian clothing line, and Hanky Panky, a United States lingerie brand.
She says her philosophy for the apparel at Be Chic is simplicity, elegance and comfort. "I usually carry more classic styles because my clothing is expensive. I would rather have lines that will last a long time and not go out of fashion."
Christina S is the boutique situated in the middle of the block between C and D Streets. Proprietress Christina Strawbridge is a member of Benicia City Council. She also travels worldwide buying for her shop. She recently gave a talk on the history of hats, and she regularly writes about fashion trends and her worldwide fashion-related travel experiences.
Christina S boutique carries unique, elegant, contemporary clothing. As Christina points to a tea-length red dress with an uneven hemline, Christina notes, "I have a lot of special-occasion clothing." Her shop carries apparel by Joseph Ribkoff and many other designers. The boutique will host a number of trunk shows in September.
Christina notes, "trunk shows offer customers the opportunity to place special orders for clothing from select designers in colors and sizes that I may not otherwise carry in the shop."
On the opposite side of the street, near the corner of First and F Street, is Miguelena's. As you enter into the spacious boutique you will be greeted by owner Yvonne Armas and her co-buyer Jacqueline Houston. The shop has a great selection of modern clothing, accessories and shoes for women. Large upholstered chairs in the middle of the shop provide ample room for a woman's partner to wait comfortably and patiently as she tries on clothes.
Jacqueline says colored jeans remain a popular style. She agrees that 70's fashions are coming back including chunky jewelry, long print dresses, ponchos and vests. Miguelena's will offer one or more designer trunk show in the fall.
If you want personal attention in your quest to look your best, you can get assistance in Benicia's shops. If you yearn for fashion guidance, you have plenty of company.
Making a woman feel good about her total look has concerned America women for centuries. In a letter written to her sister from Paris, France, in 1785, Abigail Adams wistfully noted that while she shopped at the same places, bought the same fabrics, and yet no matter how hard she tried, she never quite looked of Parisian women.
If only Mrs. Adams could have enjoyed the kind of personal service and clothing guidance one gets at the apparel shops on First Street in Benicia, California, she might have been more pleased with her image.
One of my friends tells me that when she was younger, she settled for any clothing that got her through the days much like her old car that got her across town. These days she treats herself to clothing that she truly loves because, as she says, "I'm worth it."
Don't we all owe it to ourselves to get the dress, the outfit, the tops, pants and even the shoes that do more than just get us through the day? Why not go in style and enjoy the ride?
Shopping in Benicia is truly a gold-plated problem. Benicia's residents are proud of First Street apparel shops and so they should be.
Without the crowds of San Francisco, Benicia is the perfect place for buying stylish clothes. If anything that may be considered a drawback, it is the sheer number of intriguing choices.
All the shop owners and staff are friendly and ready to help you find just the right combination of clothing and accessories. If you love beautiful clothes and excellent customer service, you won't be disappointed when shopping in Benicia.
A billboard beside Interstate 680 promotes time spent to Benicia as "A Great Day by the Bay". Visitors who take part in Benicia's Fashion Weekend will experience magnificent shopping amid the historic waterside community's natural beauty.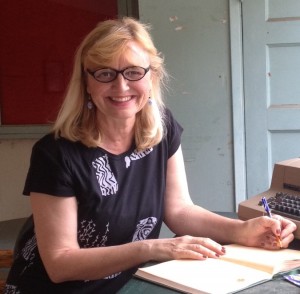 Kristine Mietzner lives in Benicia with her golden retriever Max who has no fashion sense whatsoever. She serves on the board of Benicia Literary Arts and works as a field supervisor for the Touro University Graduate School of Education. Her work has appeared in the Contra Costa Times, the Benicia Herald, and the online travel magazine, Your Life is a Trip. Her previously published work is posted at www.redroom.com/member/kristine-mietzner.  She can be reached at kristine2770@yahoo.com.