[weaver_extra_menu menu='featuresMenuJun2012′ style='menu-horizontal' width='100%' css='menu-horizontal']
Welcome to Cardburg 2012
Cardboard, the stuff they make boxes out of – or the more precise name – Corrugated Fiberboard. Originally it was created as a liner for tall hats around the 1850's and not used for boxes or shipping materials until about the 1870's. The proliferation of internet shopping has meant that more and more products are entering our home via a cardboard box these days. I know, because I break them down on a fairly routine basis and put them in the recycling can at my house. Pizza boxes, shoe boxes, boxes that my children's diapers come in, refrigerators, stoves, televisions, computers, dishes all of these and more travel around the country and the world and eventually end up in our homes. After their journey of protecting the items that we really wanted, they are generally unceremoniously broken apart and sent to be recycled. Sometimes they may be used to move other items or to store those family relics for which we have no more use but would like to save for a generation or two until our original suspicion is confirmed.
My children love to play with old cardboard boxes. Their favorite is to climb inside and have their daddy (me) carry theymfrom room to room as I, my wife and my other children feign surprise when they then spring out like an oversized jack-in-the box. They may also turn them into a house, a rocket ship, a cave, a mountain, or a myriad of other things that spring from their fertile imaginations. Once they manage to break the box down it becomes a large art board for them to color on. Then once they go to sleep it is neatly folded up by me and placed into the recycling box to hopefully bring as much joy to another family one day. I have to say that, of all the toys that my children have been given over the years, nothing makes their little eyes light up as much as the ubiquitous cardboard box when it enters our home. That is why when as I looked through the thousands of upcoming events on our online calendar this one stuck out at me "Cardburg 2012".
The brief description that we had posted for their event; "Cardboard Institute of Technology (C.I.T.) is a team of 10 artists who use recycled cardboard to create enormous site-specific installations. C.I.T. will transform the Bedford Gallery into Cardburg 2012: The Super Track, a Velodrome speedway for racing high speed remote controlled art cars" seemed to jump off the page at me. It seemed that a group of people had taken the wonderful joy and imagination that my children take from cardboard boxes and they had kicked it up a notch (actually far more than a notch). I was looking through the events with the express purpose of finding something to write about for this issue and thought this was perfect. It is unique but at the same time common. I think it would be safe to say that the vast majority of us at one time or another have looked at the common box and thought about what other possibilities this everyday shape and material could be transformed into. So, I shot them an e-mail and visited their web site and down the rabbit hole, or should I say the cardboard tube, I went.
The Cardboard Institute of Technology "C.I.T." was formed by Joshua Short and Steve Falkowski in 2007. At the time, Joshua had asked Steve to help him on an art project at a youth center where he was making a large "monster" that was coming out of a wall. The vision for the project was to have children help with the installation and Joshua became fascinated with both the material and the interaction with the children – or as he called it "participatory art". That spark of a vision came to being in their first exhibit in 2008 – Welcome to Cardburg. They were joined by Mike Murnane, Robin Frohardt and Caryl Kientz for that project. That was also the birth of the mythical city of "Cardburg" from which subsequent shows also draw their name. That first project was enormous and it covered an area about 40 by 60 feet – a whopping 2,400 square feet of cardboard city. The exhibit used video and a green screen to "place" the visitors into the city itself, which allowed them to become citizens of Cardburg. At the close of the show visitors were able to come back and help destroy the city like a group of mean spirited giants or Godzilla's – my children would have had a blast!
Their 3rd show – "Cardburg 500" – had Joel Stockdill and Jesse "Roadkill" Wilson joining their ever growing cadre of "faculty", as they are called. That exhibit had a race-inspired theme and built upon the Cardburg mythology. This year's show will also have a racing-inspired theme to it. Visitors will be welcomed back to Cardburg and to their new Velodrome (typically and indoor cycling arena but, in this case, it will be for cars). At the time of my interview with Joshua the entire design had not been fully fleshed out (nor would it be until the opening of the event and even then it would evolve with the show) so I asked him for his vision and about what the visitors could expect to see and experience at Cardburg 2012. Joshua described his vision as this; "As people first walk in they will see the Velodrome which might appear like a giant spaceship in the center of the room. Surrounding it will be cardboard walls that will feature race car designs. A large center control tower will also be featured along with a giant snake that will seem like it is coming out of the ceiling. The visitors will be able to interact with the piece in a variety of ways such as racing controlled cars that they have made around the Velodrome race track or acting as the pit crew to help maintain the cars. Their exact experience at the show will depend on the the day and time when they arrive. The visitor though will want to come back during the the event experience different aspects of the show. Joshua and the "faculty" of CIT, like to reference topical elements in their shows so, in addition to the theme of Cardburg and racing, the element of the end of the world/creation of a new world theme will also play a central role in the design to tie in with the whole 2012 and Mayan calendar that has captivated the minds of many people in the world today.
In the course of our talk I asked Joshua; "As the founding member of CIT how did you yourself evolve to this point of creating these giant art projects from cardboard?" The evolution he admitted was a long one. He did not take a traditional route – though I am not sure there is a traditional route in the art world. His love for art started early on with drawing in high school and where he met his co-founder of CIT, Steve Falkowski. At that early time though he was also heavily involved into martial arts and worked for some time after high school with America's Best Karate founders Anthony Chan and George Chung as both an instructor as well as on their television show Adventures of Kanga Roddy. The time on the T.V. show inspired both the art and the desire to have that art involve both the artist as well as the audience. The show also taught him about a variety of skills he uses today in his shows such as model building, set design, storytelling and videography.  The cardboard and other recycled materials played a major part for two reasons – they were cheap and plentiful. Cardburg and CIT simply grew out of all of those experiences and his desire to both tell a story and to create a world that his visitors could explore and experience in a variety of ways.
So, come visit the show and discover this wonderful vision the faculty of Cardburg will have created at the Bedford Gallery in Walnut Creek. The show will run from June 10th to August 12th. You will want to plan on visiting it at different times and days as the show will both evolve and change, offering visitors quite a few different experiences along the way. You may even want to join CIT itself so that you can explore your own inner child and rediscover what it is like to take an average box of cardboard and see all the possibilities that it holds.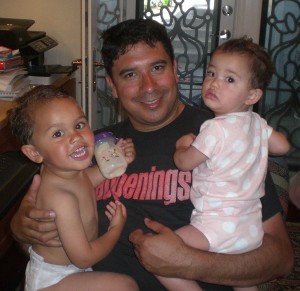 Robert Briseno – Is a father of three little ones who finds constant joy in their discovery of both cardboard and all the wonders and mysteries of the world.