[weaver_extra_menu menu='featuresMenu' style='menu-horizontal' width='100%' css='menu-horizontal']
The Salsa Scene

It's 8:00 p.m. and over 50 people crowd onto the dance floor at Crogan's Bar & Grill in Walnut Creek. The pulsating beat of Latin music is everywhere. Professional dancers clad in sequence and high heels dance across the wide screen TVs. The mirror ball hanging from the ceiling fills the room with swirling white lights and a cool party vibe.
Tomaj Trenda steps to the center of the dance floor with his assistant Summer Farouni and demonstrates the eight-beat Salsa basic step. The soft-spoken Trenda occasionally punctuates his "1,2,3…" count with a louder, staccato "step, step, step" to encourage the dancers' feet to fall in line. Beginners concentrate, brows furrowed looking down. Men lead, women follow, and the more advanced dancers add subtle moves with their arms and hips. After several practice rounds, most feet follow the beat – and everyone is smiling.
This is the scene every Wednesday at Crogan's where Trenda hosts a free Salsa class followed by an evening with a DJ and open dancing. For the past 8 years Trenda has been teaching authentic Club-Style Salsa at several spots in the Bay Area including Hayward, San Ramon and Orinda. Interest in Latin dance has been booming and his classes attract an equal mix of men and women, singles and couples, across a broad age range from mid-twenties to mid-sixties.
"I was immediately attracted to Salsa. I just love the music. It's a passionate sound," says the fit and trim Trenda. He started dancing in college in Washington, went on to get a Masters in Dance Education and has been dancing ever since. Developing muscle memory is the key to learning Salsa says the dance educator. "I teach in a very structured and progressive manner. I break it down step by step, so it's easy to follow along. There's lots of repetition."
Salsa is a great way to meet people, says Trenda. "My students come to learn to dance. They socialize and make new friends. It's a real community." People often come to Salsa dancing to connect with a current partner or find a new one, he adds. In fact, Trenda has attended the weddings of three couples that met in his Salsa classes.
Back on the dance floor at Crogan's, Trenda has just finished walking the dancers through a combination of Salsa steps. Everyone is paired with a partner, the music plays, and the dancers practice the routine for a few minutes until Trenda shouts, "Rotate!" Women move clockwise to the next partner, and following a quick handshake and exchange of names, the music starts and the new couples dance. As the cycle is repeated, the dancers' steps become more effortless, and again – everyone is smiling.
Tomaj Trenda teaches beginning and intermediate/advanced Salsa on Mondays, Tuesdays and Fridays in Orinda, Hayward and San Ramon. For class schedules and more information go to www.salsawithtomaj.com. To contact Trenda, email: tomaj@salsawithtomaj.com or call (415) 505-3536.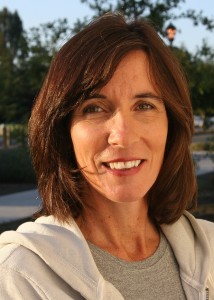 Andrea Firth is a freelance writer based in Moraga with her husband, two teens, and a dog named Pepsi.