[weaver_extra_menu menu='featuresMenu' style='menu-horizontal' width='100%' css='menu-horizontal']
Celebration Transformation, Holiday Traditions Revised

Traditions evolve. They always have. Based on generations of cultural practice, some people follow strictly in line with the customs they learned as a child, while others alter them for personal preference. I grew up in a casually Jewish household – we lit the menorah and my mother spoke the Hanukkah blessing, which was enough to satisfy our Jewish fix for the year. We never celebrated Christmas, but we did enjoy having a large pine tree in our living room with a bunch of presents underneath it on December 25th. Why? Because it's fun, that's why. I recall picking a present from under the Christmas tree on the last day of Chanukah, which was even more confusing to my friends than the indecisive spelling of our holiday. I'm sure my ancestors celebrated the holidays quite differently than that, but now, with my Star of David Christmas tree topper, I've officially altered my ancestral tradition.
I'm not the only one with a unique holiday celebration. In fact, many of our neighbors right here in Solano and Contra Costa counties have some pretty unique stories of their own.
Choose Your Own Tradition
"We are Christmas Eve Catholics," says Martha Levison of Danville. "We don't attend Mass throughout the year. Only on Christmas Eve." The Levison's holiday tradition tends to be: go to Christmas Eve Mass at St. Isadores, then go out to dinner for Chinese or Japanese food. "Neither my husband George nor I have Chinese or Japanese heritage in our family, but by 12/24 we're a little burned out on the holiday thing for some reason." Once they and their two sons return from their meal, "normal" tradition ensues.
"When we get home we watch the tail end of A Christmas Carol or It's A Wonderful Life, then George reads the Polar Express. George has read the Polar Express to us before we all go to bed on Christmas Eve ever since the book first came out," says Levison. "To this day we always say the line: 'For those who truly believe…' together out loud."
The Levison's didn't have any family in California when they moved here in 1984. "We just invented our own holiday," she says. On Christmas Day, "I make all the traditional midwestern dishes – green bean casserole, sour cream mashed potatoes, turkey." Every morning they have "Weird Egg" for Christmas breakfast. "Weird Egg is made with Wonder Bread and Velveeta, and a pound of butter," Levison says. Her husband George is Greek, so they have dishes like spana, baklava and pastitso. They've also recently incorporated a bête noire for dessert. "So we have a Chinese/Japanese, midwestern, Greek, French Christmas, plus great Cali wines," Levison exclaims. "We also have a Welsh Corgi, BamBam, and French Bulldog, Bandit. Certainly that makes us international."
The Levison's are also known for their "Christmas Pickle" tree ornament, hidden on their tree every year. "I try really hard to hide it in the tree," says Levison, "The person to find the pickle on Christmas morning gets to open the first Christmas present." Levison reiterates that upon moving to California they had to make up some of their own traditions, and she proudly admits, "It's weird … but it's ours!"
Rest and Relaxation
For Cheryl Hurd of Vallejo, news reporter for NBC Bay Area, Thanksgiving is the holiday that she looks forward to every year to celebrate with her family. "I'm always in charge of the turkey," she says. "If I don't cook the turkey I'm very unhappy." What makes her turkey so special, you ask? "I slather it with lots of butter. That's the secret."  Hurd has been cooking the turkey for her extended family for the past 13 years, ever since her grandmother passed away. "She didn't physically teach me, I just kind of learned through osmosis."
Hurd's family has one rule when Thanksgiving rolls around: Eat, eat, eat. "We have all different types of food," she says. "The only thing traditional about our Thanksgiving is our turkey. My sister does lumpia, a Filipino dish. I'm also in charge of the fried chicken, not to sound too stereotypical."
Christmas time tends to be more laid back for Hurd as she doesn't have children. "I usually either work on Christmas or just lay low," she says. "It's also an eating tradition for us, but not as big as Thanksgiving." Aside from the food, Hurd loves the holidays because of her family. "We play games, laugh and let loose, do things that we wouldn't have a chance to do otherwise because work usually takes over the life," she says. "I just like the fact that friends and family come together, watch a lot of sports on television, kick back and relax."
Pizole and Pirates
When the holidays come around, Benicia resident Leeann Cawley's family enjoys pizole, a Mexican chicken soup. "One of our daughters we adopted from Mexico made it for us one year and it became a tradition," she says. "Everyone always looks forward to that, we only have it once a year."
The Cawleys get together every Christmas Eve and every year they play a game called Pirate Bingo. "Everyone brings a gift to put under the tree," says Cawley. "You draw a number to pick a present from under the tree, or you can take an opened gift away from someone else." She finds it to be a fun game for the family that lasts a couple hours. "Then everyone goes home so that the children can be home for Santa on Christmas morning."
Most children can't wait to open presents Christmas morning, but Cawley was raised a little differently. "The kids always hated that they had to have breakfast on Christmas morning first before they could open their presents," she says. "I've always insisted on a nice dining room Christmas breakfast, it's just the way I was brought up. That's how my mom always did it; I carried that tradition."
Both Cawley and her husband are past presidents of the Benicia Chamber of Commerce. They've also owned and operated Benicia Plumbing for 37 years. As members of the community, they add to the holiday flare by decorating their home. "I redecorate our house completely for the holidays, every part of our house has decorations in it," Cawley says. "Years ago I was out of state and found a musical box that caused the lights to flash to the sound of Christmas carols." When it comes to her decorations, no pun intended, "That's probably the highlight."
It's A Locavore's Life
"One tradition that's unique to our family is our all-local Christmas dinner," says Michael Fortney of Vacaville. "We have a dinner with family and friends and everything pertaining to the meal is Solano grown. We now have as much fun planning the menu and thinking of how to incorporate more local items as we do eating the meal." They get all of their wine from local Vacaville vintner, Vitus, their prime rib from Gates Ranch in the English Hills outside of Vacaville, olive oil from a friend in Dixon, and all of their fresh cut flowers and produce from Vacaville and Dixon produce and fruit stands.
"Four years ago when I started running my first campaign for Vacaville City Council there was a big 'buy local' kick," Fortney says. "We've always gotten our beef local from [John Pierson of Cherry Glen Beefmasters] in Vacaville," but it was then that Fortney decided to take it a step further. "We just said, 'let's have a bunch of people over, we'll have a party, and everything about this table and this event is going to be homegrown.' It was just such a success that it's become a tradition now."
Aside from his work as Vice President of Solano's Placer Title Company, Fortney spends a lot of time volunteering with the Vacaville Boys & Girls Club and the SPCA. He's getting his daughters involved now as well, donating to the Make-A-Wish Foundation or Toys for Tots. Fortney has noticed a change, however, that toys are rarely even asked for anymore by underprivileged youth. "It's not even toys anymore, it's necessities. Many [kids] actually request a pair of shoes or a jacket." By getting his daughters involved with local volunteering efforts, Fortney emphasizes to them one very important life lesson: "You're just a small piece of this puzzle, but that piece makes a difference."
The More the Merrier
For Linda Beard of Yountville, her number one holiday tradition begins with having an open front door to all of her friends and family. She attracts people in by making about 6-8 batches of cinnamon rolls every year. "Christmas morning I get the first one going," she says. "Then all morning long, from 10-1 p.m. there's big pans of cinnamon rolls and we have an open house for our friends and neighbors."
While most families just have one Christmas tree, the Beard family has at least three. "I was an international youth exchange student to Sweden when I was in college," Beard says. "A Scandinavian tradition is that everything on your Christmas tree is edible. We have a tree in our kitchen, full size, decorated in gingerbread cookies, popcorn strings, candy canes, strings of hard candy, it's everyone's favorite tree." But it doesn't stop there. "I have another tree in our family room with nothing but Santa ornaments and a big tree in the living room." Her daughters would also have their own Christmas trees in their rooms when they were younger. "We do get into the spirit of things."
There's a lot of Christmas spirit to go around at the Beard household, and Linda makes sure to spread it as much as she can. Starting about six years ago, Beard's twin daughters had some friends at Travis Air Force Base that were invited over for Christmas dinner. "They're so far from home and they're literally starved for family, a hug, warmth, safety … that's something I can do," she says. Through word of mouth from her daughters friends and friends of friends, Beard has kept the tradition going. "They've found young men that have just returned from the Iraq war within 1-3 days. I am probably the first mom they've been exposed to since leaving," she says. "To look at them at my table, at a time of blessing, and see them literally with tears running down their cheeks … it's heart-wrenching and I love doing it."
This holiday cheer with the troops has led Beard to even more involvement with our veterans. "Sunday suppers are so huge in my family, we just started to work with a halfway home program and Rotary District 5130 in inviting four halfway home participants every Sunday to my home to dinner," says Beard. "It's all about being human and opening up your heart."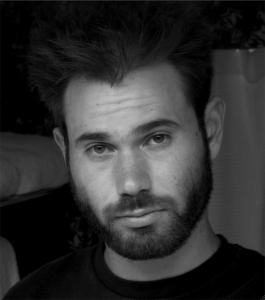 Matt Larson is a writer/actor/comedian who shamelessly promotes his Vallejo Comedy shows in his byline. He encourages you to visit www.vallejocomedy.com. Woot!