Bay Vein Associates can help if you're one of the millions suffering from chronic venous insufficiency
Sometimes if something in your body feels a little off, you may impulsively brush it aside as it's "probably nothing." Plus, if you responded with a red alert at every abnormality you'd be shunned as a hypochondriac. But sometimes your concerns are not overreactions, and it's very important to listen to your body. If you sense something is wrong, it's definitely worth getting checked out by a professional.
If lately, or for years even, you've noticed symptoms like varicose veins developing on your legs, or you've felt as if your legs were unusually heavy or fatigued, general leg pain, swollen limbs, skin changes or ulcerations, it is possible that you're experiencing what's known as chronic venous insufficiency (CVI). With approximately 20 million Americans suffering from CVI or varicose veins, you are certainly not alone. There's actually an entire medical field dedicated to this very issue. If you think you need a consultation, your best bet is with Dr. Christopher Lee of Bay Vein Associates with locations in Pinole and Pleasanton.
"Dr. Lee is a vascular specialist, and out of anyone in this area he has the most training, has done the most cases and has the best hands," said Hung Ly, Practice Development Coordinator for Bay Vein Associates. "He's specially trained in vascular interventions." And that's what Bay Vein is here to provide. "We treat solely venous problems that have to do with CVI. It sounds specialized, but there are millions of people who have this condition." Twenty million, to be approximately exact.
"For people who have this condition, it interferes with their lives to a point where it decreases their ability to do things like walk a block or stand for 15 minutes," Ly explains. "Their legs get swollen, they feel heavy, they get varicose veins and spider veins; actually varicose veins and spider veins can be a precursor to more serious symptoms that are associated with CVI. It may get worse, it might not, but if it gets worse we can definitely do something about it."
Some patients can be as young as 25 years old. In general though, their main patients are females from age 35 and up, all the way to 85. As far as deciding whether or not you need treatment, "It's really a question of symptoms," says Ly. "Some people are more concerned about cosmetics—having unsightly veins and spider veins. You can treat those as much as you want on the surface, but if you don't treat the underlying condition due to CVI those are going to keep coming back. Some patients get their cosmetics treated every 6 months for years because new veins keep coming back."
As far as treating cosmetically or treating the underlying issue, Ly uses the following analogy: "If you have leaky pipes in your basement, then you can go down there every day and mop up the leak. Of course, it's only going to clean it temporarily, so what you really need to do is fix your pipes. What we will do is fix the leaking pipes." In other words, Dr. Lee will go down deeper than the cosmetic surface level and make sure the problem isn't going to come back. "We're trying to stop that cycle by treating the underlying condition."
Main risk factors for CVI include professions that require a lot of standing or walking, such as teachers, nurses, people who travel and fly a lot, as well as women who have had multiple pregnancies. For some women after their first pregnancy they'll develop bulging veins that will then go away, but after the second pregnancy the bulging veins return to stay. "Those are adaptations that your body has made to have more blood flow, but they never get restored back to pre-pregnancy condition," said Ly. "That's a big risk factor."
By now you could be wondering what this procedure actually entails, and you may be pleased to know that it's an in-office procedure and there's no down time. You can even go back to work the same day! The whole thing takes about an hour in the office. "We go in and take malfunctioning veins out of the system and your body finds other healthy veins to start pushing blood back," Ly explains. "We're not removing them! It's called ablation: an office procedure where we use a little wire to burn the vein, then your body finds other healthy veins. It's pain free and people feel the difference within a few days."
It's a multi-step process. You'll first have to get scanned to see if you're even eligible for the procedure. They they'll submit for insurance and so on. Ly says it comes out to about four or five visits per leg (often times it happens in both legs). As well as a follow-up appointment to make sure all is copacetic.
Bay Vein Associates in Pleasanton has been open for business for just a year and a half, and their clinic in Pinole has been open for 3 years. Dr. Lee was also at work in a hospital for 3 years prior to starting his own practice. He does all the procedures himself, commuting between the two cities, so rest assured you'll be worked on by only the best. And he does much more than just work on the physical…
"We are focused on patient education," said Ly. "Dr. Lee spends time with every patient to help them better understand exactly what their problem is and what their treatment is. We want them to be informed and in control of their own health." Speaking of control, Ly tells us that this procedure is covered by most insurance plans, including medicare. And if you're considering a purely cosmetic procedure, Dr. Lee can accommodate, however Ly explains that they mainly focus on medically necessary vein treatment. They do also do cosmetic veins but remember, that's the same as mopping up water in a leaky basement. Ly says, "Oftentimes we'll fix the pipes first and then we'll mop up after."
So if you feel any of this applies to you, give Dr. Lee a call. It's a minimally invasive procedure, you can usually return to your normal activity within the same day, average treatment time is less than an hour, you'll feel the benefits within days and it's covered by most insurance companies! If you've been experiencing mysterious leg pain for far too long now, it's time to consult. Call Bay Vein Associates today at (844) 400-VEIN. Visit them in Pinole at 2150 Appian Way, Suite 104, or in Pleasanton at 5924 Stoneridge Drive, Suite 103.  For more information visit www.bayvein.com.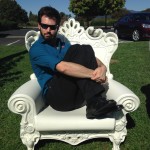 Matt Larson is a writer/actor/comedian native to Vallejo who travels back and forth from Los Angeles way too much. He's desperate for attention and urges you to follow him on all social medias @MarsLegstrong. He lives for likes, please keep him healthy.