Halloween is my number one favorite holiday.  No pressure, no gift giving, no traditions, just fun, costumes and, of course, food!  Halloween definitely holds the trifecta for some serious holiday cheer.  And in keeping with the spirit of the holiday, here are a few Halloween-themed goodies you can enjoy for your next Halloween party or any other time of the year.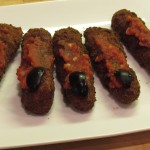 Deep Fried Bloody Fingers
These mozzarella sticks are a great make-ahead appetizer that will keep for months in the freezer and can be fried in less than two minutes.
2 lbs mozzarella, cubed into sticks, ¼ inch x ¼ inch wide, by 3 inches long (yields around 40 sticks)
1 cup flour
2 teaspoons seasoning salt
8 eggs
pinch of salt
15 oz Progresso Italian style bread crumbs
8 ounces marinara sauce
sliced olives for garnish
On a cookie sheet lined with waxed paper, place cheese sticks so they don't touch in a single layer on the pan.  Place pan in the freezer for at least two hours.  Meanwhile, mix flour and seasoning salt together in a shallow dish.  Whisk together eggs and salt in a bowl.  Pour breadcrumbs into a dish with high sides.  Remove cheese sticks from freezer.  Dredge cheese sticks first in the flour mixture, tapping to remove any excess flour, dip in egg mixture, then dip in bread crumbs.  Place cheese sticks back on the wax paper-lined cookie sheet, making sure the sticks don't touch, and return pan to freezer for another hour.  Discard flour mixture, but save the breadcrumbs.
Remove pan from the freezer, coat once more in egg mixture, then bread crumbs.  Return sticks to pan and return pan to freezer for another hour or more.  At this point, you can either transfer all the sticks to a Ziploc freezer bag for long-term storage, or you can start frying fingers.  To fry:  In a large skillet or pot, preheat one inch corn oil (or another oil with a smoke point of over 400 degrees) over medium-high heat, to 365 degrees. You can test the oil by placing a wooden spoon in the hot oil – when air bubbles form rapidly, the oil is ready for frying.  Once oil is hot, working in batches of 5-6 sticks, being sure not to over-crowd the pan, fry sticks for 45 seconds to 1 minute per side, or until dark golden brown. The center should give to slight pressure from your tongs.  Place fried sticks on a paper towel-lined dish to drain and cool.  Serve hot with marinara sauce for dipping or decorate your sticks with a little marinara for "blood" and an olive slice for a "fingernail."
These cookies are not only festive, they are a snap to decorate.  Even if you don't think you have any cookie decorating skills, this design will make you look like a superstar every single time!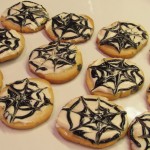 Spooky Spider Web Cookies
4 cups flour
2 ½ teaspoons baking powder
1 scant teaspoon salt
1 ½ cups granulated sugar
1 1/3 cups unsalted butter, at room temperature
1 teaspoon pure vanilla extract
2 eggs, lightly beaten, at room temperature
Frosting (recipe follows)
Black gel frosting
Sift flour and baking powder together and set aside. In a large bowl, using a hand mixer or stand mixer, mix butter, sugar and salt on medium speed for around five minutes or until light and fluffy. Scrape down sides of bowl.  On low speed, mix in vanilla and eggs until thoroughly combined. Add in flour mixture, a little at a time, until fully incorporated.  Form dough into a 1" round log, wrap in plastic wrap and refrigerate for at least 2 hours or up to a week.  This dough can also be frozen for about three months.
Preheat oven to 375 degrees.  For softer, more cake-like cookies: Preheat oven to 350-375 degrees. 350 makes the cookies extra cakey, while 375 is a little firmer.  I've even gone as low as 325. The cookies pictured were baked at 375.  Slice cookies from the refrigerated dough log, about ¼ inch each, and then place on an ungreased cookie sheet.  Bake for 8-12 minutes or until the bottom edges are golden brown.
Frosting
1/2 cup (1 stick) unsalted butter, at room temperature
3 cups powdered sugar
2 teaspoons milk
1 teaspoon vanilla
Mix together butter and powdered sugar until fluffy and creamy. Add the powdered sugar in ½ cup increments.  Mix in vanilla to fully incorporate.  Mix in milk to finish.  At this point, you can color or flavor your frosting as desired with just a few drops of food coloring.
Once cookies are cooled, spread with white frosting.  Using black gel frosting in a tube, make a circle in the center of the cookie and a few more concentrically around the center.  Using a sharp knife, starting from the center and pulling directly to the outside edge, drag your knife through the frosting, wiping your knife off after each swipe.  Let frosting set.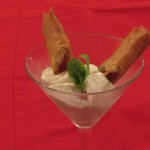 Caramel Apple Spring Rolls
This unconventional assembly of the classic apple and caramel Halloween flavors will have you cursing me long past Christmas.  But who doesn't love a dish – sweet or savory- that's been wrapped in a spring roll wrapper and deep fried?!?
One package spring roll wrappers, defrosted
One Granny Smith apple, cored, finely diced, rinsed and drained
20 caramels (we're using fresh caramels here) cut into small pieces
1 tablespoon all-purpose flour
1 tablespoon water
Oil for frying
Mix together flour and water in a small dish.  Preheat oil to medium heat.  Meanwhile, to assemble rolls, place a spring roll wrapper in front of you in a diamond shape.  Place a little diced apple and diced caramel in a thin, even layer on the bottom third of the wrapper.  Fold the bottom corner of the wrapper upward, with the two sides inward, and roll tightly upward toward the tip.  Seal the tip with the flour and water mixture.  Set aside.  Once oil is hot, fry rolls in small batches, avoiding crowding in pan, until golden on each side.  Set on a paper towel-lined plate to cool.  Cut on the bias (or diagonally) for a gorgeous service.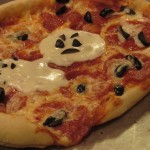 Here is some ghastly Halloween grub for sure.  In order to make these spooky faces, simply cut mozzarella thinly, and use either free-hand shapes or cookie cutters.  As the cheese melts, your ghosts appear!  The dough and sauce also keep for a long time, making this a great make-ahead food option.
Pizza Dough
This dough can be made long in advance and stored in the refrigerator for up to a week, or in the freezer for up to a month.  If freezing dough, defrost for several hours at room temperature, and then knead on a lightly floured board before use.
1/2 cup (3 oz.) wheat gluten flour (Bob's Redmill makes an awesome one)
1/2 teaspoon salt
1 ½ teaspoons yeast
2 ¾ cup (15 oz) all-purpose flour
1 3/4 cup water
Pizza sauce (recipe follows)
Thinly sliced mozzarella cheese
Place a baking sheet, pizza stone or cast iron griddle into your oven on the lowest rack, then preheat it to 425 degrees.
Combine gluten flour, salt, yeast, water and 1 ¼ cup (6.5 ounces) flour until thoroughly combined.  Mixture will look lumpy.  Let mixture rest about 10 minutes.  Mix in remaining 1 1/2 cup (8.5 oz) all-purpose flour.  Knead 6-10 minutes or until dough comes together cleanly.
The dough will be a little sticky.  Form dough into a ball, place into a bowl covered with a towel to let rest and rise in a warm place for around one hour. If not using the dough right away, place into a Ziploc bag and store in the refrigerator.  Always bring dough to room temperature before use.
Pizza Sauce
1 15-ounce can tomato sauce
5-6 freshly chopped basil leaves
3 garlic cloves, minced
1 ½ teaspoon freshly ground black pepper
1 tablespoon freshly chopped Italian parsley
½ teaspoon freshly chopped thyme leaves
½ teaspoon freshly chopped oregano
Pinch of very finely minced fresh rosemary leaves
Mix all ingredients together.  Use or store up to 10 days in refrigerator or indefinitely in freezer.  If you don't have access to fresh herbs, you can use dried herbs, ½ to 1 teaspoon of each.
Cut mozzarella slices into desired spooky shapes and decorate faces with toppings.  Set aside.
Separate dough into desired portions.  Using your hands, stretch dough until very thin, almost see-through in the middle. Sprinkle a pizza peel or pan with no lip with a little corn meal.  The corn meal will act as "ball bearings" between the pizza peel or pan and dough when you slide your pizza onto a hot stone or pan already in the oven.
Place dough on pizza peel or pan, top with sauce, cheese and desired toppings. Carefully slide pizza onto hot pizza stone or pan. Cook for 12-15 minutes (longer if using more toppings). During the last two minutes of cook time, place your mozzarella faces on pizza. Have a happy, safe, sane, fun, and delicious Halloween!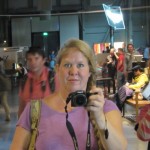 Trish Lee is a long-time Vallejo resident and loves to cook, plant and meditate in person and on the web at www.cookplantmeditate.com.