There are times in your life when you make a conscious decision to either like something or not. This is true of foods too. It could be because you dislike the texture and will never eat it again or it may be because the quality that you receive is just not good, so why bother? The latter happened to me with tomatoes. I had sworn off store-bought tomatoes because they had no taste. They were either picked too early or fed too much water. They were bland. I can tell you that no sandwich of mine would have a tomato, either.
Then my husband and I bought a home and built a garden. The garden included 29 tomato plants of different varieties. Robert cared for these plants, and they became part of our daily routine. He would go and tend to them every day to ensure they were growing well and were bug free. If he saw hornworms, white flies or other bugs, they were gone within a day. No one was messing with his plants. He put in place a water drip system and had the watering on schedule. There was no over watering of our tomatoes. Because of all his hard work, I started eating tomatoes again.
The flavors were wonderful. We had so many tomatoes that the neighborhood and senior center fell in love with them as well! However, as we were blessed with children, our time for gardening gradually diminished. Now we are down to one to two plants each year. Those plants are really for the children, so they can get excited about the whole process and growing something to be able to eat the fruits of their labors. We do the same thing with strawberries. They really enjoy watching them grow.
I was given the opportunity to meet an incredible person, Amy Giaquinta, who I have affectionately named the Tomato Lady. The best conversation you can have with someone is one in which the topic is a passion of theirs, and Amy is passionate about tomatoes! They are part of her family and treated as such. She cares for them as she would any individual, with kindness and a watchful eye.
She started growing tomatoes about 15 years ago, when she and her husband purchased a little farmhouse in Yountville and remodeled it. Amy was able to turn a horse pasture into a beautiful garden. She took the time to research vegetables and apothecary herbs that suited her tastes. She started simple, and it didn't take long to realize that she had a passion for tomatoes. Her friends continued to encourage her and provide tips on how to make this garden into something really special. She started to share her tomatoes with friends. This simple sharing lead to the notoriety of her fruit (which tomatoes are by way – so let your children know they are eating fruit NOT vegetables). Word spread of how fantastic her tomatoes were and that led to her first tomato "tasting."
Peter and Gwen Jacobson owned the property next to Amy's. Their property is a certified organic farm and they grow some of their own fantastic vegetables on the property along with fruit trees. It is situated on a few acres that are nestled on the back roads of Yountville. The property is amazing and maintained with tender love and care. They provide vegetables and fruits to restaurants like the French Laundry.
When I think of farming, I visualize the big properties that line I-5 heading toward LA; Those massive farms, which look so organized and plowed. This farm is not a farm like that. When Peter was explaining about the various greens that are grown for the restaurants, he just bent over and picked something and we ate it. When I first walked on the property I thought they were weeds, but no, they were beans and greens to accompany some of the finest food in the United States.
Amy has a portion of this propriety where she grows her own tomatoes. Her greenhouse is set up where she is able to start all the tomatoes from seed. Walking into the green house was exciting. To hear her speak about her tomatoes and then go to see where it actually happens is amazing. The greenhouse was lined with freshly planted flats. All labeled with the different tomato species that the flat held. There were some that just started to sprout and the tiny leaves can be seen popping out of the soil. She will tend to these plants in the greenhouse for the next few months, until they are either planted on the property or sold to others for their garden.
Each night Amy goes into the greenhouse to make sure no snails are raiding her crop. Since the land is 100% certified organic, she will manually get rid of the snails—yes, the old fashion way—evicting them by hand out of the greenhouse and telling them sternly not to return!
During the maturation process, Amy explained that the flowers are only sexual for about 24 hours. During this time, she is able to combine multiple varietals to create a tomato that is both unique and amazing. They will cross-pollinate the flowers and a new tomato is created. She was explaining this as an in vitro fertilization process for tomatoes. All they do is tap the flowers together to allow for the pollens to be joined. This is what will create the new tomato.
Amy said if I liked tomatoes, I should try one of her black heirloom tomatoes. It is a meaty tomato full of flavor. The tomato that bursts with flavor, black tomatoes are most appreciated for their especially bold, complex and earthy taste. "Black" tomatoes are fast becoming the new "Red" tomato. Black tomatoes are not really black but are deeply hued purples, dusky deep browns and smoky dark mahoganies with dark green shoulders, bluish-brown. The depth and darker range of colors seems to be encouraged by a higher acid and mineral content in the soil or higher temperatures. She said, "add some fresh mozzarella or burrata cheese and you will be in heaven!" I'm looking forward to growing and eating these wonderful creations.
Amy is sponsoring a 'Pop-Out' event for her tomatoes. I had to ask; "What is a Pop-out event?" It is to bring together local organizations; to host learning stations that participants can sample. What a wonderful idea for the Tomato Lady! She will be able to keep this local and help educate the community on her wonderful tomatoes.
At Amy's Pop-Out Event, she will be featuring approximately 33 varietals. She chooses some fantastic plants to share with you; luscious tomatoes such as Blue Beauty. This plant is a selection from a cross with Beauty King and a Blue tomato.  They provide a great production each year creating a medium to large fruit.  The Blue Beauty is a meaty pink beefsteak with a lovely dark blue Anthocyanin top. Things you should consider when choosing a tomato varietal are: can they stay on the vine and are they sunburn and crack resistant? This tomato has all of those traits and they have a wonderful flavor.
Her Berkeley Tie-Dye tomato comes with a warning label: high acid content may cause flashbacks. Who said tomatoes weren't fun? This tomato blows Amy and a lot of her customers away and it's a favorite to many of the local chefs. The fruit will appear mid-late to late in the season; about 75-90 days. The fruit is primarily green with yellow and red stripes. Creamy green flesh is infused with various shades of reds and yellows. Each of the colors has a different flavor resulting in a spicy, sweet, tart tomato with good acid all in one.
Amy will be selling her tomato plants at two separate Pop-Outs this spring. The first is at the Oxford Market in Napa on April 13. Amy will be featuring nearly 30 heirloom varieties with the opportunity to purchase some of the rarest of her tomato plants. Don't worry, these tomatoes will range in size and color so you can choose some unique varietals. In addition, a portion of her proceeds will be donated to local school gardening programs.
The second Pop-Out location is in Yountville during the Yountville Arts "Sip & Savor" event on April 20th from 11-4 PM. This event is located right on the main street. Amy will be located by the 'square' sculpture next to Bardessono Inn and near the Community Hall. Amy again will be on hand to personally explain each plant and how to care for them. She wants everyone to be as excited about tomatoes as she is and wants to educate anyone interested on how to care for these wonderful plants.
So, say NO to watery tomatoes! And enjoy them as nature, and Amy, intended you to.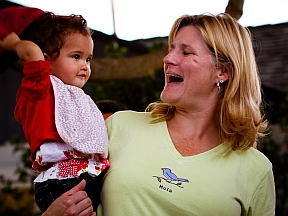 Regina Briseño – Recognized for her work with her family and talent for seeking out good food and wine. She also invites everyone to come and enjoy the adventurous ride with her!