Greystone, if you have not been, is the name of the Culinary Institute of America campus in the Napa Valley and it is an amazing place. Seeing the stone buildings located on Route 29 in St. Helena is nothing short of awesome. The majestic, castle-like building is nestled into the hills of Napa Valley, and while it looks spectacular, the real magic happens when you enter the building.
The building, which is listed on the National Register of Historic Places, was built in 1888 and used as a co-operative winery until the Christian Brothers acquired it in 1950. They operated it from then until 1989, when great three-story structure was closed after it was deemed seismically unsafe and the brothers balked at the cost of refitting the building to code. (Please take note that this incredible castle did survive the 1906 earthquake like a charm.) Sold first to the Heublein Company of Canada in 1991, the Culinary Institute purchased it in 1992. After three short years of renovation and retrofit, they reopened it as the Culinary Institute of America at Greystone in 1995.
Taking a step back, here is a little history on CIA (as the Culinary Institute of America is affectionately known by foodies and restaurateurs). Their main campus is located in Hyde Park, New York and was founded in 1946 by Frances Roth and Katharine Angell, as the New Haven Restaurant Institute in New Haven, Connecticut. They created it to provide vocational training to returning GI's from WWII. The name changed to the Culinary Institute of America in 1951 and then moved to the Hyde Park, NY location in 1972. It is an independent, not-for-profit college, offering associate and bachelor's degrees. The majors for Hyde Park are in culinary arts, baking & pastry arts, along with culinary science. The institute also offers certificate programs for food service professionals and enthusiasts alike. Along with the Hyde Park and St. Helena Campuses, there are campuses in San Antonio, TX and in Singapore. The students of CIA are allowed to take advantage of all the CIA locations and study abroad or at the other campuses for a semester if they choose to expand their education.
Greystone is no exception to providing an exceptional educational experience. Originally the site was intended to offer continuing education courses for restaurant professionals, but over time that focus has expanded. Now students can obtain an associate's degrees in baking & pastry arts and culinary arts. Additionally, there are certificate programs in both the culinary arts and Wine & Beverage offered to professionals, or for the average enthusiast sharpening their skills.
Greystone also offers "Boot Camp" programs that last from 2 to 5 days and are geared toward the food enthusiast as opposed to the professionals. These are non-accredited courses that will help expand your love of both food and wine. For instance, there is a Boot Camp called, "Wine Lovers Boot Camp – Become Wine wise." This one is located in the campus' Rudd Center. The Rudd Center was previously used as the cellars for the Christian Brothers. It is an amazing building, furnished with a stadium-style-seating classroom that features professional kitchens, to help facilitate the development of one's knowledge in the art of food and wine pairing.
If two to five day classes are too long for you, try one of their two-hour classes. They range from cooking and baking classes to demonstrations in wine tasting. This could be a fabulous treat on a Saturday Morning for you or with a group of friends. Imagine starting your weekend at Greystone with a two-hour wine tasting class and then spending the rest of the day putting your newly found knowledge to use!
No matter your skill level or amount of time, it seems that they have so much to offer for the non-students! This not just a place for "foodies," but also a place to come to enjoy a beautiful wine, wonderful food and just a neat place to visit for the history, architecture and views of the valley. If you have only 15 minutes, or you can plan a longer stay, you can go to Greystone and experience something special. For those with less time, they can experience FLAVOR BAR located in their Spice Islands Marketplace culinary store. You will be able to partake in a unique tasting at the BAR, of things like olive oil and chocolate. This will only take about 15 minutes, or perhaps longer, if you like to linger and glean even more knowledge from the staff. Reasonably priced at less than $10.00 for each pairing. While I'm touching on the store, Spice Islands Marketplace, they offer a wide range of all your culinary tools. While Robert and I were there, we were able to purchase Dinosaur Ice Pop Makers – yes – now our children can enjoy their very own homemade Dinosaur Ice Pops!
Want to stop at Greystone for a quick lunch? Try their new Bakery Café by illy. The café is run by the Students of Greystone and they are constantly updating and creating something special for all to enjoy. It's a casual place for you to enjoy not only the wonderful food, but coffee drinks by illy, wines or a local microbrew and, of course, the atmosphere of CIA. If you haven't guessed, this is where many of the successful pastries and baked good from the students studying Baking and Pastry Arts end up … yum! And what a better sponsor but a purveyor of fine coffees to complement them? I think this will be on my places to stop in the morning before future wine adventures begin.
For those who would like to spend some more time and experience fine dining (and some wonderful views) – Wine Spectator Greystone Restaurant is the place for you. This is a restaurant that is run not only by the students of CIA, but by experienced chefs. While we were touring CIA for this article we were able to sit down and discuss all the above offering of CIA with Tyfanni Peters, their media relations specialist, at the Wine Spectator Greystone Restaurant. We were in for a treat. The menu displayed a wide range of culinary specialties but what caught our eye was the Prix Fixe menu created by the student chefs. Not only did they create the tasting menu, but also the wine/beverage pairing to accompany the meal.  The Prix Fixe Menu was created by the students as a project. This menu was special and since it is a student project, it is only available for a few days.  We were in luck and hit it right!
We started with seared smoked salmon with pickled beets and charred baby leeks. This combination was incredible! And for you beet fans and non-beet fans, this was a fabulous dish full of flavor.
Then we went to a spice rum lamb steak, accompanied by barlotto which is like a risotto but only made with barley, oyster mushrooms, puffed rice with a red wine currant sauce. The lamb was perfect—almost melted in our mouths. The surprising part was the complement of the puffed rice with the lamb, barlotto and currant sauce. Talk about magic in your mouth – WOW. If lamb is not your favorite meal, not to worry, the menu always has a wide variety of options for you to choose from whole fish, vegetarian, pork, poultry and beef.
Next was a cheese dish—Vella dried jack cigarillo, which is a light pastry that was wrapped in a local, dried jack cheese and deep-fried. It was topped off with a lavender-lemon-strawberry rhubarb sauce. The combination was so light and full of flavor. Extremely satiated from the three prior courses, we somehow made room for dessert – as if we needed it. And we were able to make room for such a delight that we were not let down. A pretty dessert! Presentation is half the battle – thankfully this dessert had no battle – it was wonderful. We had a sampling of rum babba (cake) with homemade rum ice cream with rum cordial that were made of sugar – they burst rum in your mouth. Honestly, we could hardly handle our dessert! But don't fret chocolate lovers, there are plenty of chocolate options for you as well. In fact, the area where the desserts are made smells of chocolate. Where the choices change, we were offered a flourless chocolate cake or chocolate mousse. My mother has confirmed the mousse is a winner—in fact, I think she ate the whole thing! Overall it was very interesting to see how they were exploring different textures, colors and flavors, and putting them together in unique ways.  I doubt you could go many places and experience this much innovation with food at a lunch.
CIA is an organization that continues to give back and, going back to their roots, they have been working with Wounded Warrior and created specialized Boot Camps for them. The staff works with our veterans to teach them how to cook healthy and/or train them for a career in the food industry.
Planning a special event – keep Greystone in mind. The great barrel room would be an ideal place to hold your event. A wedding would be picturesque on the terrace and the reception in these great halls with their soaring ceiling and rich stone and woodwork would certainly be special. The wedding package is customized to each couple, so each event is as unique as they are. The special part is that the chef sits down and designs a meal that fits not only their taste, but their budget. Not many places in the Napa Valley offer weddings and wedding receptions, but CIA has the capability to make any event a special one.
What are you doing on Friday Nights? Starting mid-summer, Larry Forgione, the Godfather of Cuisine, will be working with the CIA students and creating a program whose concept is to bring the food from farm to table. CIA has been acquiring and farming local lands in the area. The produce that is grown on those farms will be cooked and served every Friday and Saturday night at CIA. It will be a four-course meal of extraordinary food for only $65.00. You will be treated to a culinary marvel pop-out event. This will allow you to enjoy the richness of this good earth by masters. Reservations are encouraged.
At these campuses food is a passion. Amazing innovation in cuisine starts at CIA, so stop in at Greystone to experience it – it's for everyone!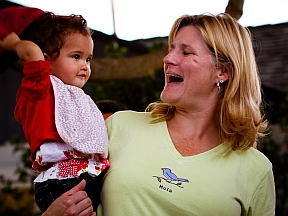 Regina Briseño – Recognized for her work with her family and talent for seeking out good food and wine. She also invites everyone to come and enjoy the adventurous ride with her!