[weaver_extra_menu menu='diningMenu' style='menu-horizontal' width='100%' css='menu-horizontal']
Crazy for Crabs

I grew up in a small town in northern New Jersey. On the East Coast we didn't have crab feeds or anything like that. Crab was just not a Jersey item. I mean we had crab but it was a special occasion item. My introduction to crab came at a big Italian Christmas Eve Dinner at my neighbor's home. That is when crab was served on the East Coast. My Neighbors, the Bonino's, would cook up this huge Italian meal on Christmas Eve with anti-pasta that included every sliced meat around; Mortadella, Sopressata, Prosciutto, Capicola and salami, along with marinated artichokes and olives. Then there was the bread. The bread was always from the same place, the Hoboken Bread Factory. The bread was nothing like what we see on the West Coast, these were mini loafs. They were crispy on the outside with a soft inside. We would warm them up and put some butter on them. It was just short of heaven. Then the main course was crab, which was served in a red sauce over a bed of linguine. My mouth still waters just thinking about it. Now the East Coast does have fundraisers, but as I remember, they consisted of going to the Italian Club, eating a lot of pasta, drinking and, of course, dancing all night long.
Now Maryland, they had crab but it was blue crab – not Dungeness. Which is another fond memory I have of crab. Arnold, Maryland – which is where my aunt, uncle and all 10 of my cousins lived. My cousin Jay and I would take chicken scraps and run to the bay docks where we would use string to catch some of those famous blue crabs. We would tie the chicken onto the end of the line, drop them down into the water and slowly pull them up when we had a bite. If they were large enough, we would keep them and if not they were thrown back into the bay. We did this all day long. I still wonder what my aunt did with all those crab we brought home.
So, when I moved out West and started dating my husband that was my whole life experience with crab. Of course he and his family invited me to a local crab feed fundraiser at the St. Patrick- St. Vincent Catholic High School in Vallejo. I really didn't think a lot about it and thought what we needed would be supplied at the event. The only thing I was advised to bring was wine – something I was good at – and I was right to a degree. When we arrived at the St. Patrick's Crab Feed in Vallejo there were rows and rows of tables covered with plastic tablecloths in the gym. Music was playing and echoing throughout. There was a bar set-up where you could get mixed drinks, beer, wine and soft drinks. There were a few tables filled with silent auction items and I knew that I was not in New Jersey anymore. I started getting really excited about the prospect of this event. Our family had a table already reserved. Each table was set up with plates, utensils, cups, bottle of wine, napkins, etc. – all the basics. What I didn't know was what everyone else brought to this party. When I started to watch the people around me I realized that we came ill equipped for the meal we were about to enjoy. I watched as people set-up butter warmers, various wines varieties and all types of different sauces for the crab, from homemade cocktail to tarter. Thankfully, this type of party is family style, including that they shared all their sauces and other accoutrements.
The evening started with a cocktail hour so that everyone could have time to say say hello – I got the feeling that almost everyone had been there before. Then everyone settles down and the food starts to come. The food is served by volunteers, with the students helping. First comes salad followed up by a big bowl of pasta. Now, my family warns everyone around them not to eat those two items because the crab was coming – and you did not want to fill up too quickly. They planned on saving all the room in their stomachs for the crab. Then came the crab. Trays of crab just started flowing all around us and the sound of talking quickly subsided. Everyone was focused on grabbing and cracking. This is when I realized that hey, I'm pretty good at cracking crab. So much so, that Robert (my now husband) was eating the majority of what is I shelling – I was fast and so was he. I didn't realize that all those years of working in a production environment and creating efficiencies would come in handy when it came to cracking crab. Anyone around me was benefiting from this, shall we say, talent, and the fact that while I like crab – they loved it! We were running through the trays of crab at record pace. I was starting to get concerned there wasn't going to be enough for the rest of the tables, however, I was wrong. There was plenty of food for everyone in attendance (in fact they sell extra bags of crab to go after the event). The event was the excellent. After everyone was done gorging themselves on the wonderful crab we got cleaned up – the crab gets everywhere so don't wear your Sunday finest.  We then moved on to dessert. The event had taken to auctioning off a variety of wonderful desserts but at the time it was all B.Y.O.D (bring your own dessert). Our dessert for the evening was a variety of pies from Nations restaurant. The lights were dimmed and the dancing began – just like New Jersey. It was a wonderful event and a memorable evening for me. It is hard to believe that was 8 years ago.
After the first crab feed, we have learned what "crab enhancements" to bring. Now, I start prepping the day before by making my own homemade cocktail sauce (see the recipe below). Keep in mind that we like spicy food, so I tend to add extra horseradish to mine. Then we make the clarified or drawn butter, some of which we infuse with fresh black pepper and garlic and the rest we leave for the purists of the group. We also slice up some extra lemons because, while they give you some. you never seem to have enough and they are a great item to use at the end of the meal to get any lingering crab odor off your hands. The day of the event, I pick our wines and make sure the wine glasses are cleaned and ready to go. We pack up the butter warmer along with tea candles and the paper towels. We coordinate with everyone on who is bringing what – including dessert. We always participant in the silent auction benefiting St. Patrick's and we even walk away with a gift or two. Now keep in mind that these events typically sell out well in advance of the day, so make sure to scout out your crab feeds early so you are not left out.
We have tried other crab feeds including the Vallejo Executive Lion's Club feed, held at Dan Foley Park. Again – what a wonderful event. They change it up a bit and serve a different menu. They start off with clam chowder, then work their way into pasta served with garlic bread and along comes the crab. But, along with the crabby crustaceans comes shrimp, a yummy proposition. Each event has it own flavor but rest assured that the focus will be on the crab.
If you are given the opportunity to attend a crab feed it is a wonderful event. Not only do you support a worthy cause, but the food is great. We make it a family event and meet up with lots of friends to enjoy a local evening out. Remember also, don't feel up to early on the bread, salad and pasta so you have plenty of room for all the wonderful crab, Bon Appetit!
Cocktail Sauce Recipe:
1 cup ketchup
1 teaspoon Worcestershire sauce
1 tablespoon horseradish
Salt and pepper to taste (and if you are feeling a bit feisty, put some garlic powder in to taste too).
NOTE: When I make this I put the entire bottle of horseradish in and triple the Worcestershire – we like our sauces spicy!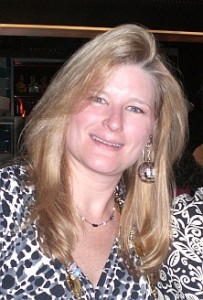 Regina Briseño – Recognized for her work with her family and talent for seeking out good food and wine. She also invites everyone to come and enjoy the adventurous ride with her!