[weaver_extra_menu menu='foodMenu' style='menu-horizontal' width='100%' css='menu-horizontal']

A Capitol Idea
I have also run a few successful restaurants over the years, so I know what it takes to operate one. The time, the energy, the commitment can be intense, especially when you first open and, if you are a small operation, the pressure is even greater because you have no support. I know, therefore, that one of the keys (other than skill and money) is to truly enjoy entertaining other people. That is essentially what restaurateurs are – they are entertainers or party hosts. Their party is every night though, and that is the grind. Therefore, it is always nice to meet someone that enjoys both food and hosting a party every night. That is exactly who I met when I sat down with Christine (she likes to be on a first name basis with everyone), one of the owners of Capitol Café in Benicia, to talk to her and her new chef, Arthur, about the restaurant, their food and what they have planned.
As I said, I enjoy all things food and it was fascinating to learn about how Capitol Café created their restaurant and menu. To start, Christine and her partner, Jane, did not really plan to open a restaurant. The previous restaurant in the location had closed and they thought that it was a great place to have a restaurant – right next door to the former Capitol of California – hence the name. They lived close by and, as the building sat empty longer and longer they thought, 'Hey, we have some experience, some talents and a little bit of time and money,' so they decided to jump in and give it a whirl. While they had some experience, they were far from experienced restaurateurs.
In the almost two years Capitol Café has been open (May will be their 2nd anniversary) they have had their missteps, blunders and accidents. But, they have persevered, learning and growing into their business. A little luck and hard work has gone quiet a long way in that process and now they have turned the corner and are focused on growing a loyal following. Customers though are not coming in to learn about their business acumen but to enjoy their food – and they will not be disappointed.
Their focus is to provide a fresh take on traditional comfort foods. When I say "fresh" I do not only mean "different" but also fresh in the sense of locally grown or made. Capitol Café likes to produce as much as they can in house and they do not want dishes that you can get down the street or even in the next city over. As an example, they make their own potato chips and serve them with their own Peach Habanero salsa (yes I said peach), which is quite nice. The chips are wonderful by themselves, but the spicy tang of the habaneros are balanced nicely by the sweet taste of the peaches, which makes them even better. That sweet and spicy theme seems to travel through many of their dishes and it makes for a wonderful gastronomical experience. Another unique item is their Deep Fried Avocado – three words that I personally would never think to combine. It was like the deep south comes to California. They serve the fried avocado as an appetizer and offer it with both a traditional aioli (think garlic mayonnaise) and a chipotle aioli (think spicy mayonnaise) and you have a fun new way to enjoy your avocado – which is exactly what they wanted.
Christine does not like to be either a lender or a borrower when it comes to their menu so they look to change things as other nearby restaurants look to replicate their offerings. Over the first 18 months the menu changed quite a bit as they looked to be both unique and to satisfy their guests' wants. Originally, for example, they did not offer hamburgers – which are now one of their most popular items. When they first opened they wanted to offer a burger but felt that too many nearby restaurants were offering one and that theirs would not stand out. After many months of debate, they launched the 'Build Your Own Burger' program as well as offering unique house specialties. I had a chance to try two of them – their Manly and Dunlop Burgers.
Their Manly Burger was developed by combining all of the things that a man would want on his burger. It is two 1/3 pound beef patties, bacon, avocado, grilled onion, lettuce, tomato, pepper jack cheese, their house sauce and finally a chipotle chili – and I have to say, it was fantastic! And, it has also been such a hit with opposite sex they started calling it the Wo-Manly Burger as well. They also offer both a single version as well as a triple version of the Manly for those that want to be either more or less manly!
The Dunlop Burger was named after Dunlop Guitars (also located in Benicia), which is where Matt, the person who originally suggested it, happened to work. This is a combination of 1/3 pound of beef, two strips of bacon, fresh pastrami and their own honey mustard sauce. Now, typically I am not a fan of all meat burgers as I prefer some sort of vegetable with it such as lettuce, pickles or at least some cheese. I have to admit though, the taste of beef, pastrami and bacon were just perfect together and the honey mustard made this a mouthwatering combo – though I doubt my doctor would be as excited about it as I was.
Then I had a chance to delve into their Stuffed Portobello, which is stuffed with zucchini, squash, tomato, spinach and either blue or chevre (goat) cheese, then surrounded by fresh asparagus and crispy bread, which is topped with their house brochette. This was one of the newer dishes Arthur had been working on since he started with them in January. He also helped them revise their chicken wing with a spicy boneless chicken wing (all breast meat actually) seasoned with peach habanero salsa as well as other ingredients and marinated. I have to admit I was a touch skeptical when it was first brought out because I am such a huge lover of chicken wings. I have found that, over the years, boneless wings just seem to have less flavor. These, however, seemed to capture the taste of a true chicken wing while having just the right amount of zest AND the convenience of being boneless. Homemade ranch and blue cheese topped them off nicely. I am sure these will quickly become a house favorite.
Capitol Café, of course, offers salads and homemade soups along with several other popular sandwiches for lunch. The dinner menu is rounded off with a variety of entrée items such as the very popular beef stroganoff and Blue Cheese Flat Iron steak. It is hard not to find something for everyone – even the kids (they have a PB&J as one of their offerings for the younger customers!)
Going along with that desire to produce items in house, Capitol Café also makes their own desserts. They have some wonderful offerings. The first is the Blooming Apple, which is an apple, sectioned out like a flower 'bloom' then drizzled with caramel, raspberry coulis and chocolate and finally topped with slivered almonds, dried cranberries and a dollop of whipped cream. They wanted to create the taste of a caramel apple but allow their guests to eat it with a knife and fork – I think they have succeeded.
I also sampled their lemon meringue pie and chocolate tort. The lemon meringue was delectable. A strong lemon flavor, light crust and fluffy meringue to top it off. It made a perfect finish to a meal. The tort was rich and dense and set into a wonderful chocolate and graham cracker crust.
The Capitol Café is open Tuesday thru Saturday for lunch (11:30 – 2:30) and dinner (5 to 7:30) Tuesday thru Sunday. They also offer a brunch on Sunday from 9:30 to 2:30. You can check out their entire menu online at www.Capitol-Cafe.com. They are always revising the menu and offer daily specials as well, so make sure to call them if you have any questions (707) 853-6055. They offer guests both wine and beer and have a WIDE variety of the latter for all you beer aficionados. They have several new ideas in the works such as offering movie nights where you can stop in to enjoy some coffee and dessert while taking in one of your favorites from the past – make sure to call ahead to see what is showing. As the days get longer, they are looking to expand dinner hours to accommodate those guests who might enjoy a little later summertime meal. So, stop in and make sure to check out their name sake next door as well to take in a little bit of California history –
Bon Appetite!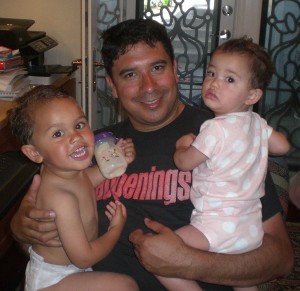 Robert Briseño – when he is not enjoying great food he is helping his three young children to learn to enjoy it.