Into the Oven We Go
When I was given this opportunity to dine at the Clay Oven Grill & Bar in Vacaville I was very excited, as I LOVE Indian food. Where I grew up back east in the New York and New Jersey area there was a rich Indian culture and I made quite a few friends there that are still very close to me. Those friends introduced me to both the food and the culture and I was able to not only experience the food via restaurants but in their homes as well, which made it even more special. My sister-in-law and co-founder of Local Happenings Magazine, Deanna, joined me for the adventure. Romy Uppalis, the owner of the Clay Oven Grill & Bar, acted as both our host and tour guide for the excursion to experience the exotic tastes of his restaurant.
The Indian culture is based on thousands of years of tradition, according to Romy. He continued my education of India by sharing that all aspects of their lives embrace their ancient traditions which they use today, along with a modern flare. Indian food is a wonderful combination of ingredients which feature specially blended sets of spices. The country is physically large with a population of over one billion. There are four main regions in India based on the cardinal directions of the map – Northern, Southern, Eastern and Western. Each of these regions has their own particular style based on geographical elements and constraints. The food in each region is as diverse as the terrain. Each of the regions prepare their food slightly differently due to the local ingredients and, with the large number of people within the areas, chefs will prepare the same dishes with their own unique flair. Also, most of the recipes were handed down from generation to generation by word of mouth. This, of course, added to the variations of the dishes served. The Clay Oven then is not unique in the sense that they too have taken the traditional and made their own interpretation of it in the presentation of their dishes.
Keep in mind that Romy is not new to the restaurant world. He owns several restaurants in San Francisco. Those experiences have, of course, helped make the Clay Oven a success. Born in India, Romy graduated from college with an engineering degree. However, the world of fine foods and running a restaurant called to him like the mythical Sirens of the sea. He started his restaurant career San Francisco, where he lived at the time, when he helped open Star India Restaurant in 1989 which is located at 3721 Geary at 2nd Ave. That first restaurant solidified his love for the business and he never looked back. He then opened the India Palace Restaurant located at 1740 Fillmore at Post St. He and his wife loved living in San Francisco, but with a young, growing family, they were looking for more space and decided to move to Solano County.
Romy needed a place to eat in his new home so he struck out and tried all the Indian restaurants in Solano County. He was looking for that one place he and his family could go to enjoy a traditional meal without having to travel over two bridges and into San Francisco. He tried them all and what he was looking for he could not find. There was some good food there but just not great in his and his family's opinion. This prompted him to decide to fill that gap by opening his own restaurant. As fate would have it, he found the perfect building while on a shopping trip to Vacaville with his wife. This gave them the opportunity to create Clay Oven Grill & Bar. He remodeled the building, putting in a circular bar at the center as the focal point of the restaurant. I have to say that I found the bar to be beautiful and very chic with a distinctive Indian feel to it. I felt the rest of the restaurant's ambiance to be very inviting and cozy. You are surrounded by warm, muted tones on the walls and dramatic lighting to give the restaurant both a modern and traditional feel. They have full bar where one can enjoy quality cocktails and an excellent selection of wines – which, as many of you know by now, is my favorite. In addition, there is a small lounge along side the bar where you can sit comfortably and enjoy your drinks. This is where we sat to enjoy our journey into the wonderful world of Indian food, guided by Romy.
Now, Romy can cook and cook well, but he would much prefer to eat. Therefore, he hires the chefs that can cook the way he likes to eat. As Romy orchestrated the team, the dance of the plates began. We started with different types of Naan, which is an Indian flat bread. Naan is cooked in a clay oven called a Tandoor, which looks more like a pot than an oven. In the Tandoor, the fire is at the bottom and the walls are made of a clay material. The Naan is stuck to the walls of the oven to cook. It is a very interesting process. Naan can comes a variety of flavors that is only limited to one's imagination. We tasted the garlic, basil and cilantro Naan which was steamy hot and well seasoned. Then they brought out a very special goat cheese Naan. This is prepared with both goat cheese and spinach. Mmmm, we were in heaven. We could have stopped here and been very happy eating goat cheese Naan for the rest of the evening with our glass of wine. Romy though would have none of it as the journey had just begun and we had miles to go before we were done!
The next stop for us was a dish called Chicken Tikka Kebab. This was chicken breast meat marinated in mustard sauce, yogurt and a variety of spices. The chicken was also made in the Tandoor oven – it is the main stay of their kitchen, much like our oven or stove top is to most American families, hence the name of the restaurant. This was cooked to perfection with the meat being very succulent and spices adding a very complex flavor to the dish. It also had just a hint of fiery spiciness to it which I enjoy. This marinade can be used on different meats as well – remember to ask the staff and they will be happy to accommodate your request.
The next dish that they served up was sizzling plate of salmon. The salmon was roasted in the Tandoor with spices and served on a sizzling platter accompanied with onions and peppers – think Indian fajitas. The salmon had a deep ruby color from the spices and the tomatoes used to prepare it. Once again, the dish was a wonderful marriage of spices that simply melted in your mouth and left you wanting more.
Many Indian dishes are accompanied by different sauces and marinades. Each of these sauces have their own marvelous flavors and spices. While Deanna and I did our best to indulge in all of the wonderful dishes that Romy and his crew were presenting to us, we simply could not eat them all. So, as an alternative, he asked us to sample three of the different sauces that accompany the various dishes – Masala, Korma and the traditional Curry.
Deanna and I thought this would be a simple exercise in "I like this one and not that" – that was not the case. We would sample one with the Naan and say this is my favorite, proceeding to the next one a saying the same thing. We sampled each a variety of times to see if we could discern a favorite but in the end we just gave up and said "we love them all." So let me describe why we were so torn…
The Masala is a mixture of spice – tomato and coriander which gave it an orange color. It just seemed to be the perfect balance of flavors. The Korma was a mild creamy curry sauce which originates from northern India. It has a distinctive silky, rich flavor which is amazing. Then there is their Curry which is the base of all their sauces, which is complex combination of spices and herbs. Curry usually includes ground fresh or dried hot capsicum peppers, cayenne peppers along with tomatoes.
The heart therefore of all Indian food is their spices, which takes simple and transforms it into the exotic. When we asked Romy how his spice rub was made he gave away no secrets, instead simply assuring us that they are made with great care. Romy had his chef take a tremendous amount of time to prepare these secret blends of spices so that they have the perfect balance to enhance their food. They blend over 40 different spices together to achieve these flavors for their guests. As the old saying goes: "Don't try this at home", I would have to agree simply because it would take a sizeable investment to gather all of these spices at your house and then you would have to take the time to discover just the right blend. It would be far simpler to have Romy and his chef do all of the heavy lifting. If you have never tried Indian food, don't let the thought of these exotic spices deter you from this fantastic world of food. Most will find that the flavor of food is not lost in this mélange of spice but is enhanced. That, coupled with their unique cooking method of the Tandoor or clay oven, will serve to help transport both you and your taste buds to the land of India.
If you have never experienced Indian food before and are concerned you wouldn't know what to order, don't let that stop you from going. The staff at Clay Oven will help guide you, just as Romy did for us, on your first journey to enjoying this delicious cuisine. Romy fully believes in his staff and has spent a considerable amount of time training them not only on etiquette but on the intricateness of Indian food.
The Clay Oven has a happy hour between 2-5 p.m., offering specialty cocktails at 50% off and their draft beer is 25% off. There are appetizers offered at a reduced cost and also have daily specials during this time. There is also a lunch menu that features smaller plates for those not looking to fill up during the noon hour at lower prices. These also include rice or Naan.
Keep your eyes open as well because Romy is not done with opening new restaurants – with his vision of food, quality and ambiance that he seeks to provide, we are excited to see what's next.
Check out their website www.clayovengrillandbar.com to learn more about this wonderful restaurant and to book your first trip.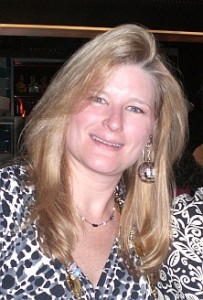 – By Regina Briseño Recognized for her work with her family and talent for seeking out good food and wine. She also invites everyone to come and enjoy the adventurous ride with her!