[weaver_extra_menu menu='foodMenu' style='menu-horizontal' width='100%' css='menu-horizontal']
Checking out the Dogs
The hot dog – it's as American as apple pie.
I can't remember a summer of my childhood without eating a hot dog. We ate them multiple times a week. Growing up in New Jersey, my two brothers and I would have them all the time. During baseball season, our family lived down at Wakely Field which had multiple playing fields and that is where we ate dinner, the local hot dog stand. My father would take us up to the hot dog stand, allow us to order our food and we would sit in the stands and eat them. He loved this tradition of eating hot dogs and we followed in his footsteps. On special occasions during the summer, we would even head out to Coney Island and go to the original Nathan's for hot dogs. Nathan's Hot Dogs was established in 1916 by Polish immigrants Nathan and Ida Handwerker. Ida, his wife, had developed the recipes which made Nathan's Hot Dogs so famous. In fact, the movie stars enjoyed them and even President Roosevelt served them to the King and Queen of England in 1939. Imagine. Nathan's also became famous for their hot dog eating contests every July 4th. Where we did not enter the hot dog eating contest each year, we would try to bet each other in our own sibling contest.
When I moved to Vallejo in 2003, Robert took me to Sac's for lunch. I was a bit skeptical because I had my own predetermined images of how a hot dog should taste and be served. We drove up to find a line out the door of people waiting to get a hot dog. When I gave a side glance to Robert, he just told me to wait and see. This was a part of his childhood. His parents brought him here as a kid and now we are going to Sac's. This was something I could relate too. When we entered the door, there were people happily ordering and girls customizing each hot dog to the customer's specifications.
I started to review the menu: hot dogs, chili dogs, cheese dogs and chips….simple – I like that.
The surprise I wasn't ready for is how delicious it was. EVERYTHING was fresh. The cheese, the tomatoes, the chili….everything. The hot dogs were delicious and the buns were perfectly soft to cradle the hot dog. At that point, I knew my hometown experience was in the past and I found a new favorite hot dog. And being new in town, this was a comforting thought. For the next 10 years, Robert and I would frequent Sac's and enjoy our hot dogs. It wasn't until Robert told me that I was to go to Sac's to write this article and meet the owner that I got excited all over again. This was a golden opportunity for me to see the makings of a restaurant that I love.
I meet George Maichel at Sac's restaurant after hours. It was very unusual to see this normally bustling place so quiet. George was born and raised in Vallejo, CA. He attended Pennycook Elementary School. He told me that his mother had worked at Sac's Hot Dogs during his elementary and high school days. His childhood was filled with memories of Sac's. Frank and Velma Saccomano, the original owners of Sac's, would see George every day to the point where George called him Uncle Frank. He would make his way from school to Sac's to visit his mother and have a hot dog. He would help around the restaurant doing odd jobs. When he graduated high school he went off to college at UC Davis. He ended up living in Chicago and working at a large marketing firm. His job allowed him to travel all around the world. What an excellent opportunity. He met his wife in Chicago and, in the late 1990's, while he was still engaged, came home for a visit to Vallejo. After being away from home for a time, a person definitely wants to remember the comforts of home. George made one of his stops to one of his childhood favorites; Sac's. He was friends with the owner and just sat down with him to talk about what they have been up to. During this conversation Frank told him that he was going to close Sac's and retire. George couldn't take the thought of Sac's closing – it was his childhood memory and a fantastic restaurant. So he did something he didn't think he would – he bought the restaurant. He traveled back to Chicago and told his fiancé about his trip and asked her to take a leap of faith about this new adventure they were about to encounter. And she did – that was 1997.
I asked George, what was the hardest thing about taking over Sac's? His reply was maintaining the same quality and keeping it exactly the same. He serves one thing and he wants it to be the absolute best. He didn't want to change what Sac's was serving or the friendliness of the place. He and Karolyn did put some personal touches on redecorating, but, they kept the original counter tops and tables to keep the old feel to the place. He has maintained the fresh foods and carefully chooses what is served to his customers.
His hot dogs come fresh twice a week from Schwartz in Fairfield. The previous owner used these hot dogs and now he does. They are never frozen and always served fresh. The Schwartz product, which is part of the Engelhart Gourmet Foods, is an old San Francisco establishment that makes quality meat products since 1911. They have moved their main production facility from San Francisco to Fairfield in 2003 and still have a store in the mission where you can walk in and purchase their products.
His buns are delivered daily from Athens Bakery in Oakland. They are steamed to perfection when the hot dog is placed in them. This is key to having the perfect hot dog. Have you even had a hot dog and there is too much bun? Or it's too doughy? Well – George takes the time to ensure that he has the perfect everything for his hot dogs.
His produce comes fresh from Spikes Produce in Martinez at least 2-3 times per week. He has been working with the same company since he took over and completely trusts them. They find the absolute best tomatoes for George even in winter. George has his produce storage area in prime location and racks which hold the tomatoes. He rotates them to ensure the ripest ones are used for the day. Each day, when he and his team come in, they hand slice all the tomatoes fresh along with the onions. He joked that if you walked into Sac's early in the morning you would start to cry from the onion gases. Everyone's eyes would water.
Saving the best for last – the chili. George makes fresh chili every day. Each night he soaks the beans so they are ready in the morning. The chili is made first thing in the morning and ready for serving when Sac's opens. I had never had a chili cheese dog with onions – so I figured I should try one for the article. This was a fantastic surprise. The cheese melted perfectly, the chili was fresh and delicious. The only obstacle is that my son, Rory, wanted to eat all of the chili! He LOVED IT! Now that's a seal of approval!
Have a large order? Not to worry! George has a fax sheet you can use to place it along with the pick-up time. The fax sheet allows for large customized orders to be placed and be ready when you want to pick them up. The sheet has areas where you check off boxes to add your favorite toppings to the hot dog. Don't worry – there is room to order chips, bowls of chili and drinks to complete your order.
Don't have a fax machine? AGAIN, not to worry – place a phone order so that it will be ready when you are.
Follow Sac's on Facebook (http://www.facebook.com/sacstastyhotdogs) and add your comments. They have over 5,500 fans on our page with a lot of fun anecdotal content. Past customers and new customers alike come together and share their love of hot dogs. Who can ask for anything more?
The best part of this article is that I have to keep going back to Sac's to try their hot dogs for 'research'….It's the only way to ensure what I wrote continues to stand as true!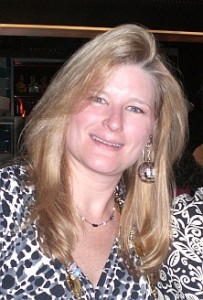 Regina Briseño – Recognized for her work with her family and talent for seeking out good food and wine. She also invites everyone to come and enjoy the adventurous ride with her!