A Good Day for a Smile
Anyone in Vallejo knows that the Good Day Café has as much history as Vallejo itself. It's Vallejo's breakfast and lunch version of Cheers – where everyone knows your name.
You can expect a warm greeting and a friendly smile at the café. Cindy Balanesi always welcomes everyone as if she has known them since birth. She is a treasure of Vallejo and longtime entity. Cindy's beginnings started as a server in the Joy of Eating on Springs Road, not as the restaurant owner that she is today.  She fully understands what it takes to be successful. She treats her employees with dignity and makes sure they know they are part of her family. She expects high quality from her servers and cooks to ensure the warm, pleasant atmosphere that the Good Day Café possesses. And as a result, all her employees are as loyal as her customers. From the early beginnings, when Cindy was a server at a few local restaurants and then ultimately at the Joy of Eating, she learned the ups and downs of the restaurant industry. While serving at Joy of Eating, she decided to try and take a path of her own. She was approached by Hamid and Elaine to purchase the Iris' Café. They saw in her what everyone around her could see too – success. They knew if Cindy took the reins of the Good Day Café, she would make it something special. The first restaurant was located on Admiral Callaghan Lane attached to the Quality Inn Hotel. The restaurant started on a minimal budget, but with her energy and knowledge of the restaurant business, she and her husband, Jim, were able to make it a go. She had several servers from the Joy of Eating come with her because they also believed in the way she ran a business. The Café was an immediate success. Soon, there were lines out the door and people waiting to be served. She decorated the restaurant with pictures of her customers and drawings the children made for her. The café was just short of being home. They had a little gift shop where you could buy a gift or something special for someone.
Tragedy struck on January 8, 2007 when a fire broke out and burned the restaurant to the ground. Cindy had been awakened by Rose, one of her employees, telling her to come over quickly because she was watching the flames consume the café. By the time Cindy arrived, several of her employees had gathered and they all stood together, arm in arm, and watched the end of the Good Day Café. Many tears were shed that evening and the following day, not only for Cindy, but all her customers too. The community came together to show support for Cindy and her staff and we, as a community, reminded them why they loved Vallejo. There were fundraisers held at the Elks Lodge to raise money for the now out-of-work employees. This fundraiser included silent auctions to raise money for them. Afterwards, the Vallejo Firefighters and the Vallejo Suburban Kiwanis followed with a fabulous Pancake Breakfast at Dan Foley Park. A sense of love and commitment overwhelmed the Good Day Café staff. I asked Cindy what was the biggest tragedy of the fire, she simply said the loss of the pictures and drawings that she had collected over the years. These were the things that could never be replaced. Spoken like a true Mom who cared for everyone.
Cindy and Jim decided they were not done yet and Vallejo surely showed her that. They needed to find a new location to open the café. They decided on the old Georgia Street Grill location. The new Café was partly set-up including all the tables from the Rojas', the owners of Georgia Street Grill. The tables have all local pictures of residents embedded on them. Where Cindy misses all the old photos and drawings she had lost in the fire, she is always happy to see one of her customers come into the café and look at the table and say "That's me." It brings a smile to her face.
The Good Day Café is all about family – blood related and not. She has three sons who assist with the Café. One of her sons, Nick, is the chef. Cindy holds high standards to not only her food, but to her son who cooks it. She will inspect dishes as they leave the kitchen to ensure they are ready to be served to her customers. Cindy watches over all the small details – one of her secrets to success.
The Good Day Café serves breakfast and lunch and both are available anytime during the day. The Café offers a menu with a variety of different foods. I have eaten at the Café many times. I think I have tasted most dishes and have never had a bad meal. The omelets are served with great care. They are never over or under cooked –  just perfect. While I was there interviewing Cindy, one of the specials was an enchilada omelet. They made it fresh with seasoned ground beef, enchilada sauce, shredded mixed cheese along with fresh avocado, tomato, green onions, olives, sour cream, tortillas and refried beans – a totally fabulous combination. They use their creativity while cooking that allows the food to be the best it can be. If you see something on the menu, that's not quite what you want, just ask them to make it perfect. The Good Day Café is all about a great dining experience.
Recently, I had the turkey sandwich named Tori's Turkey. The sandwich was filed with fresh turkey meat, sprouts, tomato and avocado on the bread of your choice. I, of course, choose wheat toast. Everything was fresh and the combination perfect and, as always, it was awesome.
Good Day Café offers hamburgers in all different varieties. If you are craving a hamburger – you can definitely find one that will suit your craving.  They have a list of six hamburgers, but if one of those doesn't quite fit your needs, they will custom make your order. All of the freshest ingredients go into everything the Café serves. Don't you worry, salad lovers (which I am as well), there is one ready for you. The salads range from completely vegetarian to the traditional chef or spinach salads.
Also served at Good Day Café is of one of Cindy's secret potato recipes; Gino Fries. These are the best. They are red potatoes which are deep fried and can be served with sour cream, ranch dressing or whatever you want to dip them in. Either way, they are delicious.
The end to all meals, including breakfast, should be something sweet. The Good Day Café ensures that this tradition is accredited. They offer pies, ice cream and other specials. Their dessert specialty is bread pudding. It can be served with a choice of three sauces; Kahlua, Grand Marnier or a Jack Daniels sauce. The Jack Daniels sauce is new so stop by and try it. It is totally awesome.
My children love to go to the Good Day Café for a few simple reasons; Cindy doesn't forget the kids and tries to keep them entertained while everyone is eating. She offers not only the staples of crayons and paper, but a bin of toys to play with while you are there, watercolors and, at the end of a meal, kids can choose from a basket of toys as a free gift to go home. Now when we ask the kids where they want to go to breakfast, they want to go to Cindy's place.
Cindy and Jim are also changing their coffee at the Good Day Café to make your experience even more pleasurable. They are changing to the local Moschetti Coffee. They have chosen the Brazilian roast that will be delivered to them fresh each day. Again, Cindy never forgets about the community in which she serves – she chose a local coffee distributor to better enhance your dining experience.
The Good Day Café is open seven days a week from 7:00 AM to 3:00 PM. Stop in and enjoy not only the warm, friendly atmosphere, but the fantastic food.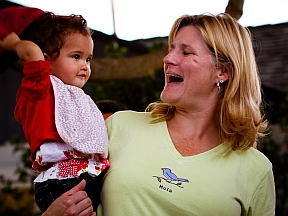 Regina Briseño – Recognized for her work with her family and talent for seeking out good food and wine. She also invites everyone to come and enjoy the adventurous ride with her!