Yes, it is a scary day for most people. I, on the other hand see a Friday the 13th as a good thing. It's a lucky day as far as I am concerned; and it is starting out just fine. As I get ready to sit down to write this blog I finish a very long stretch that has been a long time coming. Almost like a sneeze that you keep waiting for and you feel almost exhausted when it finally comes. I was able to get a very long and deep stretch and now my body feels like getting on with the day. Mental meets physical, all is good. (Maybe it has something to do with that very good glass of red wine I had last night! Thanks Reg for opening that last bottle.)
There is nothing quite like the Napa Valley after it has been raining. We are truly lucky to be living here in the Bay Area and able to be in San Francisco one day and Yountville the next. I am very lucky since my job requires me to be in Danville one day, Benicia the next and so on and so on. Now if I could just figure out how to make more money and be in all of these places so I could be playing more golf when I am there!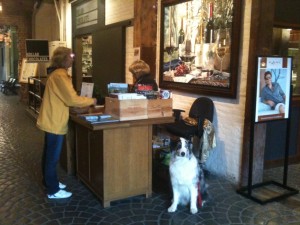 Yesterday Ben and I were visiting VMarketplace, we said hello to all of our old friends and made a few new ones. Ben even had a chance to act as concierge and to pick out some wine for a few people. Amazing how strangers respond to Ben and how he can get them to do just about anything.
It's raining so no golf; pick up the house, Lions meeting first thing out the door, more magazine distribution and then hopefully the Giants won't get rained out! Stretches done, feed Ben, latte, and go. . .