We would like to start by saying congratulations to all of our winners for our 2014 Local's Choice Awards and to you, our readers, for helping us to select them!! Your favorite did not win? Well, did you nominate and vote for them? All the winners are selected solely on the voting from our readers. So…if you are not seeing your choice, please remember to nominate and vote in our 2015 awards. Voting will open on September 1, 2014 and run through December 7th so make sure to mark your calendars now!
Back to the winners now. As in past years, there are three winners in each of the 12 categories, with one from each county that our primary distribution is in: Contra Costa, Napa and Solano counties. This year though we had 4 winners in the area of Humanitarian just because voting was so close and we wanted to recognize those that help all of our communities. We also added a new category this year: Realtors. If you have ideas how we might expand the awards in 2015 please let us know since we are always looking to improve.
Now on to 2014, how is the year starting off for you? With one month down and 11 to go are you still working hard on your 2014 resolutions or has life taken hold? Well, remember that life goes on 24/7 and tomorrow is another new day; you can always restart and get going on improving you and yours. You and your family and close friends are all you have, so make it good!
I know that we are working hard and looking how we can help you in the new year in discovering something here in your backyard. If you discover something or are part of something you think our readers should know more about, please let us know. In our pages this issue is a story about the Old Skool Cafe, which is a newer restaurant in San Francisco that is helping at-risk youth. We heard about this fabulous place via a friend who was so impressed by what they were doing that they shared it with us. This cafe actually has the youth running the restaurant and what a great opportunity it was to go and talk with these young men and women and the people that worked to make it a reality! We might never have heard about it if someone hadn't brought it to our attention. There are stories like this across the Bay Area and we are always looking for them, but we can always use your help to let us know what stones we should be looking under.
As always, birthday wishes to…Larry, Megan, John T., Betsey, T., Jo Ann A., Socorro, Rafaela, Gabe, Gary T., Dennis K., Janelle, Stephen S., Louise D., Linda, Katy, Tracey, Johnny, Myrna, Judy, Askari, Stacy, John, Gary, Tim, Erin, Shane, Patti, Christina, Dennis, Judy and all the rest we wish we had room to list here. We also send out a big Happy Anniversary to Larry and Clara, enjoy!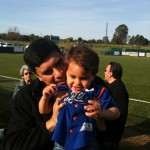 Robert Briseño
& Deanna Baillie