Spring has sprung and here we are, already in the second quarter of 2016. The rain this year has certainly helped but we are still not out of this drought. We here at Local Happenings Magazine would encourage everyone to continue with their water conservation efforts and to make them a more routine part of your lives. Gas prices continue to stay low, which is great for all of our pocketbooks, but we all know the saying, "what goes up, must come down," … so, hopefully not vice versa! But just in case, to help with your fuel conservation efforts we have a feature this month about electric and hybrid cars. The better job we all do with our resources today will allow us to have a better tomorrow for future generations. Remember, April 22nd is Earth Day and we all have a part to play in helping to keep this little blue and green marble we live on in great shape.
Beyond saving water, fuel and the earth, make sure to save time so that you will have more of it to enjoy all there is to do in April and May. Once you have wrapped up your spring-cleaning there are lots of outdoor events coming up for you and the family to enjoy. Take a look at our calendar to start planning your adventures now. Remember, the pages of the print magazine holds only a fraction of the events we have in our online calendar. If you have not been to our website to see the calendar listing there make sure to visit today! Your smartphone can pull up our website as well so that the calendar can be at your fingertips that much faster. Just a reminder, if you are involved in putting on an event you can post them to our website for free. Our whole mission is to connect events with people and we do it for FREE!
April is a busy month for us at Local Happenings. We celebrate our father's birthday (we: Deanna & Robert, our brother and sister as well as business partners and creators of this "Happening" publication) as well as Deanna's, and Robert's eldest son, Ramon, all in April. To our friends and family Happy Birthday! Which includes, but isn't limited to: Jackson, Debbie, Lindsay, Judy, Bonnie, John, Eric, Ronda, Juanita, Dennis, Shawn, Donna, Greg, Stacey, Dave, Carol, Sherri, George, Jim, Adam, Jimmie, David, Norman, Leeann, JD, Michael, Dan, Mike, Leonard, Amber, Benny, Steve, Joey, Tom, Scott, Renee, Kelly, Leah, Cathy, Jonathan, John, Leanne, Russ, Colleen, Leslie, Kathy, Wanda, Kim, Jeanne, Miguel, LaGuan, Marc and all the rest we do not have room to fit in here. We hope each of you have a fabulous birthday and great year!!
Until next issue, Cheers!
 Robert Briseño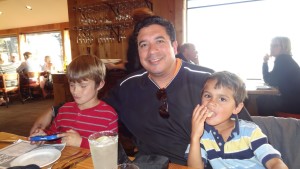 & Deanna Baillie