Chestnuts roasting on an open fire. Jack Frost nipping at your nose. Yuletide Carols being sung by a choir and folks dressed up like Eskimos. I always think of the Nat King Cole version of that song each holiday season, and while it is a quintessential holiday favorite, we can't help but think that we are so glad that we don't live where it snows. Robert's wife Regina (who is from New Jersey and grew up with snowy winters) differs in that opinion, but we would venture to say that many of our readers and fellow Bay Area residents have a similar feeling. We like the cool air and the touch of fog that will float in which allows us to wear our warm winter coats for a day or two, but for the most part we enjoy being able to get out of the house as well. There is always Tahoe or Mt. Shasta if you need your wintery fix of snow & ice.
While we're all getting ready for the holidays, we are sure that you, like us, are wondering where the year has gone to once again. It just seems to rush by in a blur and I am sure we will be saying that again next year, in what will feel like three months from now. Lots and lots to do before year end with family & work. Those of you with little ones, like Robert, will have just that much more … and much more fun watching them enjoy this magical time. There is much to do in the community as well … and not just the office parties that many of you will be having. Speaking of office parties, Local Happenings Magazine and Team Superstores will once again be teaming up for the holiday party and business mixer in partnership with the Vallejo Chamber of Commerce. It will be on Thursday December 13th at Team Superstores at 301 Auto Mall Parkway in Vallejo from 5:30 until 7:30. Come on out and say hi, we would love to see you. The price of admission is an unwrapped toy or canned good. It should be a wonderful time with some great food for all to enjoy. The calendar is once again packed with all kinds of good things for you to enjoy over the holidays and into the New Year. Please remember that what you see in these pages is just a small sampling of events and you need to visit our website to see them all. The website is smart-phone-friendly as well, so you can check it out as you are running around wondering what to do.
With the end of the year comes the end of the voting for our 2nd annual Local's Choice Awards. December 10th marks the end of voting for our future winners. Those winners will be announced in our February/ March issue, so be sure to check back to see who they are. I know there will be lots of interest based on the number of people who have voted.
Also, we've recently partnered with Rainbow Rewards to offer a discount program with local and national businesses. All you have to do is register your credit cards with them on our website, and all qualifying purchases are discounted automatically when you buy products that you normally buy. No new passwords to remember or loyalty cards to put in your wallet or even coupons to clip and present. Just register and pay as you normally would and the rest is taken care of. Go on to our site today and check it out and let us know what you think. Rainbow Rewards and Local Happenings will be working on adding new retailers to help you save even more money … so that you can enjoy more Local Happenings!!!
Enjoy the holidays, be safe and we will see you in the New Year – or sooner if you come out to our holiday party.
Happy Birthday to Ken P, Steve M, Kim J, Rod C, Marla M, Stephanie G, Peggy D and our brother, Greg!
Cheers to all of you until next time . . .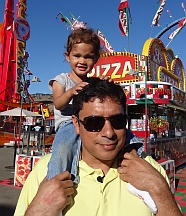 Robert
& Deanna