Well, 2013 is off and running. The world did not end in 2012, nor did we fall off the infamous fiscal cliff. All in all it seems like things are on an upswing for the area, and hopefully 2013 will turn out to be a great year. We know that we are excited to see what this year will bring. This is our 2nd Annual Local's Choice Awards issue and we would like to thank all of those who voted and congratulate the businesses and people that won. Make sure to check out all the winners in each category & county—stop by, say hi and let them know you learned about them in Local Happenings Magazine. If you thought that someone else should have taken home the top prize keep in mind that voting opens up again on September 1st, so put it on your calendar now!
This issue also marks our 20th edition of Local Happenings. It has been a wonderful time so far developing this magazine and publishing it over the last 3-plus years. We are so grateful for both our loyal readers and advertisers. We are looking forward to the coming year and growing the magazine even more. We have been so fortunate in the growth so far in terms of readership and we are excited to see where this year will take us. We have some great ideas in store to improve both the magazine and web site, and we are anxious to make them a reality.
Lovers beware: it is that time of the year with Valentine's Day and the first day of spring right around the corner. Make sure your cupid's arrow is pointed directly at your lover's heart and give them the perfect gift to show your true devotion.
We are also very excited as we move into spring. We do not suffer those bitter cold winters that some people across the country have to endure, but we are still looking forward to getting out more and enjoying longer days with warm weather. It is also a big time for us (and you) for events and happenings. Just like the buds on the plants in the garden, the outdoor events start to really ramp up in the early spring. There is just so much to do and enjoy, which is one of the main reasons that we started this magazine. We hope that we will continue to be your source for local events and that you will share us with your friends so that they will know what is going on around us as well. We also hope that you will continue to share your thoughts with us on how we can serve you and the community better, after all, that is what we strive to do.
Happy Birthday to Stephen S., Tony P., Corinne O., Meagan M., Larry B., JoAnn A., Gary M., Gary T., and Dennis K! Happy Anniversary to Larry and Clara!
Cheers to all of you until next time . . .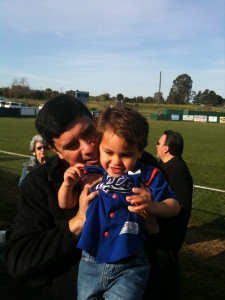 Robert Briseño
& Deanna Baillie