According to Benicia folklore, lurking in the shadows at Sailor Jack's restaurant is the spirit of an old card player. He's known only by his first name, Carl, and locals say he spent his days compiling stacks of cash and emptying bottles of booze. When a bullet to the head ended all that, Carl apparently became content wandering the area around the Tannery building, waiting for some visitors to entertain.
"It's usually the women who go up, because he does like the women," Benicia Main Street Executive Director Nancy Martinez said with a chuckle. "The ladies swear they feel a presence, and they can smell his cigar."
Carl is one of dozens of spirits known to those who run Benicia's Ghost Walk tours, who are celebrating a decade of ghost walks in Benicia this year. They're led by a local paranormal investigator and are tailored for adults (and children 12 and up) who are interested in exploring other realms.
"There's a lot of Benicia history that you're not going to find in the history books," Martinez said.
Ghost walks are nothing new to the Bay Area, and neither are haunted locations. Suisun holds regular ghost walks on the second and fourth Fridays of every month, exploring the town's paranormal history in groups of up to 30 people. Napa — home of the reportedly haunted Greenwood Mansion (the location of a double homicide in 1891) — holds them as well, using former Benicia Ghost Walk leader Devin Sisk and Napa native (and spirit enthusiast) Ellen MacFarlane.
From November 4-6, the town of Volcano will join the mix too, with a murder mystery, scavenger hunt, and multiple days of paranormal investigation (including into the infamous Lizzie Borden). Participants are encouraged to dress up as their favorite serial killer or victim (real or fictional).
Benicia started doing them in 2006, but in the past three years the city has made its ghost walks more immersive. Deborah Hogarty, the paranormal investigator who leads the walks, starts by taking participants out into a field, having them close their eyes and try to get a sense of this area's history. Then the group goes up First Street, block by block, trying to detect signs of spirits of Benicia's past.
"Deborah's really putting participants in the shoes of an investigator," Martinez said. "It's great to see. I've been on tours, and they're always a little different."
Many people, of course, do not believe in ghosts, or are at the very least skeptical that there could be spirits inhabiting random dwellings throughout the area. Hogarty, the Benicia Ghost Walk's current leader, used to fall into that category as well, Martinez said. But some personal experiences made her change her mind.
"Little by little she has come to believe that there is a little more going on out there," Martinez said.
Skeptics are encouraged to come along for the walk as well.
"We have a lot of what I would call 'non-believers,'" Martinez said. "Sometimes they come around, sometimes they don't. But no matter what, it's always good entertainment, and a lot of history."
Martinez knows where she stands on the spectrum because Benicia Main Street's offices, the old train depot located down at the end of First Street, has its own spirit resident named Ben, she says. The way Martinez tells it, some details of Ben's life (and of many spirits) will probably never come out.
"A lot of them, from what I've been told, don't really like to talk about their death," Martinez said.
Still, she said her and others have communicated with Ben here and there, and have come to the conclusion he used to work at the depot years ago, when trains passed through this way, Martinez said.
"(Ben) definitely has a sense of humor. He comes into our office at times," she said. "There have been times where computer chords will become unplugged, and it's not something where you could accidentally kick it… He loves the energy of the depot, because you have to understand—this sat vacant for years and years."
According to those well-versed in these subjects, Benicia's spirits mainly fall into two categories: the recurring cast of characters, like Carl or Ben, who are known to investigators and sensitives. Then there are the roaming spirits, who might pop up in a ghost walk here or there, but aren't anchored down in any particular place. Of course, Benicia has no shortage of old buildings, which Martinez suggested increases the chances of detecting a passer-by spirit.
"Imagine how many souls have passed through this place over the years," Martinez said. "And of course this works to our advantage as well … Sometimes we have six spirits here in this building alone. The most I've heard was 11."
Benicia's downtown wasn't always the quiet, peaceful strip it is now, where newlyweds can go to furnish their home with antiques, or where a group of old friends can come find a quaint tea room for lunch. In the olden days, downtown Benicia was inhabited mainly by two kinds of people: sailors, and drunken sailors.
"Benicia, back in the day, was thriving. We were a waterway source, and you had a lot of people coming," Martinez said. "It was huge."
If you read Tales of the Fish Patrol by Jack London, a slightly embellished retelling of London's experiences in Benicia, you'll read short stories about illegal fisherman, dangerous pirates, and high-speed chases on the Carquinez Strait. These times, though much more adventurous, also led to a lot of folks' untimely demises, thereby potentially increasing Benicia's spirit population. London died in Sonoma County, but Martinez said his spirit may still pass through Benicia.
"They have not talked to Jack London's spirit yet, though," Martinez said. "But it'd be nice if they did."
Hogarty's means of getting a yes/no on whether a spirit is around involves a divining rod and a K2 detection sensor, both of which are used to find "hidden energy," Martinez said.
According to Martinez, the type of energy the K2 sensor detects isn't specific to spirit energy, so false positives can happen.
"They're very good about explaining how it works," she said. "A participant might go, 'Ooh!' And get excited when it starts to light up, but that may just be because you're standing under a light."
Surprisingly, Benicia's ghost walk (and others in the area) have restrictions on how children can participate. For one thing, kids under 12 just flat out aren't allowed. Kids 12-17 must be accompanied by a parent, and most ghost walks are very adult heavy.
"Sometimes, with small kids, you have to wonder how long they can stay focused on something, and you don't want to scare them," Martinez said. "It's mainly an adult thing, but we do get a few where their mom, or grandma or aunt, will tell them, 'Wait till you're older,' and they'll show up for one right after their 12th birthday."
Benicia's Ghost Walks take place twice a month at Benicia Main Street, located at 90 First Street, starting in February, and going through October. To celebrate Halloween, though, they're held every other week in October. Groups can be up to 20 people, and walks always start at 8 p.m., though folks are encouraged to show up at 7:30-45 p.m. and sign up. This year, they will be held on Oct. 7th and Oct. 21st, both Fridays, are well as the following Saturdays: Oct. 1st, 8th and 22nd.
Tickets cost $25 each. For more information, visit www.beniciamainstreet.org/ghost-walk/ or call (707) 745-9791. For more information on Napa's ghost walks, go to www.napaghosts.com or call (707) 363-6890.
Suisun's Ghost walks are for ages 10 and up, and children aged 10-16 must be accompanied by a parent. Tickets are $25. For more information, go to www.suisunwaterfront.com/ghostwalk.php or email info@suisunwaterfront.com.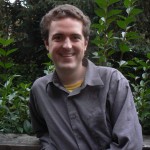 Nate Gartrell grew up in Benicia, studied journalism in college, and has written for a handful of media outlets since age 15. He aspires to visit all 30 Major League Baseball stadiums and to hit the trifecta at the horse track.